Dental schools embrace Holocaust Survivors Oral Health Program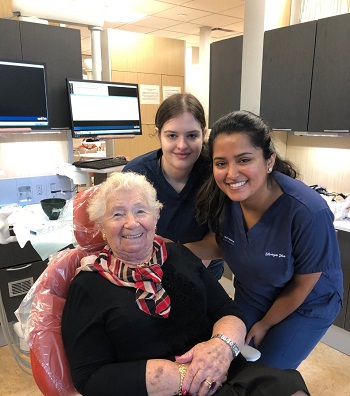 Dental students Shreya Jha and Nicole Zimmerman with 94-year-old patient and Holocaust survivor Leah Cik Roth.
At a young age, Leah Cik Roth left her Czechoslovakian home to become an apprentice basket maker and wig maker. As the Nazis uprooted Jews all across Europe, Ms. Roth ended up in the Czechoslovakian ghetto of Sekernice. In 1944, all of the Jewish residents there were rounded up and sent to the infamous concentration camp in Auschwitz. Once World War II was over and she was liberated, Ms. Roth eventually immigrated to the United States, settling in Monsey, New York, and writing a book about her experiences. Now 94, Ms. Roth said that as she aged, dental pain had gotten so bad that she couldn't sleep. Luckily for Ms. Roth, she became a patient of the Alpha Omega-Henry Schein Cares Holocaust Survivors Oral Health Program, a public-private partnership established to increase Holocaust survivors' access to oral care and significantly enhance their overall quality of life.