Pre-Dental Program for Undergraduate Students Launches at Touro College of Dental Medicine
Four-Day Program Invites College Students to Learn About Dentistry Through Hands-on Practice and Informational Sessions Led by TCDM Faculty and Students
March 12, 2020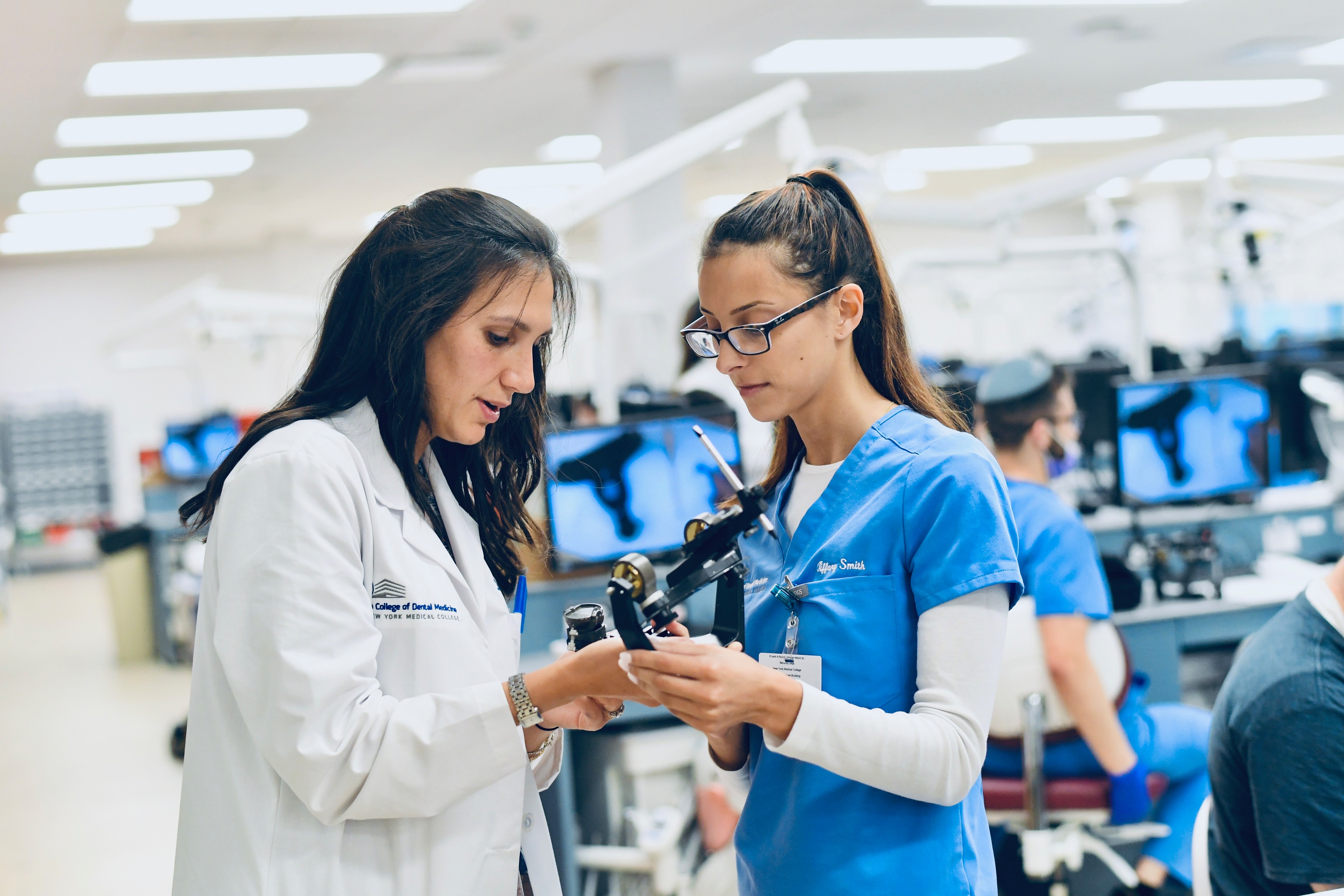 Dr. Rebecca Block with a student in TCDM's simulation laboratory
The Pre-Dental Experience program will be held June 15 – June 18 at TCDM, located on the campus of New York Medical College in Hawthorne, NY.
Led by TCDM faculty, accepted students will be learn about dental career options and specialties, preclinical laboratory procedures, and gain hands on experience using digital dental technologies in the College's state-of-the-art simulation laboratory. They will have the opportunity to meet a TCDM admissions officer to learn about dental school financial aid and admission processes, and gain an inside perspective on student life from TCDM dental students.
Dr. Rebecca Block, Clinical Assistant Professor of Dental Medicine, who is spearheading the TCDM Pre-Dental Experience, says the program was designed to be an introduction to dentistry for undergraduate students who have limited exposure to the field or just need help deciding if dentistry is the right career path. "There is an opportunity to fill a communication gap with college-aged students who are exploring the field of dentistry," Dr. Block said. "Our program is designed to help students gain a deeper insight into all that dentistry can offer as a future profession and give them access to experts that can guide them toward a successful application process."
"By educating undergraduates, we can help them make the best and most informed decision in regards to dental school, as well as excite more students about the field of dentistry," said Ronnie Myers, D.D.S, Dean of TCDM. "The faculty and students here are thrilled to welcome these eager dental school hopefuls this summer and show them all about the curriculum and life here at TCDM."
Students in their 2nd, 3rd or 4th year of their undergraduate career who are interested in dentistry, and have not already applied to a dental school, are invited to apply. The deadline for applications is April 20, 2020. Additional program details can be found here.