Students and Faculty Join Emergency Dental Mission in Tennessee
More than 150 patients in need receive emergency dental care through mission trip organized by Remote Area Medical
May 13, 2019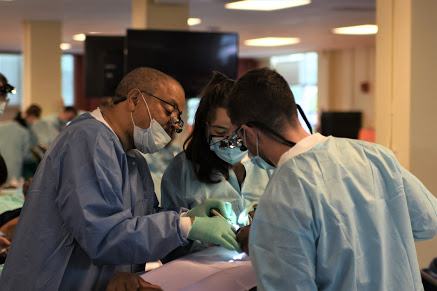 TCDM students, and Dr. Alex Hall provide dental care for patients in Memphis, TN
This May, a team of faculty and students from Touro College of Dental Medicine (TCDM) volunteered their time to treat approximately 150 patients in need at the school's first coordinated mission trip to the Maxine Smith STEAM Academy in Memphis, Tennessee.
The trip was organized by Remote Area Medical (RAM), a major nonprofit provider of free mobile clinics, who recruits licensed dental, vision, medical and veterinary professionals to treat more than 45,000 underserved individuals in remote areas across the globe each year. Their mission is to prevent pain and alleviate suffering by providing free quality healthcare to those in need.
"Some patients waited in line overnight to receive free dental care," says Alexander Hall, D.M.D., a Clinical Practice Leader, Assistant Director of Removable Prosthodontics and Associate Professor of Dental Medicine at TCDM. Dr. Hall, along with with fellow faculty members Isabel Garcia, D.D.S, and Bert Goldfinger, D.D.S., brought along 19 dental students for the school's first mission trip through RAM.
"There was a part of the oath my classmates and I pledged during our white coat ceremony, 'I pledge to serve diverse populations and focus on service to my community.' These words really inspired me," said Shreya Jha, who help to organize the trip. "It was rewarding to see months of planning materialize into reality as we treated the underserved communities in Memphis. And none of it would have been possible without the dedication and time from our devoted TCDM faculty and students."
Hall says he's excited about growing the school's involvement in missions trips such as this. "There is nothing more rewarding than being of service to someone in need," he says. "Our students left the experience feeling empowered by the graces of the Touro spirit."
Overall, the two-day effort provided dental, vision and medical treatment to 587 patients with a total of $211,978 in service provided.