TCDM Holds 2nd Annual Smiles for Veterans Event
Dental Students Partner with Community Practitioners to Offer Free Oral Health Care to Veterans and Families
November 06, 2019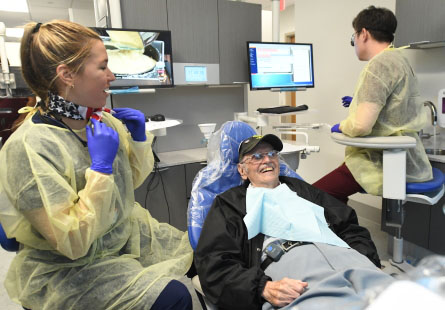 In celebration of Veteran's Day, Touro College of Dental Medicine (TCDM) teamed up with the Ninth District Dental Association for its 2nd Annual Smiles for Veterans event, a day of free oral health care for veterans, military personnel and their family members.
More than 60 participants turned out for the festivities, which kicked off with a heartfelt performance of the national anthem by TCDM's acapella group, the Chromatic Scalers. Veterans and their families enjoyed a breakfast reception with entertainment, giveaways and student-led educational activities aimed at encouraging good oral health practices. Practitioners from New York Medical College's new Family Health Center, located on premises, joined to offer blood pressure screenings, height, weight and body mass index readings.
Senator Pete Harckham visited Touro Dental Health to show his support for the cause, along with leadership from the New York State Dental Foundation (NYSDF) who provided support for the event.
"Many people don't realize it, but our veterans don't receive dental care benefits through the government, unless they are 100 percent disabled or have service-related injuries to their mouths," said G. Kirk Gleason, D.D.S., Chairman of the NYSDF Board of Trustees, and a Vietnam Veteran. "In response to this, we've expanded our efforts over the last few years to bring accessible care to veterans in need, but more needs to be done and programs like this are so important."
"Giving back to our community, especially our Veterans who have done so much for us all, is an important part of TCDM's mission," said Dean Ronnie Myers, D.D.S. "We want our students to leave here with a commitment to serve their communities, and this is an up-close opportunity for them to understand the needs of those with limited access to oral healthcare and the impact that they can make."
Madeleine Maas, a third-year dental student who participated in the planning of the event, has a personal connection to the cause. Several members of her family have served in the military, from the Marines to the Coastguard, and her boyfriend is currently in the Army.
"A lot of people don't know to how to use their benefits and there are lapses in insurance for many Veterans," said Madeleine. "This free event is an opportunity for us to help the community and we're just happy to get people back on track for proper oral health care."
Toward this end, Touro Dental Health expanded its program this year to include additional free treatment to participants through the end of the year. Special courtesy rates for veterans, military personnel and their spouses are also available on an ongoing basis to help reduce the financial barriers that prevent many from seeking routine dental care.