Touro College of Dental Medicine Celebrates the Commencement of its Class of 2021
Faculty, students, families, and friends honored TCDM's 2nd graduating class with live and virtual events, welcoming keynote speaker Stanley M. Bergman
May 27, 2021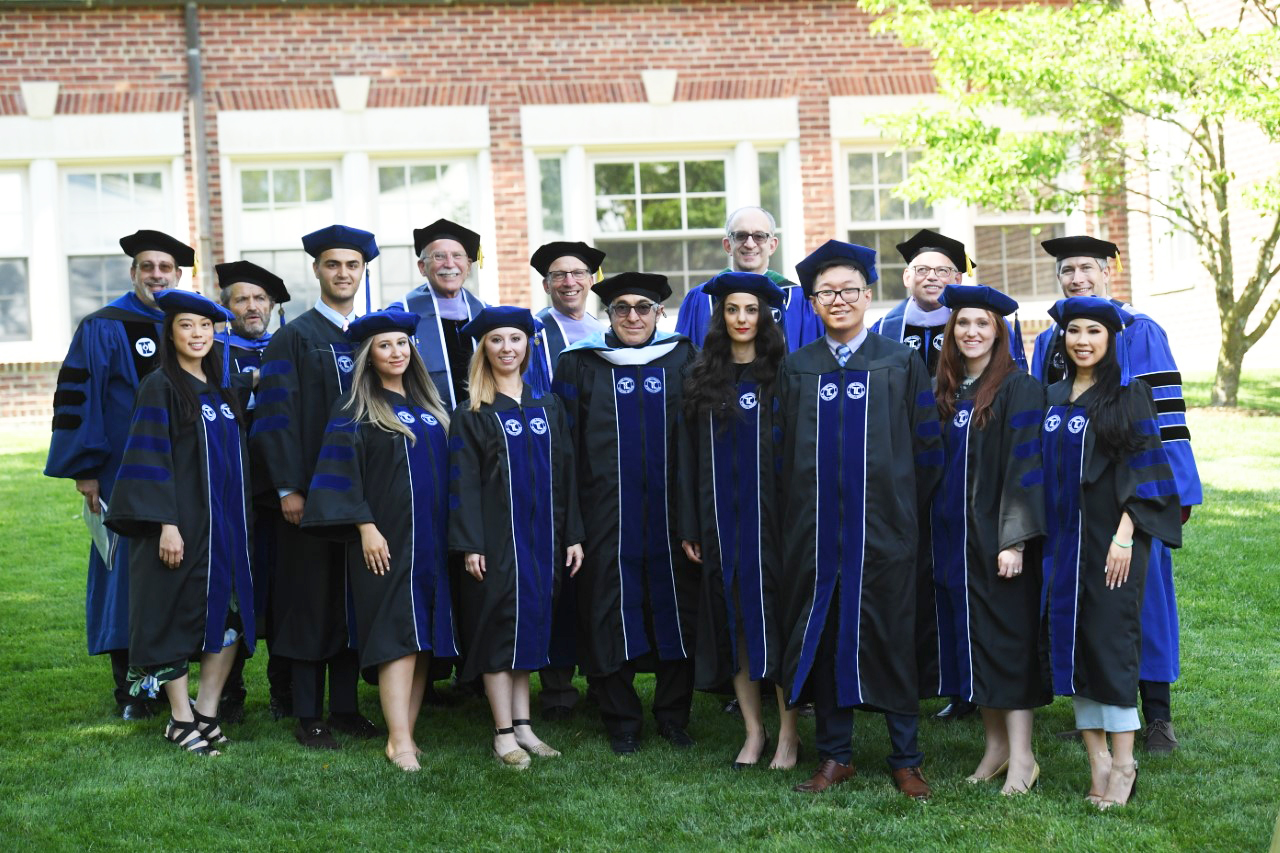 Mr. Stanley M. Bergman (center) with TCDM leadership and graduates from the Class of 2021
VALHALLA, NY - May 27, 2021 – The second class of graduates from the Touro College of Dental Medicine (TCDM) celebrated their commencement with a live Hooding and Awards Ceremony followed by a virtual joint Commencement Ceremony with New York Medical College on May 26th, 2021.
Graduates were thrilled to have the opportunity to include a limited number of guests for the in-person, outdoor Hooding and Awards Ceremony thanks to TCDM's ability to quickly change course when New York State changed their guidelines for outdoor gatherings. Under a beautiful blue sky, an audience of more than 200 joined under a tent on the New York Medical College campus to honor the 109 graduates with the time-honored tradition of hooding, representing their passage from student to graduate status.
"These talented women and men have persevered and survived not only the four long, hard years of a rigorous, demanding, dental curriculum, but also the most difficult year in the past century," said Ronnie Myers, D.D.S., Dean of TCDM. "They have done so with incredible calm and fortitude, seeing the goal and reaching the finish line."
Mr. Stanley M. Bergman, Chairman of the Board and CEO of Henry Schein, Inc., a Fortune 500® company and the world's largest provider of health care products and services to office-based dental and medical practitioners, was the distinguished keynote speaker for the ceremony. His attendance at the event was his first public appearance since the start of the COVID-19 pandemic. Mr. Bergman commended TCDM for delivering on its vision of creating a dental school of the future with such an enormously ambitious plan and commitment to its values. He challenged graduates to continue taking risk in their futures, just as he has over the course of his successful career.
"Why not graduate from a school that has a great vision. Why not think of any idea that you really believe will make a difference to yourself and the profession and society, and say 'I want to go for it.' It requires some guts and requires passion," said Mr. Bergman. "Don't take failure as an option and discard it. We learn from things we experience. Why not?"
During TCDM's virtual Class of 2021 ceremony, Catherine D. DeAngelis, M.D. M.P.H., a prominent leader in academic medicine, delivered the Commencement address. Dr. DeAngelis holds distinguished titles of University Distinguished Service Professor Emerita at Johns Hopkins University, Professor Emerita of Pediatrics at the Johns Hopkins University School of Medicine, and professor of health policy and management at the Johns Hopkins Bloomberg School of Public Health. She also is Editor-in-Chief Emerita of the Journal of the American Medical Association, serving as its first woman editor-in-chief from 2000 to 2011.
Dr. DeAngelis underscored the importance of the responsibilities of each medical professional as they embark on their journey as practitioners. "With these blessings and with this prestige comes a great responsibility," she said. "How you practice, how you work, how you cure, how you heal, how you discover is in your hands, no one else's.'
Edward F. Farkas, D.D.S, M.A., Vice Dean at TCDM, congratulated the Class of 2021, "I know you will leave here to meet your new profession with your eyes and hearts open, ensuring that it will be this class that will put their own unique stamp on dentistry and have the greatest impact on the lives of others. Memorialize in your heart the way in which you feel at this moment, full of enthusiasm, ready to take on the world, with no mountain too high and no river too wide and use that emotion to propel yourselves into a bright future full of realized promise."
TCDM's distinguished graduates of the Class of 2021 completed their four-year dental education which was rooted in a strong biomedical foundation, core clinical principles and harnessing advancements in digital dental technology, preparing them to better serve the many patients in their communities. Following commencement, students will begin their residencies or join private practices across the country.
View the TCDM Hooding and Awards Ceremony featuring Mr. Bergman
View the virtual 2021 Commencement Ceremony featuring Dr. DeAngelis