La Casita de la Salud Expands Services to Offer Medical and Dental Care in Westchester
Touro College of Dental Medicine Partners with New York Medical College Student-Run Clinic
May 10, 2021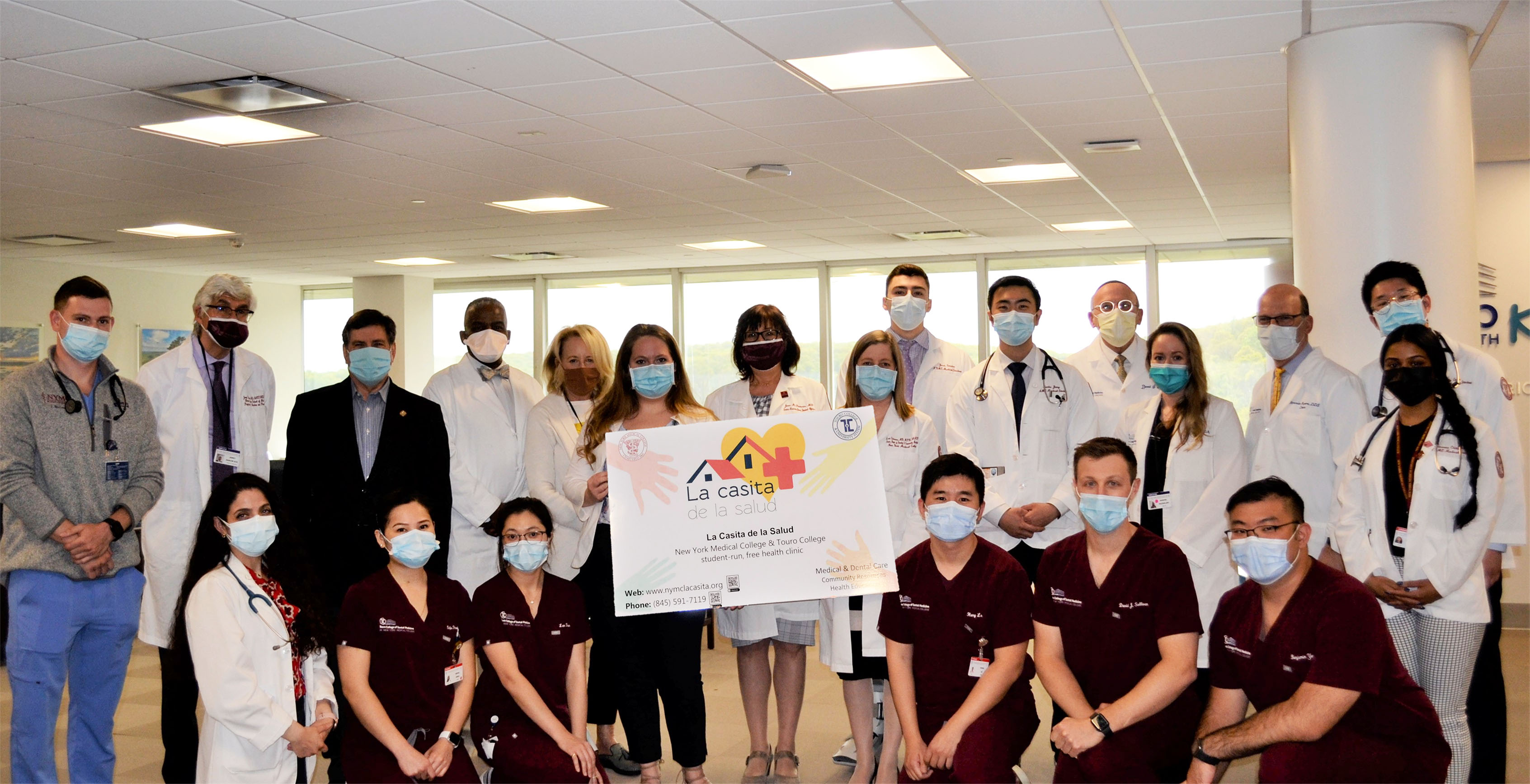 NYMC and TCDM students and faculty partner to deliver free medical and dental services
Since 2005 La Casita de la Salud, the New York Medical College (NYMC) student-run clinic located in East Harlem, has been bridging the gap in health care disparities by providing quality, culturally-competent care regardless of race, ethnicity, gender, nationality or ability to pay. That gap just got a bit smaller with the opening of a second student-run clinic. The new La Casita de la Salud, located at 19 Skyline Drive on the NYMC campus, is a joint venture between NYMC's Family Health Center and Touro Dental Health, the state-of-the-art, 115-chair dental health facility of the Touro College of Dental Medicine (TCDM) at NYMC, and will offer free medical and dental care to uninsured adults.
After a soft opening in April, the new La Casita de la Salud — which is Spanish for 'the little house of health' — officially opened on May 6. The clinic operates on one Thursday a month from 4:00 p.m. to 7:00 p.m., with plans for expanded operations in the future.
Patients will receive longitudinal care, while students will get valuable clinical experience under the supervision of faculty advisors Lori Solomon, M.D. '99, M.P.H. '09, assistant professor and chair of the Department of Family and Community Medicine and director of the Family Health Center, and Raquel M. Rozdolski, D.M.D., clinical assistant professor of dental Medicine.
"The student-run clinic is an opportunity for our students to actively participate in providing vital care to those who have no place else to go, those that are marginalized," said Ronnie Myers D.D.S., dean of TCDM. "They will gain an understanding of their ability to make a difference in the lives of these patients in their future practice."
Billed as a one stop shop for medical and dental care, a typical patient visit will begin with a physical exam at the Family Health Center, followed by a warm handoff to Touro Dental Health for a dental exam and care. It is a true model of an interdisciplinary clinic and interprofessional education.
"I am very proud of the medical and dental students for working together to launch a student-run free clinic in Westchester County," said Dr. Solomon. "They have been working through this academic year to set this clinic up and it is thrilling to see it launch. The students are learning a lot from each other and giving back to the community."
"This program is an incredible experience for our students and the development of their interprofessional education," said Dr. Rozdolski. "Dental students and medical students are working side-by-side as part of the patient's health care team in order to deliver coordinated and comprehensive care to the patients of our community."
Care will be delivered by a pre-clinical and clinical student pair in both settings. Roxanna Nahvi, M.D./Ph.D. candidate Class of 2023, and Benjamin Yee, TCDM Class of 2021, are spearheading the student initiative and they are in good company with the more than 100 students each from NYMC and TCDM who applied to volunteer at La Casita. In addition to clinical experience, student volunteers will also gain valuable operational and management experience.
"It has been truly amazing to see La Casita evolve during my four years as part of its student leadership," Ms. Nahvi said. "My hope is that this clinic can make a difference in our community in its own small way."
While the large pool of volunteers may not all get the chance for a clinical encounter, there are plenty of other opportunities for them. Patient educators will provide general health information on topics such as nutrition, diabetes, asthma, gum disease, oral cancer and smoking cessation. The co-location of the Family Health Center and Touro Dental Health exemplifies the correlation between oral health and systemic health which will also be a pillar of the patient education.
"The COVID-19 pandemic has clearly exposed wounds in our health care system and the unmet health needs of New Yorkers," said Jerry L. Nadler, M.D., dean of the School of Medicine and professor of medicine and pharmacology. "The clinic also represents a wonderful opportunity for inter-professional collaboration and education with both the medical and dental students working together in one setting for a common cause to improve people's health."
A community resource group will help patients with resources for nutritional food, medication and social services, while student volunteers will also work on community outreach to recruit patients by partnering with community organizations and houses of worship. One Spanish-speaking volunteer will be available at all of the clinic dates and other language interpreters will be added in the future.
La Casita will offer exams and laboratory testing at no cost to patients and will help them apply for free or reduced-fee pharmaceuticals, advanced diagnostic testing and referrals for specialty care if necessary. Follow up appointments will be made for patients with the same student volunteers to provide continuity of care, develop trust and a establish a patient/provider relationship.
La Casita will operate under strict COVID-19 protocols including reduced capacity, screening practices, use of personal protective equipment and enhanced cleaning practices. To confirm eligibility and schedule an appointment, patients may call La Casita de la Salud at (845) 519-7119 or Touro Dental Health at (914) 594-2700.