All in the Family
Adam Gadbois, Touro College of Dental Medicine '20
May 19, 2020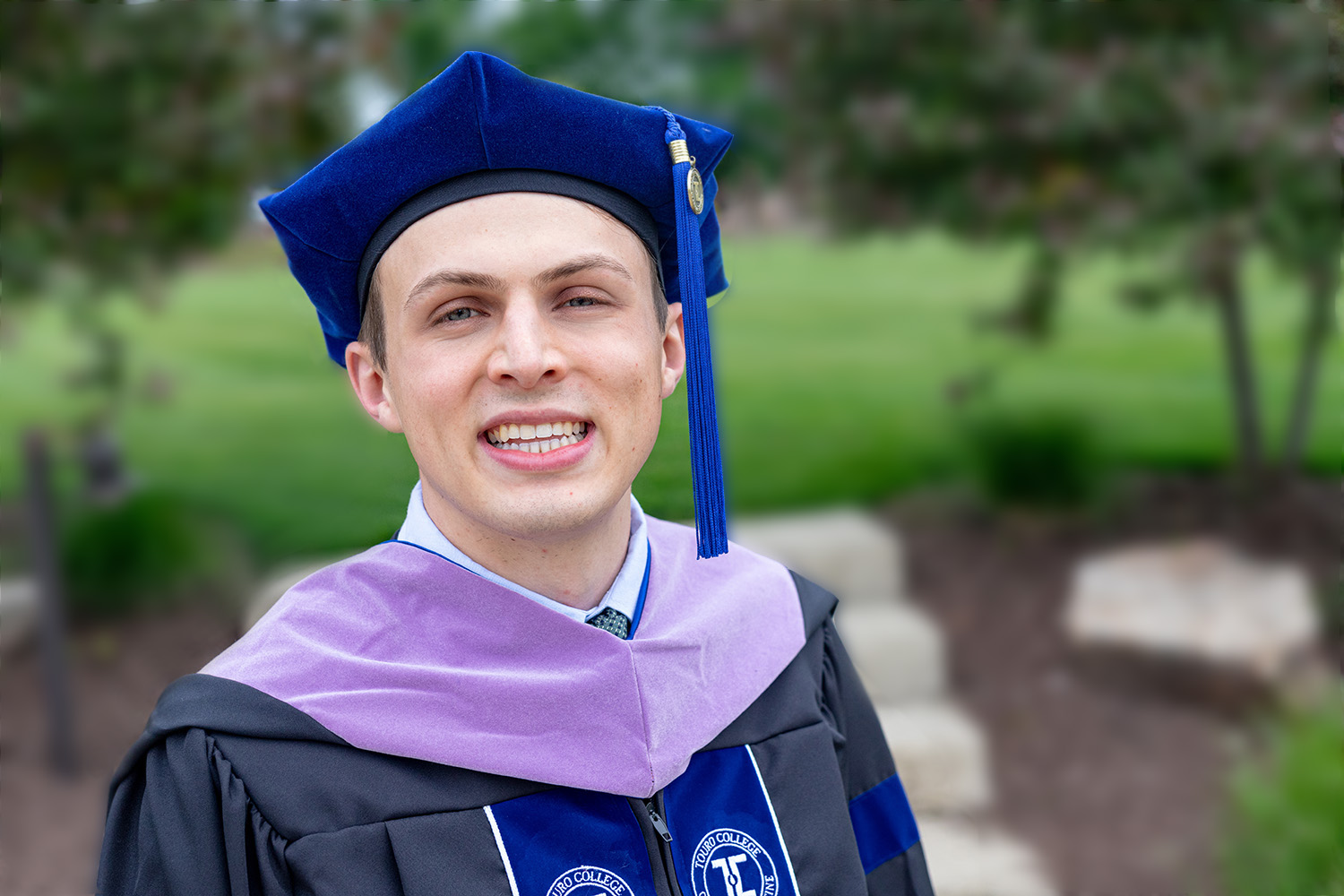 Adam is part of the first class to graduate from Touro College of Dental Medicine (TCDM), the newest dental school in the country founded to harness advancements in digital dentistry for the good of the community. With school's campus and clinic closed due to coronavirus, the 103 graduates of the TCDM's Inaugural Class of 2020 will celebrate their historic commencement virtually May 19 before beginning residencies or joining private practices across the country.
Next Step:
Private Practice, Columbia, MO
Last time Adam Gadbois lived at home, he was a teenager attending the University of Missouri, from which he graduated at age 19. Now, returning home to quarantine with his family before moving to his own place in Columbia, MO, Adam—one of the youngest dentists in America at age 23—will also be the youngest partner in his family's Cherry Hill Dental Practice.
"I missed my family a lot, and it's so great to be home," he says. "But this is very different from living at home and going to college. I'm coming back at a different time in my life. It's nice to come back as a doctor and be able to contribute to the family business."
His parents have embraced digital dentistry, and Adam can put his Touro education right to work, including 3D printing implants or doing digital scans on all intake patients. "I have a lot of applicable experience and can really fit in," he says. "Whenever I'd call my parents from Touro and say, 'We're doing this in school, now we're doing this,' with all the modern technologies, they'd say, 'That'll be perfect when you come, because we're doing that, too.'"
What Adam is looking forward to most working at the family business is learning from his parents who are both dentists. In addition, he will be working alongside his fiancée, a dental hygienist who is also joining the practice. "My parents are amazing and have a lot to teach me," he says. "My mother has this ability to compassionately approach any situation, and I admire that about her and how she manages the practice. My dad is always doing his best to innovate, learn new skills and be on the cutting edge. And not only with dentistry, with side projects at home, too, like building a bridge in the back yard or fixing pinball machines. It's always been inspiring and fun to learn from my dad."
With his training—both from his parents and from Touro—Adam aims to keep innovating in dentistry, for the good of his patients. "I'm going to maintain a very patient-focused attitude and make sure I do my best for my patients," he says. "And I will always keep up to date with innovations in dentistry, so I can deliver care that's good not only in 2020 but in 2030 and beyond."
Right now, as they await the practice's reopening, the family of seven is quarantining together along with some significant others, including Adam's fiancée, the sister of a TCDM classmate. "The biggest issue is matching up everyone's sleep schedule," he says.
Adam is understandably disappointed in how his final year at TCDM came to an abrupt end with the campus and clinics closing due to coronavirus. But if there's one thing that the TCDM Class of 2020 has in common, it's adaptability. "The defining factor of class of 2020: roll with the punches," Adam says. "That's the way we've done things since we got here, and we're better for it. We'll be able to adapt throughout our careers. Honestly, it's almost fitting for this first class that we are doing graduation a whole new way."