Breaking Down Barriers Through Language
Self-taught Spanish speaker Andrew Gibbs, Touro College of Dental Medicine '21, looks forward to a year of service abroad and a bright future in dentistry
May 07, 2021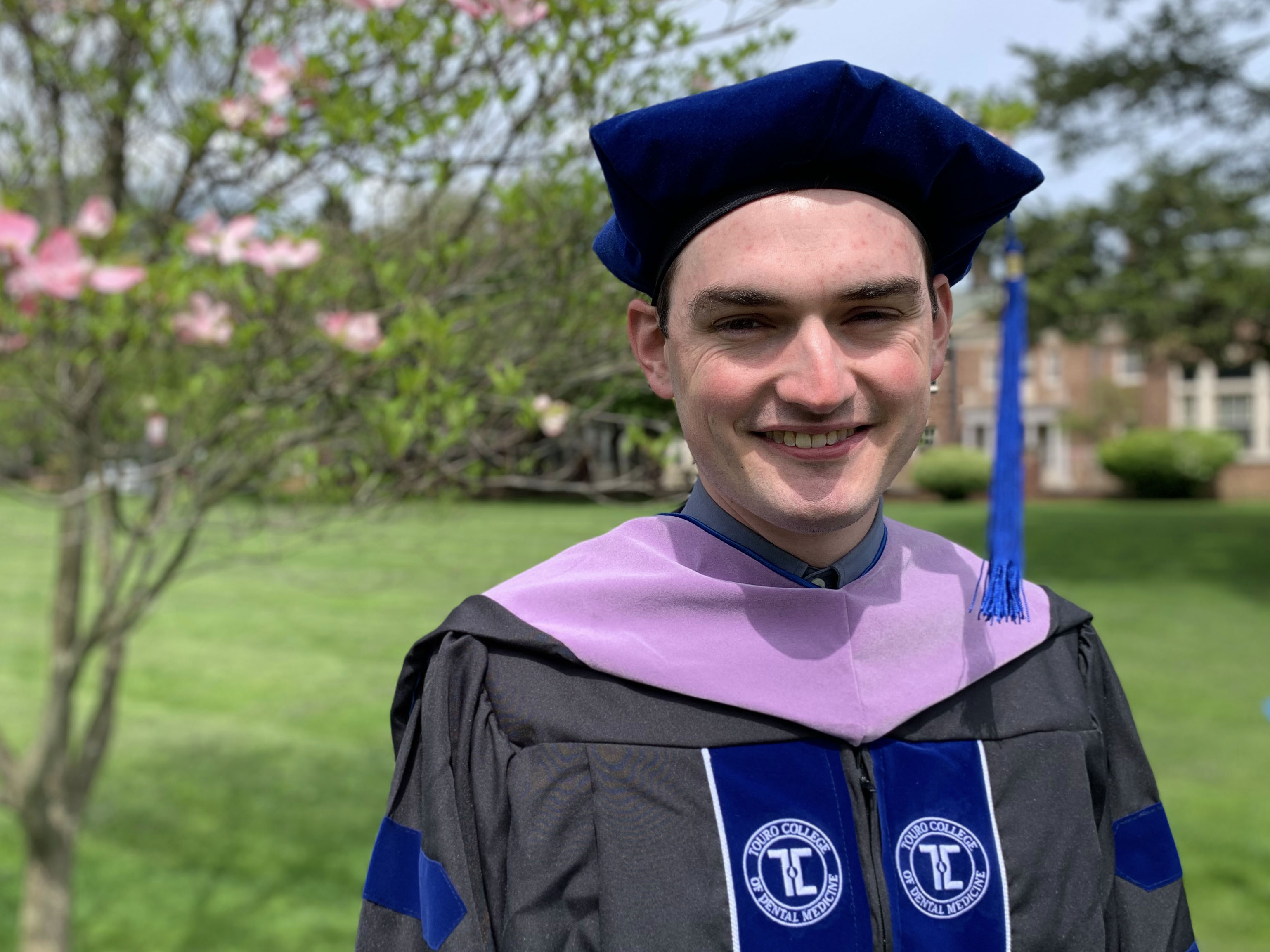 Andrew Gibbs, '21
Next Step:
Advanced Education in General Dentistry, NYU Langone - Puerto Rico
What Andrew Gibbs loves most about dentistry is the "human interaction aspect" of the profession, placing enormous value on the irreplaceable relationships and bonds he has the opportunity to form with the patients who sit in his chair. Having taught himself at the age of 19 to speak Spanish fluently, he has had the opportunity to connect with countless Spanish speaking patients in his time providing care at Touro Dental Health—the 115-chair clinical teaching practice at the Touro College of Dental Medicine (TCDM). As many of them have never had access before to a dental care provider with the ability to speak Spanish, Andrew shares that his patients are always impressed, and grateful, for his ability to do so.
"I have seen a lot of Hispanic patients at Touro Dental Health, and I was constantly asked by students and faculty to translate. I love people and languages and it is something that I enjoy doing," said Andrew. "It just allows me to instantly form a bond with that patient. Even if you don't have much else in common, you have a lot in common if you speak the same language."
With service work being an integral part of his upbringing and being consistently inspired by the selflessness of his own parents, Andrew, who is originally from Colorado, made the decision while obtaining his undergraduate degree in Neuroscience at Brigham Young University in Provo, Utah, to participate on a two-year long mission trip to Paraguay. Though he had no Hispanic or Latino background or influence growing up, Andrew, knowing that he would be working and living in a foreign country for such an extended period, "got serious" about studying the language prior to his trip and became incredibly well-versed through his own studies. In his time at TCDM, he has had the opportunity to apply his skills as a student dentist and his knowledge of Spanish — and Portuguese! — both inside and outside of TCDM's walls, opting to participate on dental service trips to both Guatemala and Cusco, Peru. While assisting in both locations, he shares that he was shocked by how patients there were so used to dental pain as a result of a lack of access to care, a reality which encouraged him to seek out a service-based program on this next step of his D.D.S. journey.
Now, equipped with his passions for service, language and travel, paired perfectly with his skills as a student dentist, Andrew, for the next year will be advancing his education and skills as a practitioner while having the opportunity to serve underprivileged patient populations in Ponce, Puerto Rico, though NYU Langone.
"Service work just makes life so much more meaningful. In asking myself 'what is the purpose of life?' I genuinely think it is to care about other people," said Andrew. "Prior to dental school, I would be able to serve others in some capacities but having a specialized skill set makes it even more gratifying to serve others because you are offering and providing something that not everyone can."