Class of 2022 Joins TCDM
TCDM Reaches Another Milestone With Its Third Class of Students
August 07, 2018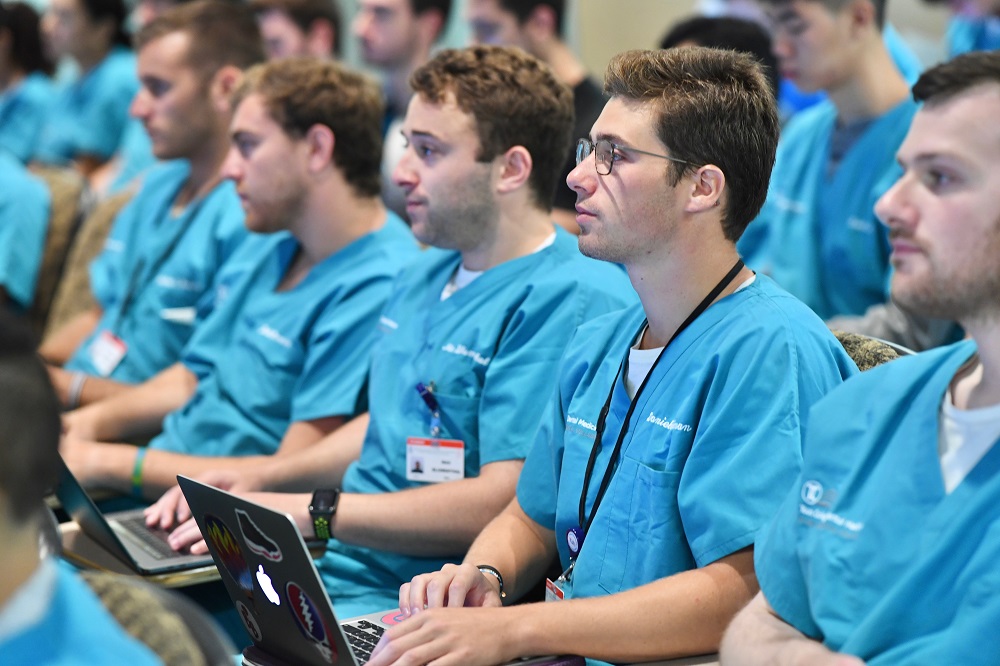 Touro College of Dental Medicine officially welcomed its third class of future dentists, moving one step closer to a full roster of students. The class of 2022 began their dental school careers in early July with three days of orientation, tours, introduction and a class picture that will be hung among, so far, two other photos to commemorate the school's early history.
Renae Smith, a D1 student from Monroe, NY, explains as she received her first pair of TCDM scrubs, "I just want to do well. Everything seems very exciting so far. It'll really set in when we have our first tests and things get more real, but for now I'm just excited.
Their distinguishable, teal scrubs are a welcome change to the campus, usually filled with navy and maroon for current third and second year students. While September will be the first time for all three classes to combine, there have already been a variety of social events and opportunities for new students to receive advice and mentoring from their upper classmates, including up-close encounters with 3rd year students providing dental care in Touro Dental Health, the schools recently opened clinical training facility.
D3 student, Brittany Mackesey had the pleasure of acting as student-dentist during Smith's first visit to Touro Dental Health last week. Mackesey says the third-year class is excited about the new students. "It's great to see the new class walking around. Having them at Touro Dental Health is a great bonding experience and I think we all look forward to being able to guide them through their first year," she added. "Being a part of the first class has its advantages and that's definitely one of them."
112 students were accepted to TCDM this year from among more than 2400 applicants nationwide – a number that has grown steadily each year. Students were carefully selected for their future ambitions and stellar academic performance, including an outstanding average DAT score of 21 (top 10% of the country). The class adds to TCDM's geographic and cultural diversity, with 60% coming from the Tri-State area and 40% from across the US.