TCDM Dean Ronnie Myers, D.D.S., is Honored by Alma Mater for Achievements in Academic Dentistry
Columbia University College of Dental Medicine Presents its Distinguished Alumni Award
May 13, 2019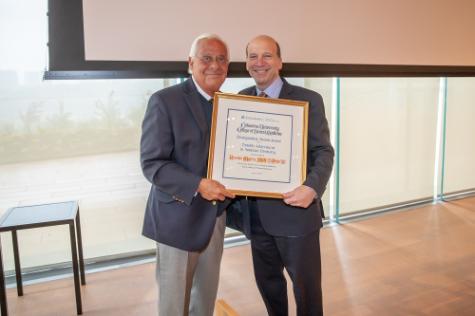 On May 3, Columbia University College of Dental Medicine honored Ronnie Myers, D.D.S., Dean of Touro College of Dental Medicine, with its Distinguished Alumni Award for Notable Achievement in Academic Dentistry.
The award was presented by Richard Lichtenthal, D.D.S., Associate Professor of Dental Medicine, Division of Operative Dentistry at Columbia, in front of family and friends, peers and former colleagues.
Each year, Columbia selects an awardee based upon their exemplary contributions in the areas of academics, organized dentistry and research, with nominations from faculty leadership, the Alumni Association executive committee, and the school's Dean.
Dean Myers has a long and fond history with Columbia University College of Dental Medicine, where he received his DDS in 1979, followed by his residency in Pediatric Dentistry in 1980. He served full-time on the faculty from to 1982 - 2016, holding a variety of leadership positions, including Associate Dean for Clinical Affairs, Vice Dean for Administrative Affairs, and Interim Dean.