Dental and Medical Students Learn about Holocaust
Jacob Eisenbach, D.D.S., Speaks Against Hatred and Genocide
November 17, 2017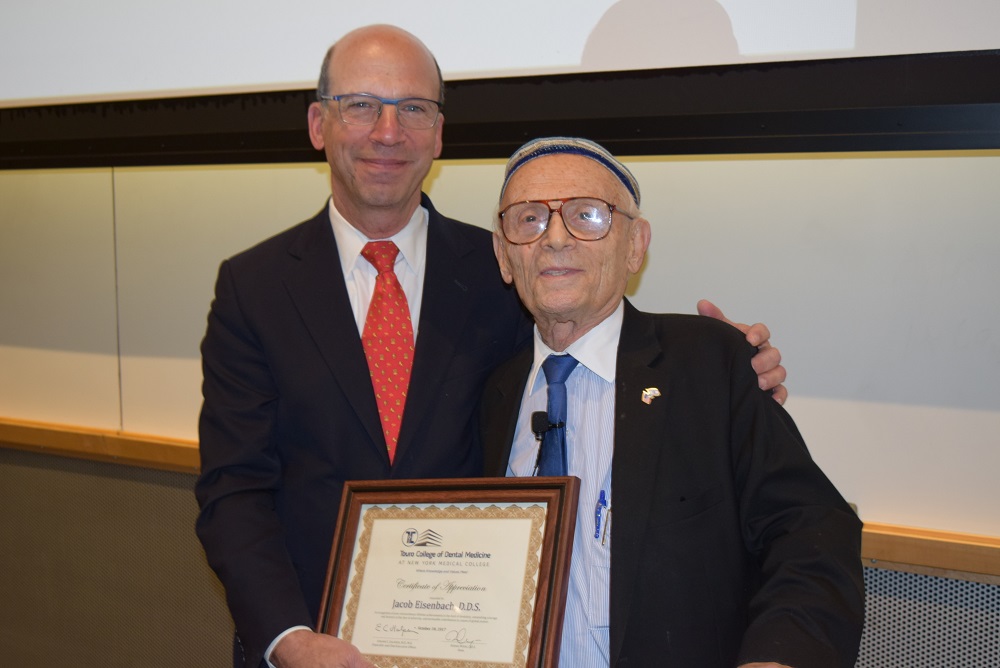 For an hour on October 30, dental and medical students at Touro College of Dental Medicine and New York Medical College were transported to the 1930s as Jacob Eisenbach, D.D.S., a 92-year-old retired dentist spoke about his experience as a Holocaust survivor. Dr. Eisenbach's story is vividly recorded in the book Where You Go, I Go, an account of his experiences.
Ronnie Myers, D.D.S., dean of the Touro College of Dental Medicine, presented Dr. Eisenbach with a plaque in recognition of his "extraordinary lifetime achievement in the field of dentistry, astonishing courage and bravery in the face of adversity and invaluable contribution to causes of global justice."
Despite the more than eighty years that have passed since the Holocaust, Dr. Eiesenbach easily painted a clear picture of his life before and immediately after the catastrophe that killed 6 million Jews.
"As a Holocaust survivor, I have a moral obligation to recall the story of the Holocaust and never allow it to be forgotten," said Dr. Eisenbach who was born in Lodz, Poland. "If we forget what happened we contribute to its repetition."
Dr. Eisenbach regaled the audience with stories of his happy childhood and the era in which he grew up—a world that was shattered by the German invasion of Poland. During his speech, Dr. Eisenbach presented black and white photographs of his family in better times. When his parents were sent to a concentration camp, Dr. Eisenbach and his brother fled Lodz after being warned by the train conductors about where the passengers were being taken. "They could smell the burning flesh in the air," Dr. Eisenbach recalled.
Eventually Dr. Eisenbach and his brother were caught and sent to a smaller concentration camp where they were used as laborers in a munitions factory. He met his wife at the camp. "It was a romantic place," he joked. As the war came to an end, guards in watchtowers fired machine guns indiscriminately at the surviving workers. Dr. Eisenbach, his wife, and his brother managed to escape and flee into the woods. He remembered being told to watch what he ate after he escaped from the camps since he was so emaciated his body couldn't handle normal food.
Dr. Eisenbach came from a large extended family that numbered 100 in total. By the war's end, only he, a brother and a cousin were left alive.
Dr. Eisenbach noted that anti-Semitism flourished after the war as well. Two years after surviving the concentration camps, Dr. Eisenbach's brother, then a high-ranking member of the Polish army, was killed by an anti-Semitic Polish citizen.
With the help of a Jewish organization, Dr. Eisenbach and his family fled Poland and moved to America.
Near the end of his speech, Dr. Eisenbach recounted how he was often asked if he has lost faith in humanity. He answered by describing the efforts of the Danish citizens to protect their Jewish population and individuals like Swedish Envoy Raoul Wallenberg, who saved 10,000 Jews, and Chiune Sugihara, the Japanese consul to Lithuania who issued 6,000 visas to Jews against his government's orders.
"How can I lose faith in humanity when so many great humanitarians walked the earth?" said Dr, Eisenbach. "Hitler didn't represent humanity; he represented inhumanity."
He concluded his speech by praising America as the "greatest country in the world" and the need for medical professionals to be aware and combat genocide across the globe.
"It was an honor to hear him speak," said Touro College of Dental Medicine student Lana Hashim. "He was incredibly inspiring. He had so much wisdom and insight to share."
"It's really inspiring to hear how motivated he is at his age to share his story," said dental student Yash Desai. "It's amazing that he hasn't lost faith in humanity."