"Research Allows Us to Move the Field Forward"
Dental Students Present on First-Ever Research Elective
October 31, 2017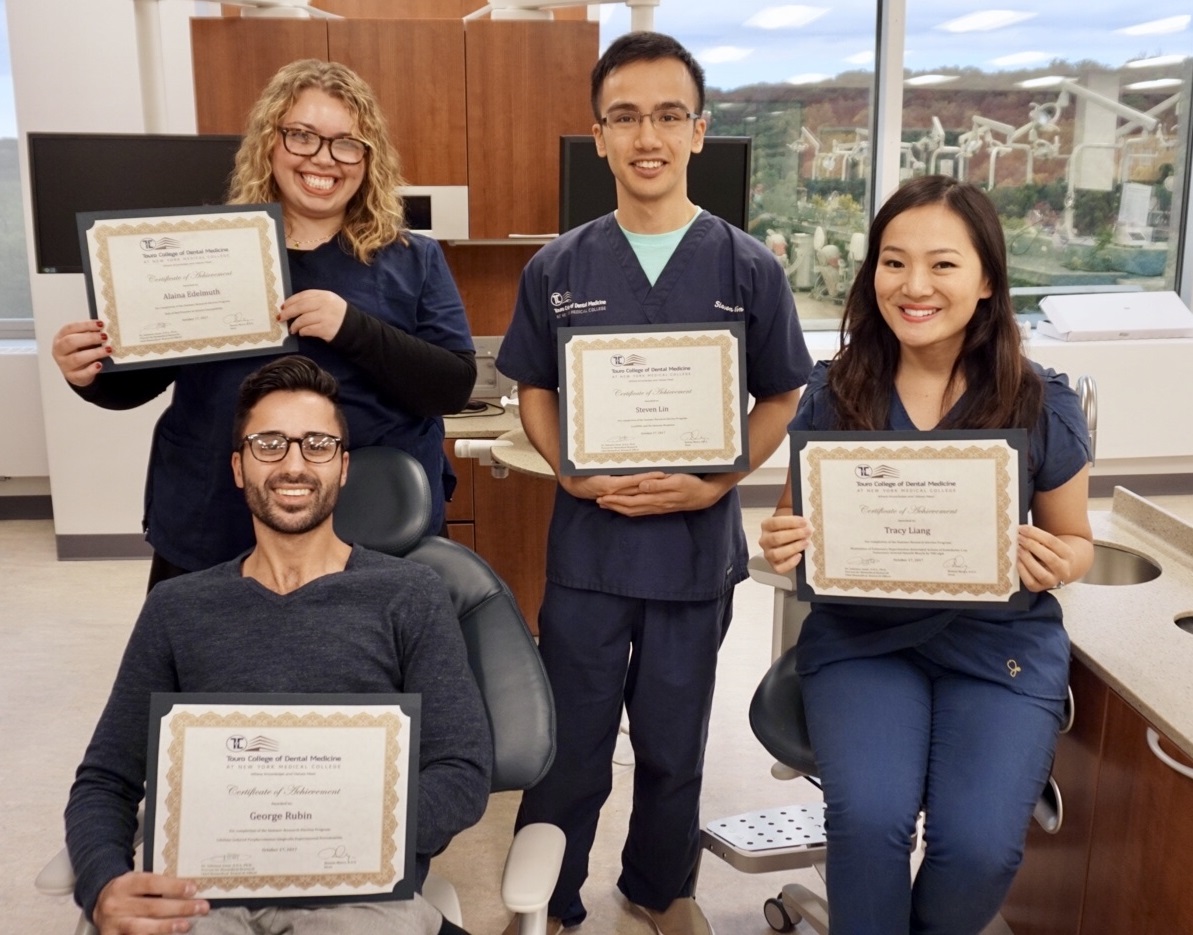 Students and faculty members of Touro College of Dental Medicine gathered on October 17 for the school's inaugural research presentations. Five first-year dental students spent their summer in an optional research elective at Touro's New York Medical College.
"If your mind is inquisitive, you should ask questions and find answers," stated Dr. Salomon Amar, Touro College & University System Provost for Biomedical Research and Chief Biomedical Research Officer. "This is how the field progresses."
The five students who participated in the research studied a variety of topics across a range of disciplines including immunology, microbiology and pharmacology. Presentations included lectures about bone loss in periodontitis to how a chemical associated with the cheese fermentation process might have antibiotic-like effects. After each presentation, students answered questions from audience members about their research.
"It was a really rewarding experience," stated student Zev Kizelnik during his presentation.
Steven Lin, who studied the molecule LactORN, a common ingredient in most cheeses, said that the research was similar to the kind or research he did as a master's candidate in biomedical technology at Rutgers University.
"When Dr. Amar offered us the chance to do research, I thought I'd take advantage of the opportunity," Lin said. "It was a great way to fill the summer. I learned new biological techniques. The experience trained me to transfer research into a clinical setting."
Tracy Liang studied the relationship between hypertension and a chemical that is associated with periodontitis. Her surprise finding included the fact that a bit of periodontitis may help ease hypertension. (Though she added, don't stop brushing just yet--the findings weren't conclusive.)
"I couldn't have thought of a better way to spend my summer," said Liang. "Touro wants us to be seen as both scientists and clinicians."
Dr. Ronnie Myers, Dean of Touro College of Dental Medicine, thought the presentations were excellent.
"This is a great first step in developing a comprehensive research program at the College of Dental Medicine," he said. "Research allows us to move the profession forward. Dentistry, as in all areas of healthcare, is about moving the ball forward for better outcomes."
Dr. Amar said that the research elective will be offered again next year.
"We wanted to expose the community to research and dental student research," stated Dr. Amar. "This is how we move the field towards evidence-based dentistry which will allow us to develop new therapeutics."
Full list of presentations:
Alaina Edelmuth – Role of Brd Proteins in Seizure Susceptibility
George Rubin – Ligature-Induced Porphyromonas Gingivalis Experimental Periodontitis
Steven Lin – LactORNs and the Immune Response
Tracy Liang – Modulation of Pulmonary Hypertension-Associated Actions of Endothelin-1 on Pulmonary Arterial Smooth Muscle By TNF- alpha
Zev Kizelnik – Analysis of Bone Loss in Murine Periodontitis Model