Education in the Age of Digital Dentistry
The Touro Difference
June 19, 2018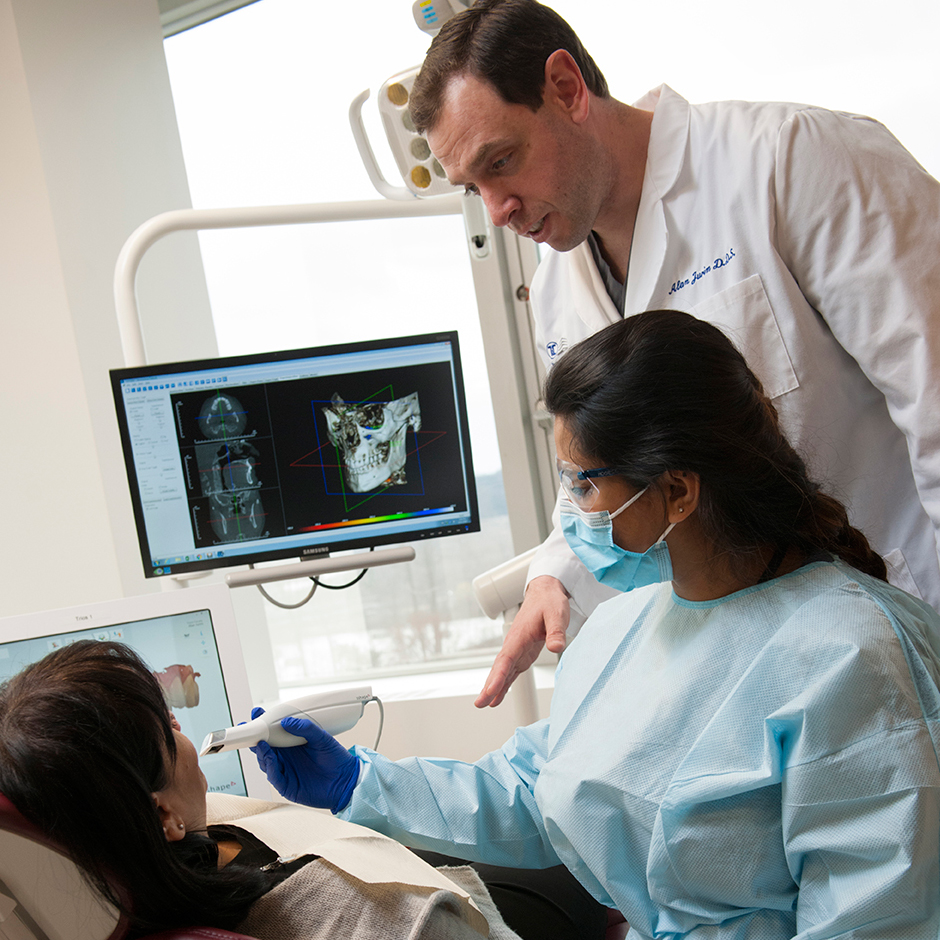 Naren Rajan, D.M.D., F.A.G.D., says sometimes he used to lose sleep the night before performing a complicated dental procedure, worried about the variables he might encounter translating a treatment plan into actual treatment. But since the advent of digital dentistry, he sleeps better knowing it's possible to envision the outcome before performing the procedure.
"Digital dentistry reduces the guesswork," says Dr. Rajan, TCDM's Assistant Director of Digital Dentistry. "Before the surgery, I know exactly how it's going to go. With digital dentistry's workflow, patients and practitioners are much more informed, and they get superior results. That's what we want to teach students."
The rise of digital dentistry was indeed the spark of inspiration behind the founding of Touro College of Dental Medicine. Struck by how quickly novel techniques and technologies were advancing and knowing that, historically, dental schools tended to be slow to embrace change, Edward Farkas, D.D.S., Vice Dean, had a brainstorm to create a school that trained practitioners of the future in dental techniques of the future.
"Over the last ten years, there's been a huge paradigm shift in digital dentistry," says Dr. Farkas. "It's overtaken the profession, and students aren't always prepared. The very idea behind TCDM is to make sure students are trained in these techniques. That's the Touro difference. We've invested in infrastructure for the new age of digital dentistry incorporating it for all patient care, and we've recruited leaders in the field to teach our students.
Toward that end, Dr. Farkas recruited the brother-sister team of Drs. Alan and Barbara Jurim, internationally known experts in CAD/CAM technologies whose Long Island dental lab, Jurim Dental Studio, is at the cutting edge of digital dentistry and who hail from dental royalty (their father and the studio's founder, Adrian Jurim, M.D.T., was a renowned pioneering dental ceramicist). Joining the Jurims at TCDM are Sunil Abraham, Jurim Dental's Director of Technology, Dean Sullivan, a dental technician with an impressive career providing training in all aspects of digital dentistry to industry professionals across the globe, and Dr. Rajan, who has a practice in New Jersey and lectures nationally on incorporating digital workflows into general dentistry. Together with TCDM leadership, the team is building an unrivalled, innovative digital dentistry program and curriculum.
"We've shaped our program to teach the latest technologies and utilize the latest equipment, and we are innovating well beyond other schools," says Alan Jurim, D.D.S., Clinical Assistant Professor and Director of Digital Dentistry. "Touro is not just giving students access to an intraoral scanner—we're giving them access to an entire ecosystem that allows all the tools of digital dentistry to come together so they have that practical experience when they leave."
TCDM'S DIGITAL ECOSYSTEM
The instruments and technologies that Touro's faculty and students have access to include optical intraoral scanners for noninvasive diagnostics that create a digital 3D map of the teeth and oral structures, and 2D and 3D radiographs that scan a full circle around the head for a complete view of the facial anatomy. TCDM is also adding digital cameras for facial portraiture and video, which create a more extensive digital record that goes beyond impressions of solely dentitions and gums, allowing for better and more personalized patient-centric treatment planning.
While the hardware is impressive, the true revolution of digital dentistry is best appreciated in the software. After careful and extensive information technology setup across the school, any patient's digital data—including 3D radiographs and eventually facial portraits and video—can be viewed by any properly credentialed student or faculty member, from any computer terminal on campus or securely connected remote laptop. Everyone working on a patient, from intake to oral surgeon to the patient him- or herself, can see the same information and collaborate closely on a multi-perspective treatment plan.
"Digital dentistry is all about aligning data sets," says Mr. Abraham, TCDM's Digital Technology Administrator, who notes that the "enterprise scale" of the school's digital dentistry program is unprecedented. The vast technology infrastructure here is up-to-the-moment and cutting-edge because it's built from the ground up and did not have to contend with existing outmoded IT, which is the challenge facing most existing dental schools.
Touro expects to soon add 3D printers to its inventory to generate dental models, oral appliances and surgical guides. Eventually 3D CAD/CAM mills may be added for students to learn how to manufacture crowns, bridges and other dental prosthetics. This means that digital dentistry can replace workflows from start to finish. Instead of X-rays, films and molds, stone and wax, and days or weeks in the lab, digital dentistry allows practitioners—and now, Touro faculty and students—to go from an oral scanner to a 3D printer to a resin model, all with onsite equipment.
"I learned with wax and stone," says Dr. Rajan, who has been digital since 2007. "If a patient came in with a number of things going on, it wasn't always clear where to begin. Digital dentistry establishes a way for the patient's whole team to envision the final results, then plan the treatment in a stepwise manner." This includes creating crowns, veneers, implants—whatever the treatment calls for—digitally. "Something you see on a screen," he explains, "becomes something you hold in your hand."
Take the planning for implant insertion. Thanks to technological advances and the advent of digital dentistry, the implant placement is digitally planned and the restoration manufactured before the patient is in the chair. This workflow ensures the safest and most predictable outcome for the implant patient. No guesswork, no invasive procedure, and the patient, notes Dr. Farkas, "goes home with teeth."
"Guided implant surgery gives us the tools to plan and virtually perform a surgery before we ever touch a patient," says Dr. Jurim. "That gives you tremendous insight into the complexity of the surgery and making sure you've done everything possible so that surgery is as fast, safe and comprehensive."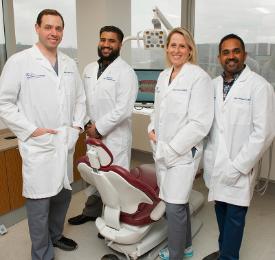 Left to Right: Alan Jurim, D.D.S., Sunil Abraham, Barbara Jurim, D.D.S., Naren Rajan, D.M.D., F.A.G.D. and Dean Sullivan (not pictured).
TEACHING THE BEST OF BOTH WORLDS
Barbara Jurim, D.D.S., a prosthodontist and Clinical Assistant Professor and Assistant Director of Digital Dentistry, emphasizes that while digital dentistry is more efficient and more comfortable for patients, it is not a shortcut for practitioners or for students. They must have a full understanding of the diagnostics and interventions behind the technology. "D2 students learn how dental procedures were traditionally done so they can get an appreciation as to why the digital alternative may be better," she says. "Without having that understanding, it's hard to make that judgment or even understand the benefit of digital." She notes, for instance, that students learn to make a crown with traditional methods first, then learn how to make it using a digital impression.
The Jurims' team and other TCDM faculty are developing a digital dentistry pre-clinical curriculum that augments traditional learning with the digital perspective. So far, that has included instruction to the D1 class on diagnostic digital impressioning, as well as building the skillset with the D2 class to digitally impress fixed prosthetics and use digital software analysis tools to critically evaluate and improve their work.
"At Touro, we take the best of both worlds—traditional clinical dentistry and digital dentistry—and combine them into a system that is unique in [dental education]," says Alan Jurim. "Students today are more comfortable with technology. For them, it's almost second nature. For us, we know it's the future of dentistry."
WHAT OUR STUDENTS SAY
"I picked Touro College of Dental Medicine because it was a brand new institution with an emphasis on technology and innovation. Some of the schools I looked at had been doing things the same way for many years. At Touro, there is a willingness to make changes and evolve in its approach to teaching and curriculum."
Sonia Suri, Class of 2020
"In this era, everything is highly technology-driven, especially dentistry. I chose TCDM for its top-of-the-line digital advances and the chance to experience how advanced technology integrates into dentistry. Learning in class and shadowing in the clinic, I'm seeing first-hand how digital dentistry can take the efficiency and quality of patient care to a whole new level."
Yujun Wang, Class of 2020