Fair Care
An Innovative Fellowship Trains Dentists to Care for Individuals with Intellectual and Developmental Disabilities
August 16, 2023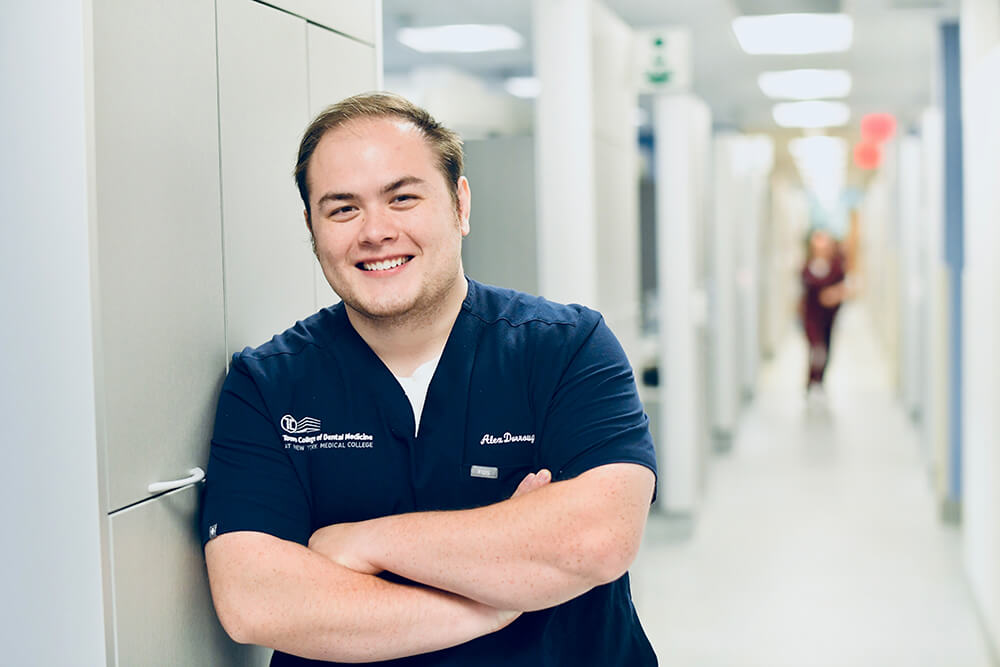 Alex Dorrough
The brothers desperately needed to have their teeth examined, but instead planted themselves on the hallway floor and refused to budge, no matter how their parents tried to reassure them.
Dr. Alex Dorrough was warm, welcoming and waited without a hint of crossed arms or toe-tapping impatience. Eventually—with all that the word implies—Dorrough was rewarded. "We got one kid to brush his whole mouth," says Dorrough, now a dentist with a focus on treating individuals with special healthcare needs at Hudson Valley Cerebral Palsy Association. "With the other kid, we got to brush two teeth. I consider that a win. Two teeth this time four teeth next time and then the whole mouth. All without traumatizing or terrifying them."
When Dorrough graduated from Touro College of Dental Medicine (TCDM) in 2020, he hadn't a clue about the disparities individuals with intellectual and developmental disabilities face when it comes to seeking routine and specialized dental care. Nor did he know that in 2022, he would be back at TCDM as the first fellow in an innovative yearlong program that trains postgraduates in special needs care. Fellows manage the complex needs of people with disabilities through diversified experiences by rotating through Touro Dental Health's pediatric clinic, the Westchester Institute for Human Development and the operating rooms at Westchester Medical Center.
In New York State, the wait for many patients with special healthcare needs can be six months to two years. Often many suffer severe mouth pain from infections and other tooth-related problems while they wait. Worse still, some patients are non-verbal and unable to describe the pain they are experiencing, which can lead to increased fear and frustration. Many dentists do not feel comfortable or don't have the behavioral skills to treat individuals with differing needs. Those patients often end up being referred to a hospital, where they must be put under general anesthesia for dental treatment.
These are among the facts Dr. Dorrough learned as the recipient of the 2021-22 New York State Academic Dental Centers (NYSADC) Fellowship to Address Oral Health Disparities, which was funded by The Mother Cabrini Health Foundation through a grant. In 2022, each of the six dental schools in New York received funding from the state to train one dentist for the fellowship. TCDM and the other centers hope the program will be funded annually by the state. That's six new individuals each year trained to address the oral health needs of this marginalized population. Fellowship duties include spending 20 percent of their time teaching current dental students about the social, medical and advocacy needs of their current and future patients.
"Pretty soon, the dentists become advocates and ambassadors for future students to understand and confidently assume the responsibility of the profession to provide essential care to patients with intellectual and developmental disabilities," explains TCDM's Assistant Professor & Director of Special Needs Dr. Susan DiSenso-Browne, who along with Assistant Professor and Director of Anesthesia and Pain Control Dr. Raquel Rozdolski, co-designed and runs the fellowship program at TCDM. "The focus is on closing the huge gap on this health disparity with this very vulnerable population," says Rozdolski. "Whatever the diagnosis, the important thing is to teach dentists the skills and the accommodations needed to care for all patients and have the patients and their families benefit from the program."
Some already are reaping the benefits. "Thanks to Dr. Dorrough, my daughter, an adult with intellectual and developmental disabilities, no longer dreads appointments," said one patient's mother. "Dr. Dorrough was not only able to assess and put into action a qualitative dental care plan for her, but he did so in a most thoughtful, gentle and kind manner, quickly gaining her trust and putting her (and me) at ease. Despite the fact that she is intellectually challenged, it did not prevent Dr. Dorrough from engaging her in conversation and encouraging her to share about herself during her frequent visits for dental care. These exchanges fostered a sense of inclusion and made her dental treatments something she actually looked forward to!"
Helping patients like this and others is deeply satisfying to Dorrough, who upon completion of his fellowship year, has been hired part time at TCDM to continue teaching students how to be comfortable treating patients with differing needs. "It's a calling," says Dorrough. "It's a career, of course, and an important and rewarding one. But for me, it's a calling."