Touro College of Dental Medicine Hosts 5th Annual Gala Honoring Distinguished Leadership in Challenging Times
Annual Gala Sets Record-Breaking Numbers for Charitable Donations and Number of Contributors Benefiting Student Scholarships and Patient Care
November 30, 2021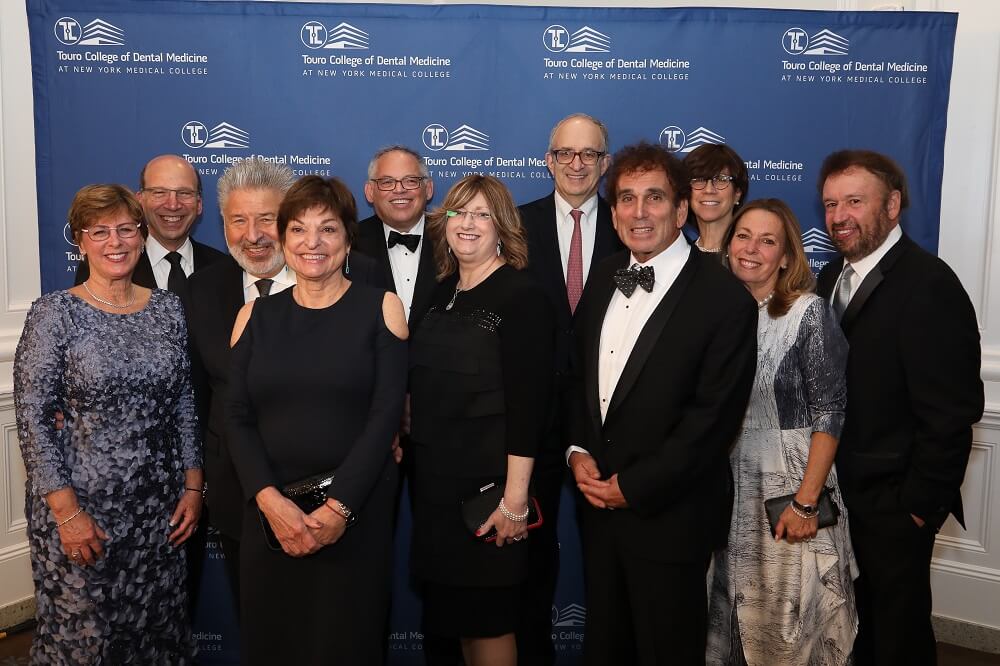 Touro College of Dental Medicine held its fifth gala last month. The event raised funds for student scholarships and patient care at Touro Dental Health.
WESTCHESTER COUNTY, NY – November 21, 2021 – Last month, Touro College of Dental Medicine (TCDM) celebrated its fifth annual Gala. The event, held at The Rockleigh in New Jersey, saw partners, friends, faculty, alumni and current students of TCDM, brought together for the purpose of honoring Distinguished Leadership in Challenging Times, and to raise funds in support of both student scholarships, and patient care at Touro Dental Health, the school's 32,000-square-foot clinical teaching facility.
Through an abundance of caution, the event, like most, was cancelled in 2020, but that didn't stop this year's function from being a record-breaking success. The event, the school's largest to date, saw a record in charitable contributions and number of contributors.
"We were thrilled and gratified with the overwhelming show of support for the school," said Vice Dean, Dr. Edward Farkas, who was instrumental in the founding, creation and development of the college.
Among those honored, TCDM Dean Ronnie Myers was awarded the Distinguished Leadership Award for his dedication to exceptional leadership of TCDM through the Covid-19 pandemic and his commitment to the students, faculty, and staff of TCDM.
"Our honorees were the stars of the show, and being able to honor Dean Ronnie Myers for his extraordinary work in managing our transition through the Covid-19 pandemic was truly special," said Dr. Farkas.
In his time as Dean, Dr. Myers has led the advancement of the school, forging partnerships with community health centers, hospitals, and dental organizations to advance the dental education of TCDM students, and collaborating with elected officials and community partners to develop programs that improve the oral and overall health of the community.
Dr. Ira Grosser, esteemed faculty practitioner and a valued supporter of TCDM since its inception, received the Community Partnership Award, recognizing his partnership with TCDM and dedication to future generations of dentists. As a member of the school's Admissions Committee, Dr. Grosser is an instrumental part of the TCDM selection process, using his skills as an interviewer to help select the next generation of dentists trained in cutting-edge technologies.
Dr. David Konikoff accepted the Visionary Achievement Award in appreciation of his generous support of TCDM and his dedication to making the world a better place. In March of 2021, Touro College of Dental Medicine (TCDM) officially opened the doors to the highly anticipated Konikoff Digital Dental Studio. In 2022, TCDM will open the Konikoff Education and Broadcast Center. This 3,500 square foot space will be designed to accommodate teaching methodologies geared for today's changing educational landscape focusing on small group learning, distance education, and teaching, along with the ability to professionally broadcast.
Mr. Steve Kess was honored with the Distinguished Corporate Leadership Award, acknowledging his long-time support of TCDM and his leadership in advancing oral health and education. As Vice President of Global Professional Relations, Office of the Chairman & CEO, for Henry Schein, Inc., Mr. Kess has forged an invaluable relationship between TCDM and Henry Schein, Inc.
"A great time was had by all," said Dr. Farkas. "We are thankful to Dr. David Konikoff, Dr. Ira Grosser, and Mr. Steve Kess; through their contributions, our students are able to learn in an environment with such elevated technological advancement, and become the kind of clinicians we set out to train. Their education is advanced partially because of the epic generosity of our honorees. With community support and friends like these we can accomplish worlds."