Touro College of Dental Medicine Provides Free Dental Services to Children
"Give Kids A Smile" Event Held at Touro's State-of-the-Art Dental Health Facility; Attended by Multiple State Officials
February 22, 2018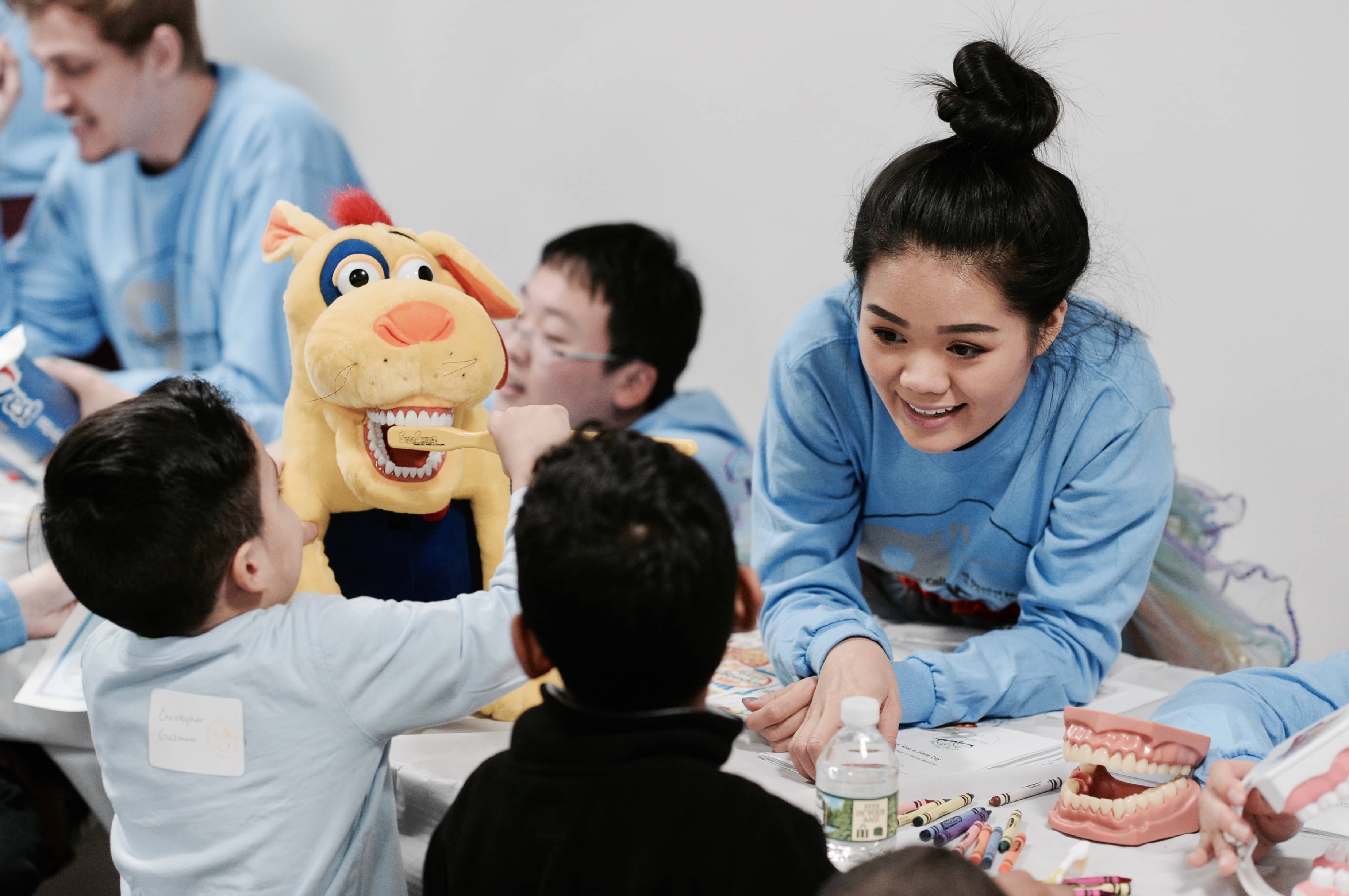 WESTCHESTER, NY – Today, Touro College of Dental Medicine (TouroCDM) at New York Medical College in partnership with the Ninth District Dental Association hosted more than 40 Westchester County preschool and elementary aged children to celebrate "Give Kids A Smile" Day. A national program overseen by the ADA Foundation of the American Dental Association, "Give Kids A Smile" provides free oral health services to underserved children. The event was held at Touro Dental Health, the new 81-chair dental teaching practice located at the TouroCDM campus. New York State Senator David Carlucci, New York State Assemblyman Kevin Byrne, and representatives for New York State Senator Terrence Murphy were in attendance.
Following opening remarks from Dr. Ronnie Myers, Dean of TouroCDM and Dr. Renuka Rao Bijoor, Ninth District Dental Association, children received free dental screenings, including fluoride and prophy treatments and participated in educational crafts and activities led by TouroCDM students to learn oral health tips. A variety of characters were also on hand to entertain the kids and 100.7 WHUD joined to provide music and prizes. TouroCDM student Ben Kahan and a team of 30 student volunteers planned and staffed the day's activities.
Oral health is strongly connected to overall health, yet many underinsured children, or those enrolled in Medicaid, do not receive annual dental services. "Give Kids A Smile" provides needed dental care and education that has significant long-term results. Introducing children to regular and ongoing oral hygiene – even when they just have baby teeth – encourages proper oral care as they age and can have a significant impact on long-term quality of life.
"We opened Touro Dental Health as an educational training facility for Touro students and to bring comprehensive and affordable care to the community," said Ronnie Myers, D.D.S, Dean of TouroCDM, and a Westchester resident. "Through events like "Give Kids A Smile," we are able to help underserved populations while also providing hands-on education to our talented students. Touro thanks all of the elected officials who were able to join today for their support and for understanding the importance of oral health."
"Many illnesses are preventable by just seeing a dental professional and we want to make sure we're doing everything we can in New York State to make sure every child can see a dentist," said David Carlucci, New York State Senator for the 38th District. "I worked with Senator Terrence Murphy on a resolution proclaiming February as Dental Health Awareness Month in the State of New York and recognizing the good work the Dental Association does with 'Give Kids A Smile.' I'm just honored to be here and want to continue to work with everyone to make this day a success this year and continue to grow every year on."
"This is my first time actually visiting this facility and I can just say 'wow.' It is truly remarkable what you are doing here," said Kevin Byrne, New York State Assemblyman for the 94th District. "This event is raising awareness for the importance of dental hygiene and dental health and I want to say thank you to all the medical professionals, dental students, and staff for putting it together."
"Tooth decay is the number one chronic infectious disease in children in the US, affecting 42 percent of children 2-11 years of age. The effects are multifold – pain, swelling, ER visits, poor school performance and lower test scores, school absences and loss of workdays for the parents," said Renuka Rao Bijoor, D.D.S., ADA Foundation Give Kids A Smile Ambassador who helped organize the event. "But together we can change that."
The Touro College and University System
Touro is a system of non-profit institutions of higher and professional education. Touro College was chartered in 1970 primarily to enrich the Jewish heritage, and to serve the larger American and global community. Approximately 19,200 students are currently enrolled in its various schools and divisions. Touro College has 30 campuses and locations in New York, California, Nevada, Berlin, Jerusalem and Moscow. New York Medical College; Touro University California and Touro University Nevada; Touro University Worldwide and its Touro College Los Angeles division; as well as Hebrew Theological College in Skokie, Ill. are separately accredited institutions within the Touro College and University System. For further information on Touro College, please go to: www.touro.edu/news
Touro College of Dental Medicine
The mission of the Touro College of Dental Medicine at New York Medical College is to graduate outstanding dental professionals who will utilize a complex knowledge base and sophisticated perceptual skills to deliver excellent health care service to their diverse communities with integrity, compassion, and empathy. The school is dedicated to conducting important educational and clinical research, while providing excellent dental health services to the public.