Inaugural Class of Touro College of Dental Medicine Begins Providing Oral Health Care
Touro leadership and elected officials, including NYS Senator Terrance Murphy, among first visitors and patients to receive dental care from third-year students
July 19, 2018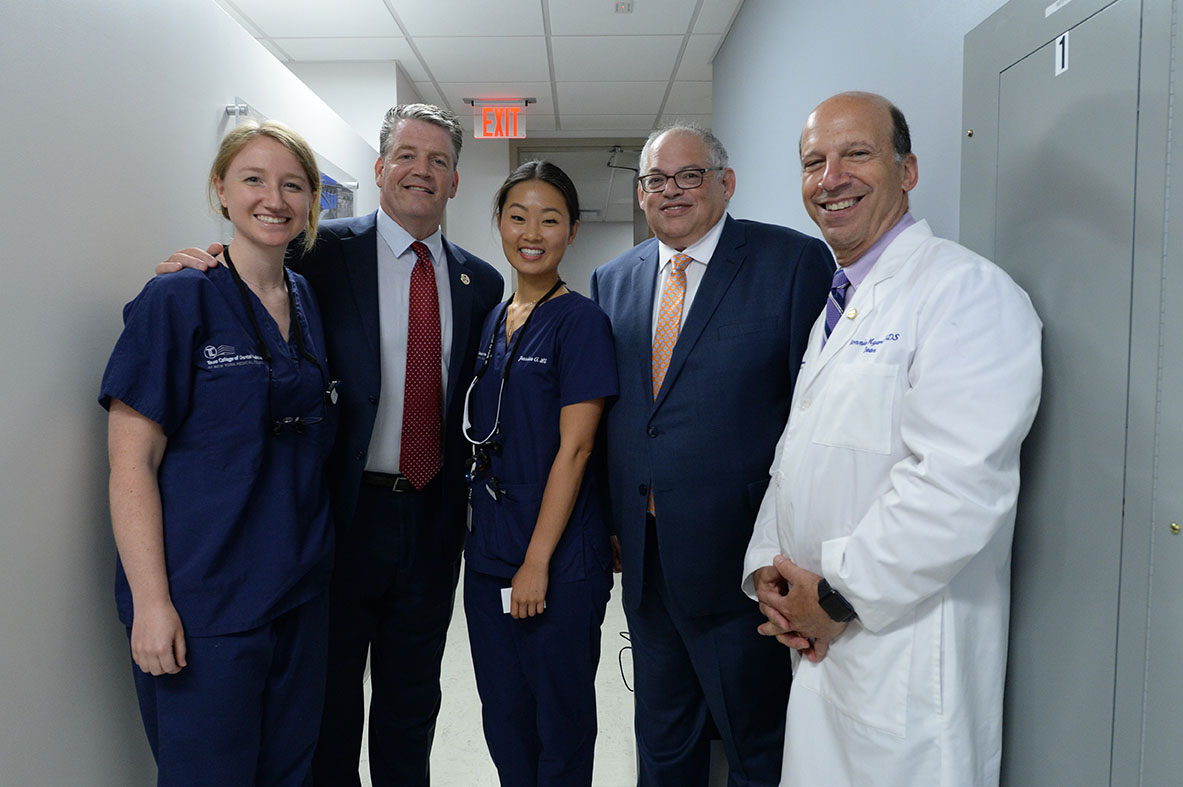 VALHALLA, NY – JULY 18, 2018 – On Monday, June 9, the inaugural class of Touro College of Denal Medicine (TCDM) at New York Medical College began officially seeing patients at Touro Dental Health, the school's new 81-chair clinical training facility and full-service dental practice. The first-hand experience of caring for patients will equip graduates with exceptional clinical skills and commitment to care for diverse communities.
The 105 students have successfully completed their two-years of basic science curriculum including preclinical dental simulation training, and will now embark on a two-year, hands-on clinical program that pairs students to deliver general care to Hudson Valley patients each day under the supervision of expert faculty. Some of the first patients and visitors included president of the Touro College and University System Dr. Alan Kadish and New York State Senator Terrance Murphy.
"This is what both faculty and students have been working towards since we first opened the school's doors in 2016," said Ronnie Myers, D.D.S., TCDM Dean. "We have trained these students well, and by providing them with first-hand experiences that will also benefit the community, we will graduate the most prepared dentists."
TCDM's unique program offers students rotations in Pediatrics, Oral Surgery, and other subspecialties as well as the opportunity to shadow expert clinicians including periodontists, prosthodontists, endodontists, oral and maxillofacial surgeons, dental radiologists, and other dental specialists. They will also put into practice what they have learned in the classroom to create treatment plans for their patients that employ digital impressions, 3D scanning and printing, and other current technologies.
"We're providing a unique opportunity for students to gain exposure in all areas of dentistry, through direct access to some of the region's top specialists," said Edward F. Farkas, D.D.S, Vice Dean. "Our facility is equipped with the digital dentistry tools of the future of which both our students and patients will benefit."
TCDM's 32,000-square-foot practice is designed to deliver the best educational experience and to provide affordable, accessible dental care to residents throughout the Hudson Valley.
The Touro College and University System
Touro is a system of non-profit institutions of higher and professional education. Touro College was chartered in 1970 primarily to enrich the Jewish heritage, and to serve the larger American and global community. Approximately 19,200 students are currently enrolled in its various schools and divisions. Touro College has 30 campuses and locations in New York, California, Nevada, Berlin, Jerusalem and Moscow. New York Medical College; Touro University California and Touro University Nevada; Touro University Worldwide and its Touro College Los Angeles division; as well as Hebrew Theological College in Skokie, Ill. are separately accredited institutions within the Touro College and University System. For further information on Touro College, please go to: www.touro.edu/news
Touro College of Dental Medicine
The mission of the Touro College of Dental Medicine at New York Medical College is to graduate outstanding dental professionals who will utilize a complex knowledge base and sophisticated perceptual skills to deliver excellent health care service to their diverse communities with integrity, compassion, and empathy. The school is dedicated to conducting important educational and clinical research, while providing excellent dental health services to the public.