2899 Miles, 11 States, 2-1/2 Days, 1 Graduation Homecoming
Jennifer Michelle Mehrens, Touro College of Dental Medicine '20
May 12, 2020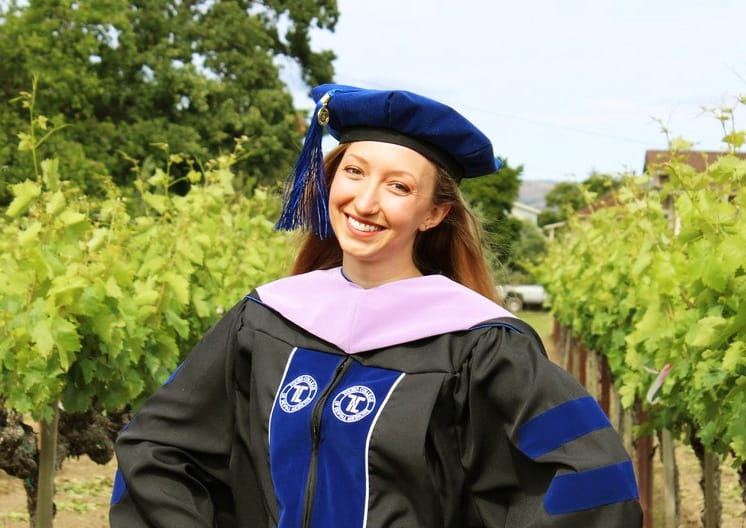 Jennifer is part of the first class to graduate from Touro College of Dental Medicine (TCDM), the newest dental school in the country founded to harness advancements in digital dentistry for the good of the community. With school's campus and clinic closed due to coronavirus, the 103 graduates of the TCDM's Inaugural Class of 2020 will celebrate their historic commencement virtually May 19 before beginning residencies or joining private practices across the country.
Next Step:
Prosthodontics Residency, Stony Brook University, Stony Brook, NY
Jennifer Mehrens has a habit of seizing opportunities and making her own luck. When the pandemic closed the Touro College of Dental Medicine's Westchester, NY, campus and clinic and upended plans for the school's inaugural commencement, Jennifer saw an opportunity to celebrate with her family. She and her boyfriend jumped in the car and drove straight to their native Napa, CA, in two and a half days, through falling snow in the Midwest and sleeping in the car to avoid potential COVID-19 risk in hotels. Once she was comfortably ensconced with her parents, enjoying 75-degree sunny weather, she admitted to feeling lucky.
But there was more to it than luck, she concluded, as she reflected on the pandemic, quarantine, dental school and her new career. "I was raised to believe that lucky people tend to work hard," she says. "That's how I came to dental school in the first place. You set your mind to something, work really hard, put yourself in the right positions, say yes to new opportunities—and maybe it's not luck after all."
Through a series of interconnected opportunities, she came to focus on prosthodontics and get accepted into a three-year residency in the specialty at Stony Brook University. Because TCDM is a new program with no post-graduate specialties and an unusually close student-faculty connection, undergraduate dental students can see more complex cases—including in prosthodontics—than peers at other dental schools. Compelled by the field's problem-solving demands and potential to change people's lives, Jennifer found mentors in the field who deepened her interest and expertise, and connected her to professional opportunities. In November, she won second place at the Annual Session of the American College of Prosthodontists for her poster presentation on full arch reconstruction.
Jennifer has had her eye on a career in dentistry since she was six years old and announced her plans to her parents. Her mother, who is a dental assistant, still has the Dentist Barbie a family friend bought Jenn as a child. A physiological science major, Jennifer applied to TCDM because of the unparalleled opportunities a new dental school offered. "There were so many opportunities for starting new things, being a part of something new," she says. "It's a unifying theme with people in the class of 2020. We are go-getters, not afraid of a challenge."
Indeed, the coronavirus is presenting challenges no one saw coming. But for right now, Jennifer is working hard at home in Napa, where she is quarantining with her boyfriend and her parents. Finishing TCDM coursework online, she also already has a foot in her next world: attending lectures with current Stony Brook residents. She is excited that her residency will also provide her opportunities to teach, something she loves and has done as a teaching assistant at TCDM and as an undergraduate tutor. While her orientation is moving to an online platform, she expects residency to begin this summer on Long Island. So, soon, she will be embarking on another cross-country journey. This time, though, she hopes to be able to stay with friends at stops across the country rather than sleeping in the car.
"This was not how my time at Touro was supposed to end," she says. "It's a strange feeling to be so sad about missing the chance to say goodbye while feeling so grateful for everything we had. In the big picture, the glass is certainly half full."