New York Doctor Receives Humanitarian Award From AAOMS
Jerry L. Halpern, DDS, of New York, and Clinical Associate Professor of Dental Medicine at Touro College of Dental Medicine, received the Humanitarian Award for Fellows and Members in October from the American Association of Oral and Maxillofacial Surgeons (AAOMS) at its 100th Annual Meeting in Chicago, Ill.
November 06, 2018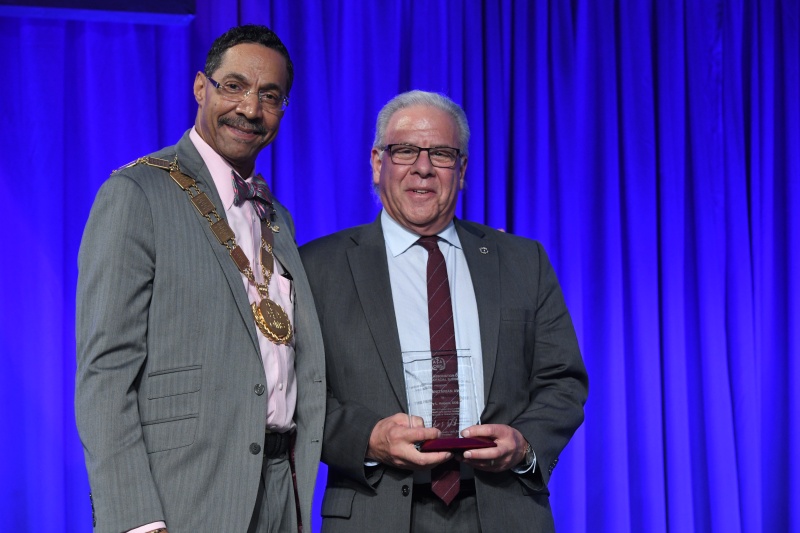 The award recognizes AAOMS fellows and members who have sacrificed substantial time and effort in their local community or on a global basis, resulting in improved quality of life for the public. Dr. Halpern was honored for his outreach efforts during the last eight years in the Dominican Republic.
He is oral surgeon-in-charge and president of the World of Smiles Foundation, a nonprofit organization that cares for 500 to 600 patients per service trip, and nearly 4,000 children have been treated to date.
Two to three times a year, World of Smiles and senior students from dental schools, oral and maxillofacial surgery residents and general practice residents from New York-Presbyterian/Weill Cornell Medical Center and dentists from the New York Academy of Dentistry treat children from underserved areas. Dr. Halpern and his residents provide surgical needs for children, staff and family members on each trip.
Three years ago, through the foundation, a six-chair clinic was built at La Escuela Campo Nueva Esperanza school in La Romana, Dominican Republic. With Dr. Halpern's leadership, World of Smiles also provides continuing education to local students and dentists.
In 2010, Dr. Halpern received the AAOMS Presidential Achievement Award that honors AAOMS fellows and members who have made significant long-term contributions to the specialty.
Dr. Halpern also has been recognized for helping identify victims of the Sept. 11 attacks on the World Trade Center and the crash of American Airlines Flight 587 in 2001. He received a congressional Certificate of Recognition for his efforts.
Dr. Halpern received his Doctor of Dental Surgery degree from Howard University College of Dentistry in Washington, D.C., and completed his oral and maxillofacial surgery residency at New York-Presbyterian Hospital.
Dr. Halpern is a clinical assistant professor of surgery at Weill Cornell Medicine and an assistant attending oral and maxillofacial surgeon at New York-Presbyterian Hospital. He also is an assistant attending dentist at Memorial Sloan Kettering Cancer Center.