No Lab? No Problem: Touro College of Dental Medicine's Simulation Lab Goes Virtual
From New Jersey to California and everywhere in between, first year dental students are performing lab procedures from home and benefiting from greater connectivity
December 14, 2020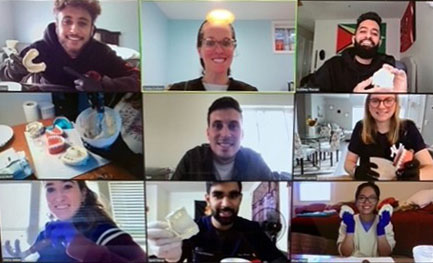 WESTCHESTER NY—DECEMBER 14, 2020—"Do not put anything in your sink or you'll clog the drain, and your mom will kill you!" "Don't take impressions on your little brother...you don't have a license and you'll go to jail." These are just a few of the humorous (but essential) instructions Golda Erdfarb, D.D.S, Associate Professor of Dental Medicine at Touro College of Dental Medicine (TCDM), has provided her students with as they take impressions, learn about occlusion and perform a host of other lab procedures all from the comfort and safety of their homes.
The COVID-19 pandemic has posed a number of logistical challenges to clinical and didactic education worldwide, but where others may have seen obstacles, Dr. Erdfarb saw possibility. During the fall semester TCDM remained open for in-person simulation laboratory classes with reduced capacity, but like most Colleges across the country, chose to go remote following Thanksgiving break. After an immense amount of detailed planning, Dr. Erdfarb determined what aspects of her Pre-Clinical Operative Dentistry course required in person instruction and which lab procedures had the potential to be taught virtually.
"I kept staying up at night, evaluating my entire curriculum and thinking outside the box as much as I could," said Dr. Erdfarb, who is Course Director of Operative Dentistry and Dental Anatomy & Occlusion. "I am very committed to the education of our students, and I remember what it is like to be a student and wanting to learn; I didn't want them to feel that that their education ended in November."
Prior to the Thanksgiving holiday, each of TCDM's 114 first-year dental students were given a take-home kit that included composite, curing lights, condensers, alginate packs, detailed lab guides and everything else needed to work on restorations and other lab procedures remotely for the remainder of the semester. This innovative educational experience is truly one-of-a-kind as TCDM students from New Jersey to California and everywhere in between are coming together to continue their education in a way that most dentists of today could have never imagined was possible.
"I think its revolutionary because dentistry and medicine have always been taught in person," added Dr. Erdfarb. "Dentists are naturally creative and artistic individuals, but COVID-19 has pushed us to really challenge ourselves rather than following what we've been taught."
Hosted over Zoom, each lab hosts 38 students, who are then randomly sorted into breakout sessions of approximately 8 students each. Every small group is staffed by a faculty member, creating an intimate learning environment where students have the opportunity to truly hone their hand skills as they receive one-on-one attention.
"In some ways, having our faculty teach virtually allows them to give each student more guidance than they would be able to do in a lab moving back and forth between students to see their work," said Dr. Erdfarb.
"As our faculty has repeatedly reminded us throughout the semester, 'COVID-19 is pushing us out from our comfort zone and is challenging us in new ways,'" said New Jersey resident Eli Sonenblick, a D1 student at TCDM. "Organizing this semester's Zoom dental simlab was no small feat, and I know that our class is forever grateful to all the faculty who have worked with such dedication on our behalf."
In intentionally creating these small group sessions, Dr. Erdfarb also aimed to facilitate connections between the D1 students, many of whom have not had the opportunity to get truly acquainted with one another and have only had the chance to see each other with masks on.
"Being all the way from California and having to do distance learning from the beginning, I initially did not know anyone when I came to TCDM. Fortunately, the way the virtual lab is set up has also provided students an opportunity to meet face-to-face and interact with one another," shared D1 Hannah Salao. "Dr. Erdfarb's intention on ensuring our virtual lab is very interactive and engaging has made the distance learning experience bearable and something I look forward to."
For any student, learning from home does not come without its challenges, which is why Dr. Erdfarb and the TCDM faculty have made it a point to go the extra mile for their students, ensuring they have not only instructional but emotional support and resources they need to succeed.
"We should be able to make jokes and make light of a situation. I tell my students if your kids walk in and say, 'Dad I need a diaper!' that's okay, that's life." shares Dr. Erdfarb. "If we acknowledge that and let the students know that we are here for them, then that's one less thing they have to worry about during an intensely stressful time for all of us."