Pioneering Many 'Firsts'
Jessica Li, Touro College of Dental Medicine '20
May 19, 2020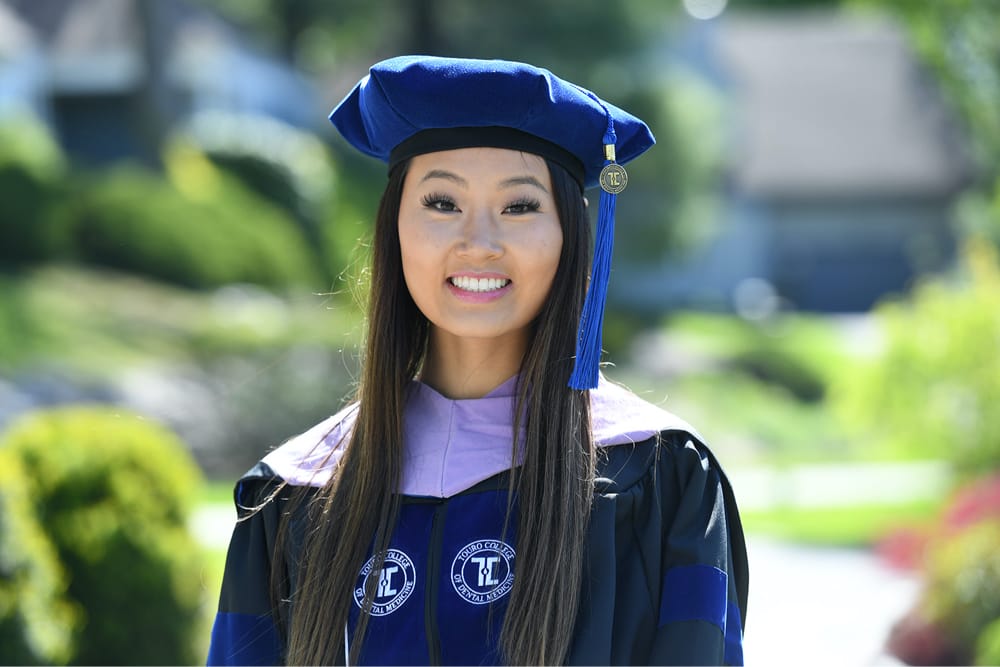 Jessica is part of the first class to graduate from Touro College of Dental Medicine (TCDM), the newest dental school in the country founded to harness advancements in digital dentistry for the good of the community. With school's campus and clinic closed due to coronavirus, the 103 graduates of the TCDM's Inaugural Class of 2020 will celebrate their historic commencement virtually May 19 before beginning residencies or joining private practices across the country.
Next Step:
Oral and Maxillofacial Surgery Residency, Nassau University Medical Center, East Meadow, NY
After being part of the 150th graduating class at Cornell University as an undergraduate, Jessica Li was ready for a new challenge when it came to dental school. That's how she came to join the very first graduating class at Touro College of Dental Medicine.
"There was so much room to shape our education, to make our mark on the future of the school," Jessica says. "Yes, there's some uncertainty in not knowing, but at the end of the day it's up to you what experience you get out of it. Because they needed people to build a foundation, I knew it was the place I wanted to be."
In addition to receiving a strong foundation in both digital and traditional dentistry, she also created a strong foundation of extracurricular activities at TCDM that will enrich campus life for generations. She started the Student Ambassador Organization, a chapter of Student Professionalism and Ethics Association in Dentistry, and co-founded The Chromatic Scalers a cappella group with friend and classmate, George Rubin '20.
Now, she is embracing another first: the first woman in 30 years and the second woman ever to join the highly competitive four-year Oral and Maxillofacial Surgery Residency at Nassau University Medical Center on Long Island. "In a field that is only 16% female, I feel honored to join this profession as an Asian woman," she says.
Jessica's father trained as an oral and maxillofacial surgeon in China before transitioning to general practice when he immigrated to America, and he always cautioned her about the surgical field's demanding commitment. But he also connected her to former colleagues in China to experience the field firsthand, shadowing his mentor at Shanghai 9th People's Hospital and doing an externship at a Xiamen Chang Gung hospital, helping with procedures such as cleft lip and palate repair, autogenous bone grafting for oral and maxillofacial reconstruction, pathological resections and other surgeries. She got to participate in complex and varied treatments, too, at TCDM, where pre-doctoral students are exposed to the full spectrum of challenging cases.
She has long been fascinated by the complexity of problems oral surgeons are able to solve for their patients, but she wanted to learn more about how she could balance a demanding work schedule with the family she knows she wants to have one day. "One of my great mentors at TCDM said to me, 'You make your own reality,'" she says, referring to Clinical Professor of Dental Medicine Howard Israel, D.D.S. "If you want work, family, all of the above, you make it happen. With that advice, I decided to go for it."
Beyond technical skills, she also learned a lot from faculty members about putting patients first. "Surgeons at Touro are so invested in and care so much for the patients. That's something I'll always carry with me," she says, citing as an example Associate Professor of Dental Medicine Michael C. Miller, D.D.S. "For his whole career, no matter what the procedure is, Dr. Miller always calls his patients that evening to check in on them. That's something I started to do, and I'm checking in even during quarantine. I really value being able to speak to my patients, to have compassion and understand where they're coming from."
Once she made up her mind to pursue oral and maxillofacial surgery, the next step was to tell her family. She addressed her father's concerns and reinforced how thoroughly she had considered her options. "They could see my passion, that it was all I wanted to do, and they were really happy for me," she says. "When I was studying for the medical boards in preparation for candidacy in an oral and maxillofacial surgery residency, it was an enormous comfort to have a place to stay, get home-cooked meals, and be surrounded by supportive family."
During quarantine, Jessica and her boyfriend, fellow TCDM graduate Josh Lilly '20, are studying in preparation for their surgical residencies and finishing classes. "It's hard to adapt to these unexpected times right now," Jessica says. "But my family and friends are safe and healthy, and I'm glad to have the time to do my work and be with my loved ones. It's keeping me sane, positive and calm."