TCDM Celebrates 3rd Annual Research Day
10 Dental Students Present their Research Findings Following Intensive Summer Research Program
November 08, 2019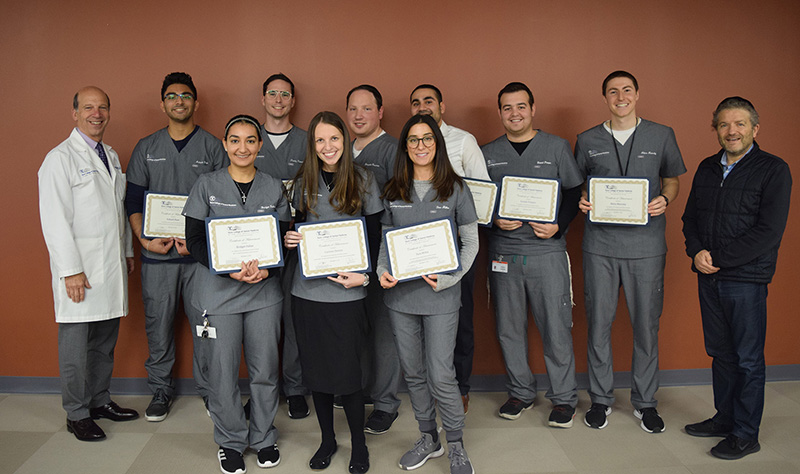 Last week, students, staff and faculty gathered to hear about how 10 second-year students spent their first summer in dental school; studying various topics such as the effects of enhanced late sodium current on the heart and antibiotic resistance gene transfer between Group A Streptococci.
Under the guidance of various New York Medical College faculty, students spent 12 weeks in labs, running tests and recording their findings.
The program, led by Salomon Amar, D.D.S., Ph.D., Provost for Biomedical Research and Chief Research Officer for the Touro College and University System and Vice Dean for Research at Touro College of Dental Medicine, is currently being held as a model that may be adopted by other Touro College and University Schools in the future.
"I would like to commend these students on what they've done in this short time and the commitment they've shown. It gives me tremendous pride," Dr. Salomon Amar commented in his opening remarks.
The 10 students who were selected to participate in the program presented their research topics and findings during the school's 3rd Annual Research Day and answered questions from faculty and peers.
Akiva Maresky, who along with Tara Miller, studied a newly discovered intestinal bacteria called Akkermansia muciniphila, which has the potential to prevent and treat periodontal disease, says he's grateful to have been selected for the program. "Working in a research lab at NYMC has given me the unique opportunity to learn about, and actually be a part of the latest scientific advancements in the ever-evolving field of dentistry."
Students will have the opportunity to continue their research during their remaining years at TCDM. Dr. Amar hopes they will join the ranks of other dental students who have gone on to present their findings at international conferences and publish their work, further growing TCDM's research reputation.
Full List of Presentations:
Idan Lavian - Antibiotic Resistance Gene Transfer Between Group A Streptococci
Bridget Faltas - Effects of Enhanced Late Sodium Current on the Heart
Joseph Khafi - Hypothalamic expression of MRAP2 protein after prenatal betamethasone exposure
Aakash Raav - The effect of traumatic stress with TBI on the susceptibility of developing PTE
Betzalel Krasnow & Peretz Rapoport - Role of Pannexin Channels in Neuropathic Pain-Induced Alterations in Cortical Spreading Depolarization
Akiva Maresky & Tara Miller - Impact of Akkermansia muciniphilia Administration on Induced Periodontal Inflammation and Alveolar Bone Destruction
Joseph Pomper & Corinne Dennis - LactORN effects on Porphyromonas gingivalis induced cytokine release from human PBMCs