TCDM Partners with New York State to Improve Oral Health Care for Special Needs Communities
Training Event Brings Together Dental Professionals, Caregivers and Community Organizations from Across the State
December 04, 2019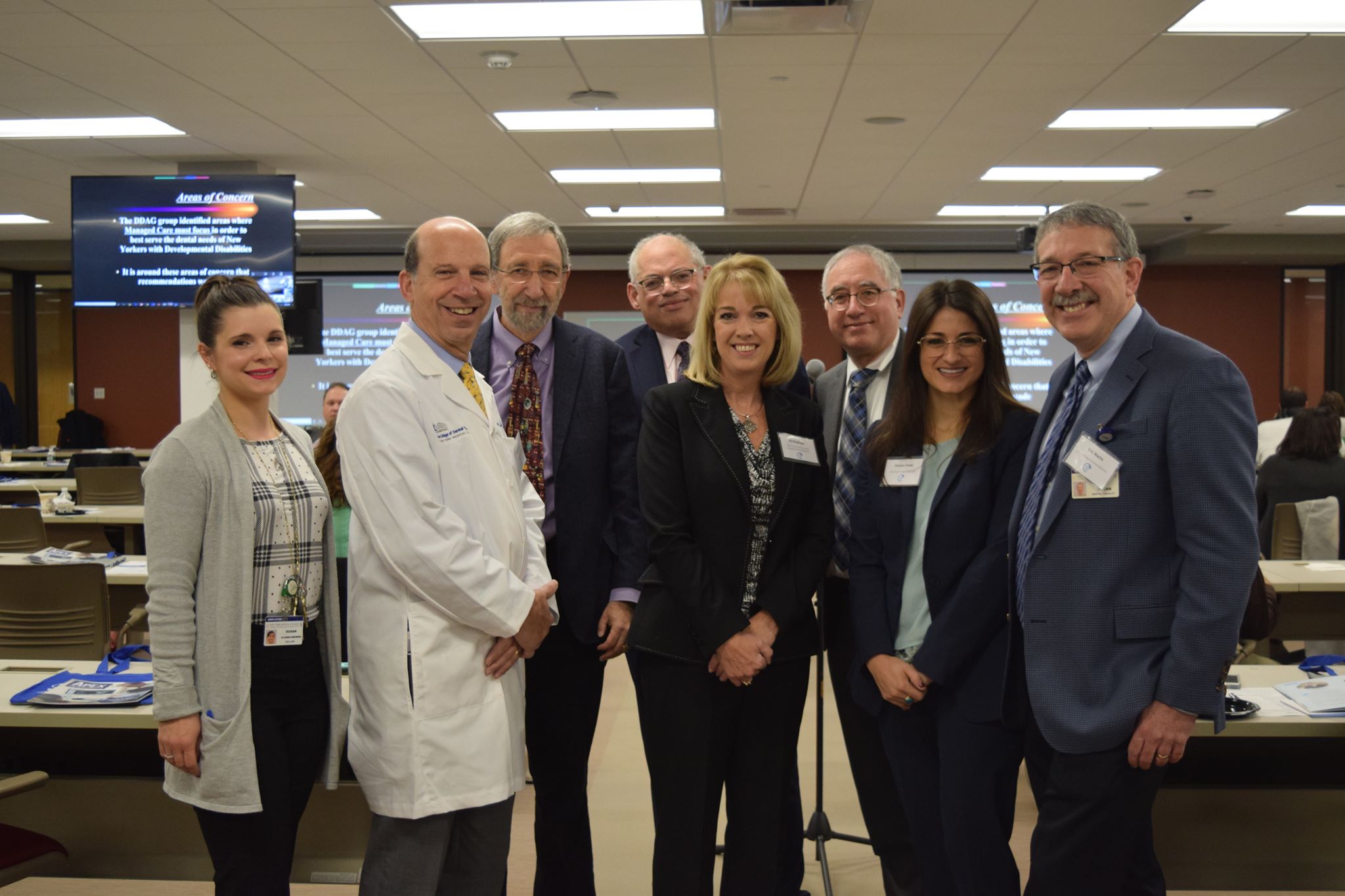 On November 8, Touro College of Dental Medicine (TCDM) partnered with the New York State Office for People With Developmental Disabilities (OPWDD) to host Overcoming Obstacles to Oral Health, a train-the-trainer continuing education event. An initiative of the Task Force on Special Dentistry, the event was designed to equip oral health professionals, caregivers, community organizations and others with tools to help improve the oral health status of individuals with developmental or developmental disabilities, therefore helping them to fully integrate into the medical system.
More than 175 participants joined the training session onsite and through videoconference at six locations across the state. It was facilitated by keynote speaker Paul Glassman, D.D.S., M.A., M.B.A., a nationally recognized expert in oral health care for people with developmental disabilities, complex medical conditions and other vulnerable populations. The course also included insights from community service agencies, parents, and a panel discussion with a group of Special Olympics Athletes, led by TCDM students. These self-advocates shared their own experiences with dental treatment and provided tips on how dental providers can work better with the special needs community.
"The most important part of keeping people healthy is what happens on a daily basis at home," said Dr. Glassman. "This is an opportunity to connect the dental community with home environments and caregivers to change how care is delivered beyond the dental office setting."
According to a 2012 report from the American Academy of Developmental Medicine and Dentistry, the oral health challenges facing individuals with intellectual and developmental disabilities are the steepest and most complex while suffering with more dental disease than any other group. Many dentists feel that they don't have the necessary knowledge or training to treat people with disabilities, and patients are often turned away or referred to hospitals for dental care where they may undergo more invasive or costly forms of treatment, rather than being accepted into dental practices in the community. The Task Force on Special Dentistry aims to change this through advocacy, education and professional development.
Chelsea Fosse, D.M.D., M.P.H., who organized the event on behalf of the OPWDD, says that TCDM was a great partner to host the training session. "Schools like TCDM have an opportunity to help change the paradigm of care for the special needs community by ensuring future dentists enter the field with an understanding and commitment to care for this population," she said.
A revised standard from the Commission on Dental Accreditation now requires all accredited U.S. dental schools to train students to be competent in assessing the treatment needs of patients with intellectual and developmental disabilities, and other special needs populations.
As the newest dental school in the nation, TCDM's program was designed with these core principles in mind from the start. Through a partnership with the Westchester Institute for Human Development, TCDM third-year students participate in an intensive externship program working in a clinic and mobile unit setting with adults and children who have developmental disabilities, as well as in the operating room where they gain experience in more complex cases requiring sedation. To further provide students with training, the school is now exploring the possibility of developing a dedicated oral healthcare center for individuals with physical, cognitive, and developmental disabilities and seeking funding to support the initiative.
"Our program provides students with real-world experiences, knowledge and training that will help equip them to effectively deliver oral health care to patients with special needs," said TCDM Dean Ronnie Myers. "We want them to leave here not only with the capabilities to treat this population, but with the compassion and conviction to help improve the access to care of this marginalized population."