Student Spotlight: Six Questions for Jaleel Bolden
Find Out How This Touro College of Dental Medicine Student Transitioned from Poverty to Professional Education
March 23, 2020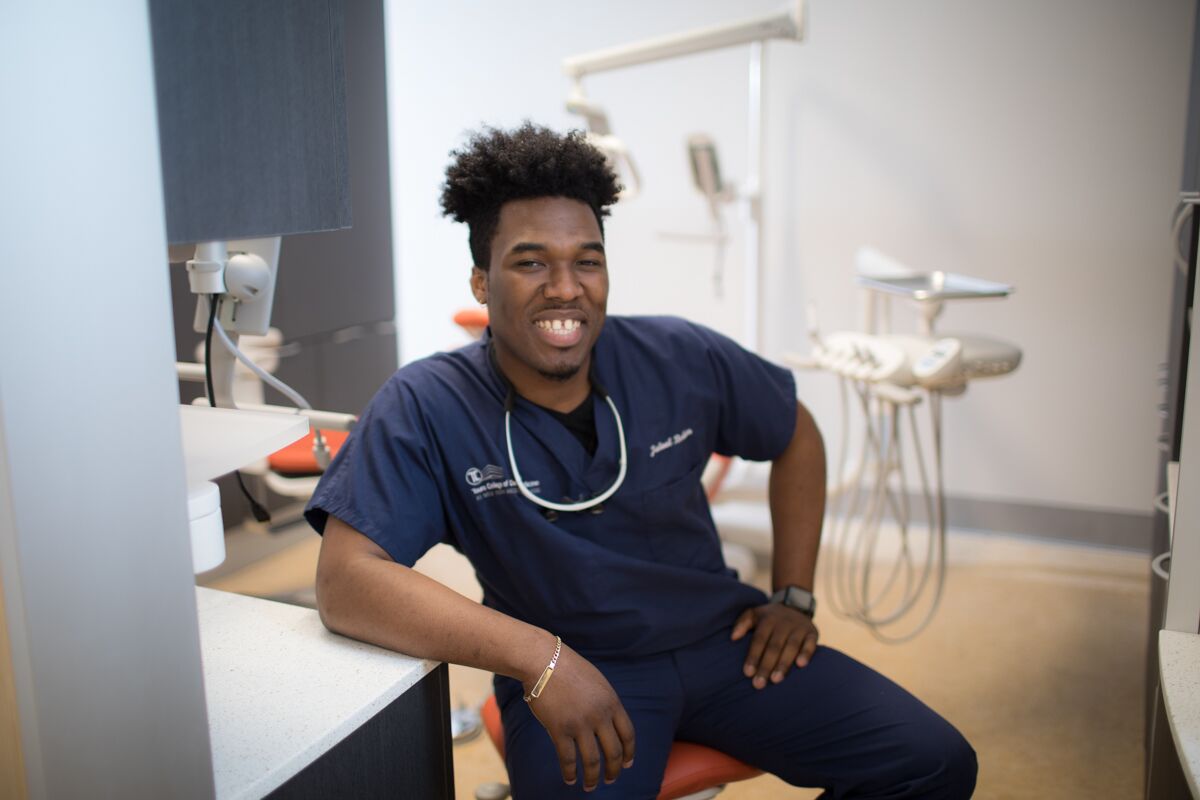 Jaleel Bolden, Class of 2020
We recently spoke with Jaleel Bolden, a student in the inaugural class of Touro College of Dental Medicine (TCDM), about his upbringing in Crown Heights, Brooklyn, a neighborhood plagued by violence and hardship, and how fatherhood prompted him to pursue a professional career in dentistry.
Can you talk a bit about your childhood?
I was born in Crown Heights and moved around a lot in Brooklyn over the years. I also moved back and forth to Georgia as I have family located there. Despite the obvious distractions in my neighborhood, I'm proud of where I came from and always made it a point to take steps forward to better my personal situation. Most of my peers at Touro Dental went directly from high school to college to earn their bachelor's degree before enrolling in dental school, but I followed a different path after receiving my associate's degree in Dental Technology from New York City College of Technology (City Tech). While at City Tech, I learned how to make crowns and bridges and graduated at the top of my class. I then headed to Georgia to earn my bachelor's degree and after I got accepted to Touro College of Dental Medicine, I came back to the New York area.
When did you know that you wanted to become a dentist and why did you choose it as your career?
I've wanted to become a dentist since I was 12-years-old. At the time, I thought the job would be ideal as it seemed easy and pays well. As an adult, I have realized this was the perfect career decision for me because I'm sincerely in love with what I do. I keep myself busy by seeing about 3-5 patients a day the school's clinic, Touro Dental Health. It's important to me to put all my effort into every dental case I work on. My dental technology background has provided me with a very solid foundation. In fact, I look at it as an educational blueprint that has provided me with all of the secrets needed to succeed in my field. In dental school, you learn about teeth, how to fill a cavity etc., but since I have an even deeper understanding around why a crown should be shaped a certain way or why a denture needs to extend a certain amount, I can use that key information clinically. I feel like this has given me an advantage over other students without a laboratory background because I started dental school with this critical knowledge base.
As a father, how has this impacted your career choice?
I have a son and a daughter, and it wasn't until I had my son that I realized that I needed to use my intellect to do something better to provide for him. In fact, it was because of him that I made the decision to go to college. My entire family including my two children have sacrificed so much throughout my dental school journey including time that I had to spend away from them to study or attend class, so there is no option other than to be successful. It's very important to me that my children can see that my many years of dedication was worth it through being able to provide a better future for them while also showing them how important pursuing your education is.
I also need to have this degree in my back pocket so show them that if I can do it, they can do it too. Even my mother and my aunts tell my cousins to look at what I'm doing because they can do it too. My children are smarter than I am and I want them to see that when you use your brain, anything is possible.
What's next for you after graduating from dental school?
I've been accepted for my residency at Montefiore Medical Center in the Bronx. I'm hoping to see unusual cases that I haven't seen at Touro. Because of my background, I often handle more complex cases than the average dental student and they're teaching us about all the basics of dentistry, but I want to learn as much as possible about issues that are atypical since I hope to practice as a prosthodontist one day.
Where do you see yourself professionally in five years? Ten years?
In five years, I'd like to have opened my own dental practice, possibly in Brooklyn to give back to my community. In ten years, I might look to head somewhere warmer to practice dentistry.
What surprised you about the field of dentistry?
I had no idea that some of the things I had done in the past would help me in my career today. For example, I used to concentrate on photography and did it because I enjoyed it. I didn't know at the time that practicing using a professional camera all those years would come in handy now as I work to build my portfolio to showcase the dental work I'm performing. If you're trying to broadcast your work to a wider audience, photography is key and I'm so grateful that I have the skills needed to show my work to the public and potential patients. Additionally, I'm continually amazed at how I can change people's lives through dentistry. Recently, I had a 55-year-old patient who was sharing selfies of his smile after his appointment because it was the first time in many years that he could open his mouth and smile, showing teeth he could be proud of. That is the kind of stuff that makes you feel really good about the impact you're making.