Student Spotlight: Touro College of Dental Medicine's Adam Gadbois
What is it like to start college at 14 years old and dental school at 19? How is this unique educational path enabling student Adam Gadbois to reach his career goals? Gadbois opens up about these experiences and more.
January 02, 2019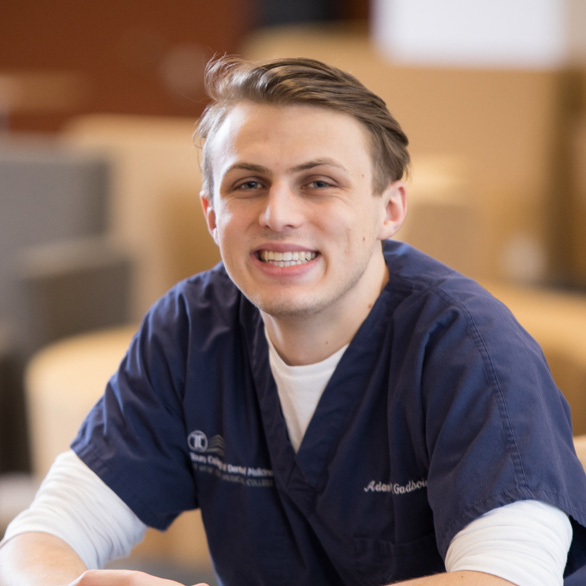 Most 14-year-old boys are interested in video games, sports and their burgeoning social lives, but then again most 14-year-olds are not Adam Gadbois, who enrolled at the University of Missouri at that age.
"I definitely am a perfectionist at times," he said.
Born in Columbia, Missouri to Mary and Tony Gadbois, the owners of Cherry Hill Dental practice, from a very young age Adam loved to read. It was his passion for reading that helped prepare him to better comprehend different subjects in school. Adam's parents made the major decision to accelerate his education when he was a freshman in high school and enrolled him in the University of Missouri part time, initially. After getting his feet wet in the college experience, Gadbois realized he was ready for college full time, so at age 15 he completed his high school GED, which was required to be a full time student, and then took and successfully passed the ACT exam.
After graduating from the University with his bachelor's degree in general studies at age 19, Adam was accepted and enrolled in the Touro College of Dental Medicine (TCDM). His goal is to work as an orthodontist at his family's practice after gaining the necessary specialized training. His parents have always been a huge and positive influence on his life and he greatly looks forward to continuing to learn from them in a professional setting.
At the state-of-the-art 32,000-square-foot dental health facility, touted for being the first dental school in New York to open in nearly 50 years, TCDM students like Adam receive a high quality education. The school trains them to become both experts and compassionate dentists who are fully equipped to practice in the 21st century. Digital dentistry and technological innovations in the field are incorporated into the curriculum in every course.
Adam was part of the first class to enroll at TCDM and is currently in his third year at the School.
"I was drawn to the opportunity to be at a new school, to have more influence over the structure of program and to help build a better dental school," he said. He added that he came to the dental clinic facility when it was still just an empty shell, but is highly impressed by the clinic, Touro Dental Health, where he is able to meet people from the community and help them by performing all sorts of needed dental procedures.
So, how does life differ in New York compared to Missouri? "When I decided to attend TCDM, I thought I would be dealing with the hustle and bustle of Manhattan, but since our campus is located in Westchester County which is a bit outside of the city, it is located in close proximity to the madness but is much calmer and more relaxed. I also really love the delis and the Italian food here, but we need more barbeque restaurants, in my opinion," Adam said.
Additionally, Adam noted that since he is living among a much more diverse population as compared to Missouri and attending a school with a Jewish foundation, the entire experience has "been enlightening… I don't know if I even knew a single Jewish person in Missouri and it's interesting to learn about the culture."
When asked what is the biggest challenge he has faced as the youngest student in his dental class so far he said, "Being around people that have more experience being independent and living away from home than me. As far as fitting in, I've been extremely lucky to make some amazing friends that helped me a ton with adjusting."