Touro College of Dental Medicine Kicks-off School-Based Oral Health Education Initiative
Students and faculty of TCDM begin visits to local schools with a mission to improve oral health education and awareness in the region's most underserved communities.
February 05, 2019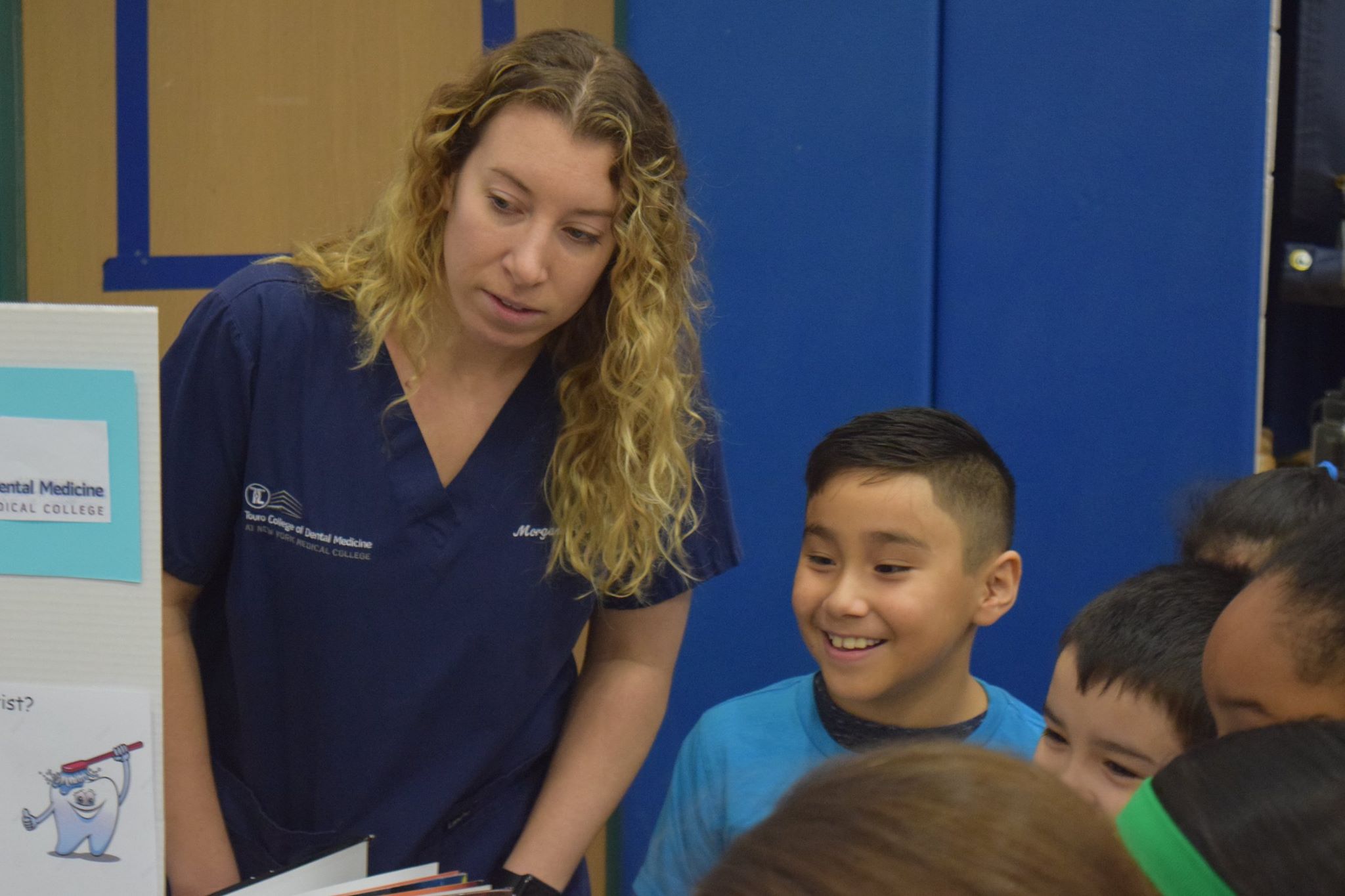 In late January, Touro College of Dental Medicine students along with their Pediatrics faculty delivered oral health seminars to nearly 400 young children in the Elmsford Union Free School District.
As the nation's newest dental school, this was TCDM's first school visit among many planned for the Hudson Valley region, with a focus on improving oral health education for our youngest and most vulnerable population.
TCDM students and faculty visited children from Pre-K through 4th Grade at Carl L. Dixson Elementary school and Alice E. Grady Elementary school to present a variety of fun oral health activities designed to teach children about the importance of brushing, flossing, seeing a dentist, and the real effects of neglecting your teeth. Under the leadership of Carla Tornatore, D.D.S., assistant professor of dental medicine, TCDM students met weeks in advance to prepare unique activities that would engage each age-group and lead to a lasting impact on their dental care.
"We made the activities visual and interactive which you can tell the kids loved," said Benjamin Droney, a third-year TCDM dental student who participated in the outreach event. "It was humbling to hear from the teachers how great of a day their students had."
Elmsford students participated in activities sorting foods into good and bad categories, learning about different kinds of teeth and how to care for them, and even pretending to be teeth themselves. In the end, the children were given certificates inducting them into TCDM's Cavity Fighters Club and a dental goodie bag to take home with literature to reinforce what they learned by applying it to their brushing routines at home.
Marc P. Baiocco, Ed.D., Superintendent of Elmsford Schools, called it 'an amazing experience' with the hope of additional seminars for children in the older grades. "Our entire staff was amazed at how the dental school students engaged our little ones in the ABC's of dental health," added Jeffrey J. Olender, principal at Carl L. Dixson Primary School.
Alex Dorrough, a third-year dental student who led one of the activities at Dixson Primary School, says the experience proves he's exactly where he's supposed to be. "As an aspiring pediatric dentist, this visit was not only a fun morning, but also an additional witness to me that I am in the right profession, and I can't wait to do it again."
TCDM plans to continue their school-based outreach efforts throughout Westchester County, especially in schools located in underserved communities that can most benefit from oral health education and resources.