Second Year Students at Touro College of Dental Medicine Present Summer Research Projects
Students Share Research Findings on Topics Such as Strepkinase A involvement in Skin and Throat Infections at 2nd Annual Research Day
November 30, 2018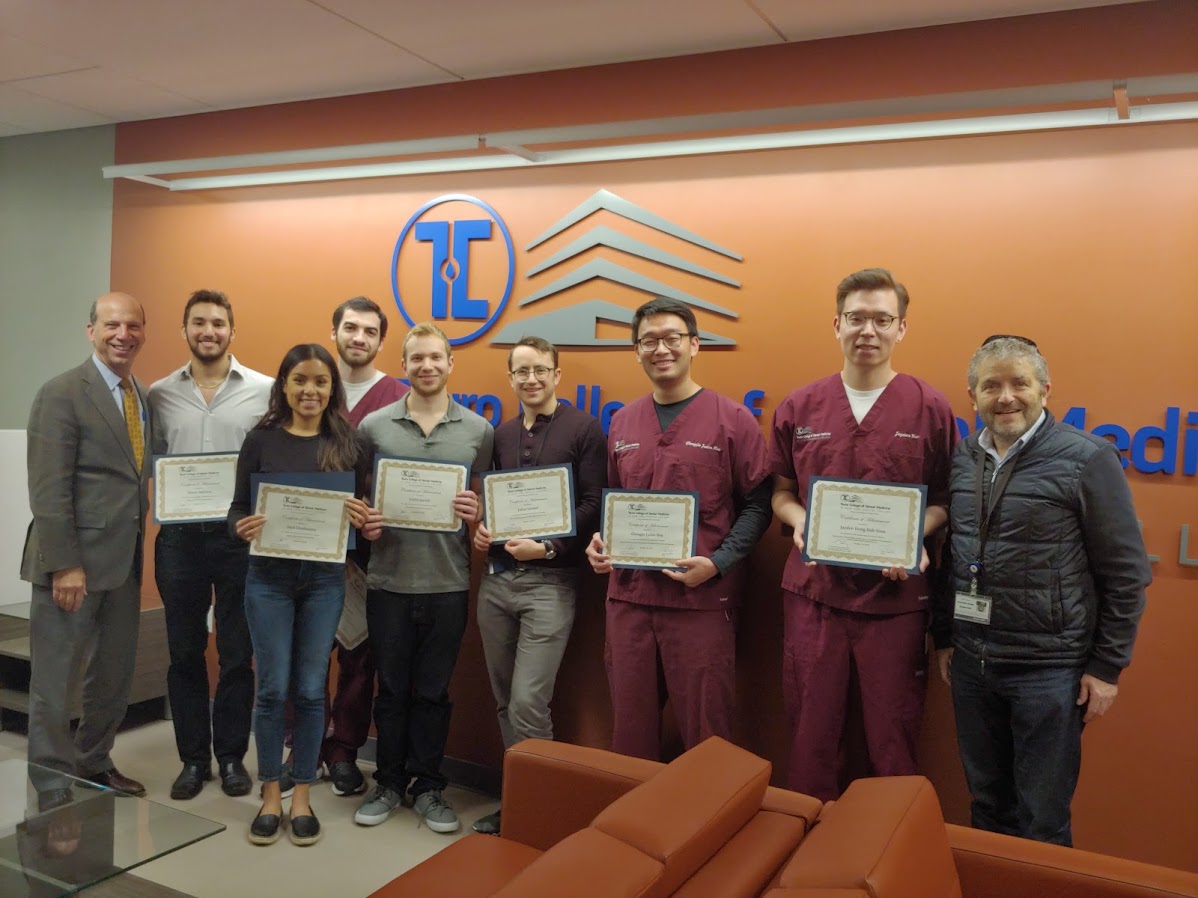 Last month, students and faculty gathered for Touro College of Dental Medicine's 2nd annual Research Day, where program participants presented the outcomes of their summer research electives.
Eight D2 students were selected for TCDM's summer research program and offered the opportunity to study research topics over what would normally be a dental student's only summer break - the summer before their second year. Under the guidance of Salomon Amar, D.D.S., Ph.D., Provost for Biomedical Research and Chief Research Officer for the Touro College and University System and Senior Associate Dean for Research at Touro College of Dental Medicine, students delved into study among an array of topics such as stem cell effect on epilepsy, and Strepkinase A involvement in skin and throat infections. The eight-week program culminated in student-led presentations on each topic followed by Q&A sessions with the audience.
"Dental research contributes to a fundamental component of the field's advancement," said Jonathan Lewis, a student whose research focused on how extracellular superoxide dismutase, or ecSOD, deletion exacerbates hypoxia-induced pulmonary hypertension. "Our team tested methods like echocardiography, right heart catheterization, and western blot to determine how a specific gene effects pulmonary hypertension in mice," he said, adding that the experience was "advantageous" to his dental career.
"I believe that this research day has shown the Touro College of Dental Medicine is committed to just that," said TCDM Dean, Ronnie Myers, D.D.S. "These students represent the best and the brightest. This is only their first small steps in improving the well-being of the public for years to come."
TCDM student Sejal Chudasama studied the effects of estrogen on spatial discrimination and says she feels lucky for the experience. "It was valuable and enriching. I think it will make me a better student as well as a better clinician, and it will definitely help me to look at things more critically," she said.
Next year, these students will make their way to Touro Dental Health - TCDM's 81-chair dental teaching practice and begin clinical training. As research participant, Jayden Hong-Duk Yoon says, it won't be without their summer of research clear in their minds. "I'm already looking forward to coming back to the laboratory," he said.
Full List of Presentations
Justin Garrel & Sejal Chudasama – Estrogen Effect on Spatial Discrimination
Julius Gerstel – Role of Endothelial Glycocalyx in LPS Induced Septicemic Shock
Makan Delrahim Nia – Strepkinase A Involvement in Skin and Throat Infection
Jonathan Lewis – Extracellular Superoxide Dismutase (ecSOD) Deletion Exacerbates Hypoxia-induced Pulmonary Hypertension
Shane Salomon – Stem Cell Effect on Epilepsy
Jayden Hong-Duk Yoon – Exploring the Protective Effect of Akkermansia Muciniphila on Porphyromonas Gingivalis-Induced Periodontal Bone Loss
Chengjie Justin Hou – Molecular Characterization of Small Bacterial RNA and its Immuno-protective Properties