TCDM and NYMC Welcome Guatemala's President Morales
President Jimmy Morales visits to explore possible collaborations.
February 16, 2018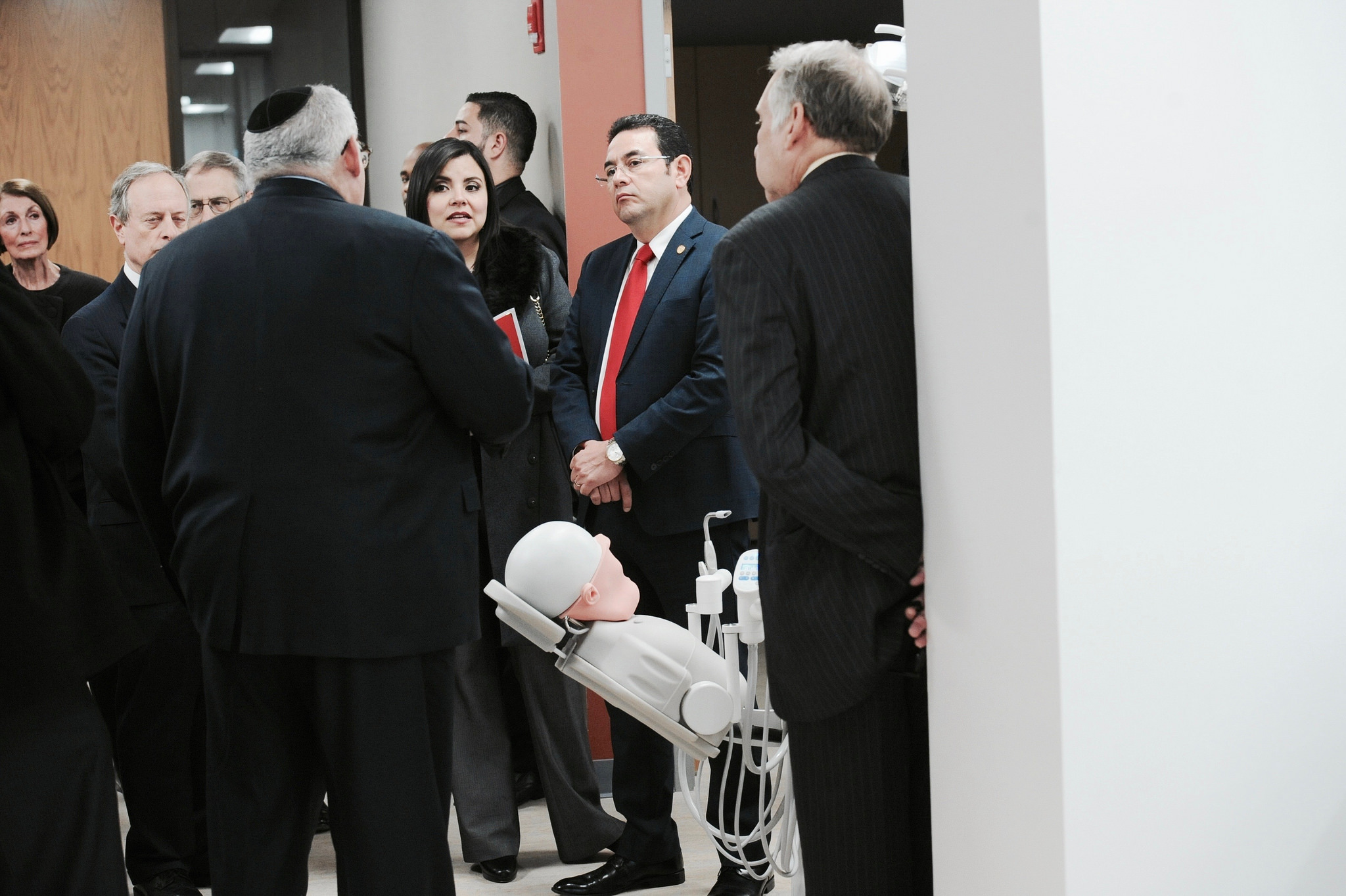 On the morning of Friday, February 9, Guatemala's President Jimmy Morales, arrived at New York Medical College (NYMC) to learn about BioInc@NYMC, the Clinical Skills and Simulation Center and Touro College of Dental Medicine at NYMC. The purpose of this rare visit— to explore the possibility of collaborating with the College to bring medical innovation and economic development back to Guatemala.
Edward C. Halperin, M.D., M.A., chancellor and chief executive officer of NYMC, offered his views on the areas ripe for collaboration with Guatemala saying, "Latin America has a very rapidly growing biotechnology market. Health care expenditures in Latin America are growing at more than four percent a year and the pharmaceutical industry is growing at more than six percent per year. Other countries are already getting into the biotechnology. Why? Because these are high-wage, non-polluting jobs that can build a knowledge based economy to grow the economic sector."
Joining President Morales on his visit were his most senior advisers including: Sandra Jovel Polanco, minister of foreign affairs, Luis Miguel Romero, minister of defense, and Acisclo Valladares Urruela, minister of economy. Speaking about NYMC's biotech incubator as a model for helping small companies and inventors break into the bio-tech market, President Morales said, "It's a formidable idea," he said, "to be able to generate opportunities for small entrepreneurs who have good ideas."
Summing up the mutually beneficial visit, Gladys Ayala, M.D., M.P.H., interim vice dean of the School of Medicine, spoke to President Morales in his native language of Spanish, saying, "I believe the desire for health care providers to dispense the best medical care they can is the same throughout the world. This desire may be universal, but best practices are ever-changing. That's why global collaboration—coming together to share ideas across our distinct milieus—makes us all better."
View video and photos from President Morales' visit to NYMC.