TCDM Announces Partnership with Alpha Omega-Henry Schein Cares Holocaust Survivors Oral Health Program
College is Fifth Dental School in U.S. to Participate in Providing Vital Dental Services to Holocaust Survivors in Need
September 24, 2019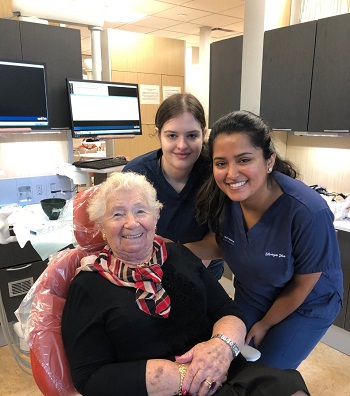 WESTCHESTER COUNTY, NEW YORK – September 24, 2019 – Touro College of Dental Medicine (TCDM) the nation's newest dental school established in 2016, recently launched a partnership with The Alpha Omega-Henry Schein Cares Holocaust Survivors Oral Health Program, a public-private partnership that seeks to increase underserved Holocaust survivors' access to oral care, therefore enhancing their overall quality of life. The program is jointly sponsored by Henry Schein, Inc., the world's largest provider of health care solutions to office-based dental and medical practitioners, and the Alpha Omega International Dental Fraternity (AO), the oldest Jewish international dental and medical organization.
Dental care will be provided at Touro Dental Health, the college's 109-chair clinical training facility, located on the campus of New York Medical College in Hawthorne, NY. The program is active in 22 North American cities and five dental schools, including TCDM. Care is provided by more than 500 dentists aligned with AO's message of healing the world.
"We at Henry Schein are pleased to welcome the Touro College of Dental Medicine, its faculty, and its students as they join our collective efforts to provide much-needed oral health care to Holocaust survivors," said Stanley M. Bergman, Chairman of the Board and Chief Executive Officer of Henry Schein. "It is particularly rewarding to know that the next generation of dental professionals will have a greater understanding of the impact their skills can have on people in need, and we look forward to supporting their efforts to help this most-deserving population."
According to The Blue Card, nearly one-third of Holocaust survivors in the U.S. live at or below the poverty level and often have special oral health needs, as a result of little or no access to dental care as children during World War II. In 2018, a projected total of 45,252 Holocaust survivors lived in the NYC Metropolitan area, with approximately 40% of that population living below the poverty line.
"As the only dental school outside the State of Israel under Jewish auspices, TCDM is a natural fit to help this segment of the population because of our commitment to improving oral health in the Hudson Valley region and our overall mission to perpetuate the Jewish heritage and serve society," said Dean Ronnie Myers, D.D.S. "Integrating the Alpha Omega-Henry Schein Cares Holocaust Survivors Oral Health Program into our service offering not only serves as a huge resource to survivor participants, but also serves as an educational experience for our students. We continuously strive to find ways to connect our students with community service, giving back, and teaching with a focus on empathetic holistic patient-centered care. This partnership is another way TCDM can positively impact our community, students and patients by ensuring quality and accessible oral health services for those who need it most."
Launched in 2015 in response to the White House's call to action to help vulnerable survivors age with dignity and support, the Alpha Omega-Henry Schein Cares Holocaust Survivors Oral Health Program provides pro-bono oral care to the most economically vulnerable Holocaust survivors, as well as individuals of any faith who are survivors of Nazi persecution and meet the eligibility requirements of the program. Since its inception, the program has provided necessary, free dental care valued at more than $2.7 million to over 1,500 economically vulnerable Holocaust survivors across North America.
"Alpha Omega is thrilled that the Touro College of Dental Medicine has joined the program. This is the fifth dental school to participate," said Gary Scharoff, D.D.S., Past International Secretary at Alpha Omega Dental Fraternity, immediate past president of the Ninth District Dental Association, and TCDM's program liaison. "It will be a tremendous benefit to Holocaust survivors located in New York's lower Hudson Valley. Touro is aligned with us in our mission of providing expert dental care and restoring smiles to this deserving population."
A main component of the partnership was to create additional educational opportunities for TCDM students to meet, interact and learn stories from these survivors. Through the partnership with TCDM, several patients have already been seen at Touro Dental Health.