TCDM Brings Together Regional Healthcare Leaders for First Oral Health Forum
Students and Faculty Meet with Hudson Valley Public Health Officials to Discuss Collaborations Toward Improving Community Oral Health
July 29, 2019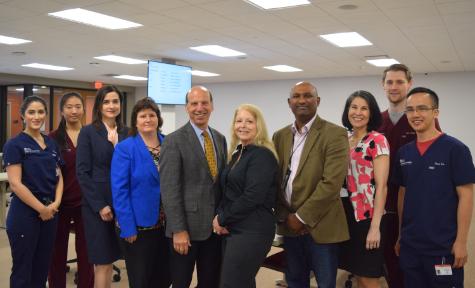 On July 26th, Touro College of Dental Medicine (TCDM) hosted its first Hudson Valley Oral Health Forum with the goal of bringing together students, faculty, Health Commissioners and other leaders from throughout the region for an important discussion on the oral healthcare issues impacting local communities.
The event was an opportunity for TCDM students to learn about the oral health disparities uniquely facing each county, including those that exist among low-income racial/ethnic minority groups, in medically and dentally underserved rural and urban areas, within different age groups and among those living with developmental disabilities.
"Dental disease is one of our nation's great preventable public health challenges," said Ronnie Myers, D.D.S., TCDM Dean. "Creating an inter-professional dialog between dental professionals and public health officials can improve education and collaboration, and result in better patient outcomes. Coming together with these important public health individuals is a step closer in creating a unified platform for healthcare providers to work together and help our patients."
"Healthy teeth and gums are necessary for good overall health," said Sherlita Amler, M.D., Commissioner of Health for Westchester County who attended the event along with officials from Orange, Sullivan and Dutchess Counties. "Regular dental care by qualified providers goes a long way towards improving nutrition and quality of life, and preventing disease. The Touro College of Dental Medicine and Touro Dental Health are wonderful new partners in our collective efforts to improve public health in our region."
TCDM students were eager to learn from these regional healthcare leaders and had the opportunity to discuss ideas for collaborating together in small group settings. These ideas will fuel each student's Independent Scholarly Project.Prior to graduation each student at TCDM is required to pursue a scholarly project that answers or seeks to answer a research question under the supervision of a mentor.
"We covered a broad spectrum of potential projects — from having dental screenings at local schools to creating educational programs for not just parents, but also for physicians and other healthcare professionals," said Natasha Patel, a third year dental student. "We hope to initiate projects that will impact the future generations of TCDM as well as the surrounding communities."