TCDM Hosts Dr. Jessica Brereton Peterkin on Overcoming Adversity and Empowering Underrepresented Dental Students
Informative Online Discussion Held During Black History Month
February 26, 2021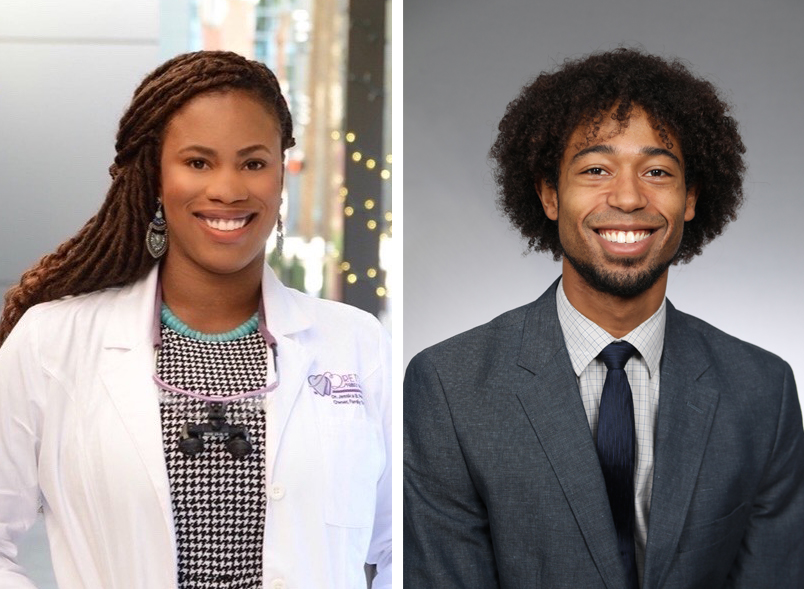 Dr. Jessica Brereton Peterkin with TCDM's Dr. Michael Israel
In honor of Black History Month, Dr. Michael Israel, Assistant Clinical Practice Leader and Clinical Assistant Professor of Dental Medicine at the Touro College of Dental Medicine (TCDM) led an informative online discussion with Dr. Jessica Brereton Peterkin to discuss her journey and overcoming adversity, inspiring others through her story and how dental schools can attract and give underrepresented students the support they need to flourish.
The owner of a successful family practice in Phoenix, Arizona, co-author of the Amazon best seller Empower Now: True Stories from 14 Young Minority Professionals, and holding both a master's in biomedical sciences in addition to a B.S. in Chemistry with honors from her HBCU alma mater, Dr. Peterkin's resume is both impressive and extensive...but she certainly did not experience the "Cinderella path" to dentistry. Graduating as the only Black student in the inaugural dental class of Midwestern University College of Dental Medicine, Dr. Peterkin has faced countless adversities in both her personal and professional life, and in overcoming all the obstacles, actively works to inspire and champion others through sharing her story.
Dr. Michael Israel: Can you touch on your experience getting to where you are today?
Dr. Jessica Brereton Peterkin: I graduated high school in Phoenix, and I ended up going to an HBCU, "The Great" Bethune-Cookman University of Daytona Beach, Florida, founded by the late and great Dr. Mary McLeod Bethune. I majored in Chemistry with a focus in predental studies, and I graduated Class of 2010. I applied to dental school and didn't get it right away, so I came back to Arizona and I happened to find Midwestern University and they were still accepting applicants to their master's in biomedical science program. And so, I applied, immediately got an interview, and got accepted the next day. I started the program three weeks later, and I was grateful that I did that despite the fact that in my mind, I wanted to go straight to dental school.
At that time, I was informed about the Midwestern College of Dental Medicine-Illinois getting ready to break ground and ultimately, found my home there as part of the inaugural class—a once in a lifetime opportunity. In addition to that, I was the first Black student there and first female Black student; and it had its challenges, but I overcame them all. I was a student leader and helped to find a lot of organizations in the program. I started the GKAS program by creating networks with the DuPage County Health Department and the Greater Chicago Line area and was able to provide free dental services to over 500 children in the greater Chicago area. I obtained the student leadership award by Proctor and Gamble from the International College of Dentists and went on to participate in organized dentistry. After graduating I worked as an associate for a while and got my feet wet in figuring out what I wanted to do. And after doing pediatric dentistry for two years straight, I knew I wanted to have a family dental practice, and so here I am—Breton Family Dental!
Dr. Michael Israel: Can you speak to how being the only Black student in your class played into your experience and some of the adversities that you faced and overcame?
Dr. Jessica Brereton Peterkin: I guess I can go back to when I first started my educational journey. I grew up partially in Miami, Florida, and I was just used to being around a variety of people. When my parents divorced we moved to Arizona, and I was the one and only Black student in my class. I had this huge Florida accent and, I didn't think anything of it, but I got teased for that and it created a complex where I felt like I needed to assimilate in order for me to be able to gain friends and to enjoy my life and my experiences in obtaining my education. Fast forward to high school and, in doing that, you get made fun of and talked negatively about, accused that you're trying to be white when in reality you are just trying to be yourself and speak with articulation.
Ultimately, I went to an HBCU because I felt that it was important for me to do so after my mom reiterated the importance of being empowered and going to a historically black college definitely empowered me. It created a sense of pride in me not only being around people who looked like me but seeing doctors who looked like me.
I had never seen a black doctor until I went to my HBCU. I had never seen a black dentist until I was in my third year of dental school. Here I am, this black girl, having ambitions to become a dentist, and, not to say that I couldn't become one, but the odds were stacked up against me that I wouldn't.
By the time I got to Midwestern University...going into this environment I already knew that I was going to be by myself. I had tried my best to find people that looked like me, but I couldn't even find a single professor let alone a student, so it was challenging. I didn't see anyone that looked like me, and I had to dig a little deeper, and it's hard when you're scared.
It was challenging, so much so that, I had a professor reach out to me, she was the dean of students at the time, and she said, 'I know that you are the only African American student, I just want to know if you are okay.' And when she said that to me, I burst into tears. From then on, she was my person throughout school; if I had a concern, I voiced it to her. And I felt comfortable because she created an opportunity for me to be able to do so. Long story short, I was able to go to school and I did well but there were definitely challenges where sometimes I felt like I just didn't want to be there and that I didn't fit in.
Dr. Michael Israel: Can you tell us about how you got involved with writing your story for the "Empower Now" book series?
Dr. Jessica Brereton Peterkin: Amber Robins, M.D. reached out to a few of us—professionals in various careers, journeys, whether it be law, medicine, dental medicine, etc.—and asked for us to pitch our story to be able to be a part of the "Empower Now" series. After pitching my story, she was interested, and I became a co-author for the book. It's a series meant to empower young people from diverse backgrounds to see the journeys that we've taken to become who we are—just because we are where we are, doesn't mean that we didn't have a mountain to climb.
I shared about how when I moved from Miami to Arizona, dealing with those adversities and also having certain behavioral issues back when I was in elementary school. I was bullied, and because I was bullied, I used to fight. But then I turned that around after ninth grade, realizing this is going to dictate my future if I allowed it to continue. My aunt and my mother sat me down and said, 'don't let the things of the past dictate your future,' and so I changed my perspective and used that same fuel that helped me to feel empowered to fight against people who were fighting me, to then turn around and have that same fight to fight against the odds that were stacked up against me.
I don't have any regrets. I feel that everything that everything I've been through in life or obstacles that I've encountered helped me to be who I am today, so I would be remiss if I didn't say that there wasn't a purpose in that. When I look back, I don't mind sharing my story because I know that not everyone is perfect...that's what I'm here to do, is share and that's what I am going to continue to do...what we go through in life is not just for ourselves but for other people, and [I hope] my testimony can help someone else overcome their own battles and obstacles that they encounter.
Dr. Michael Israel: If you could give your younger self any advice, what would it be?
Dr. Jessica Brereton Peterkin: The biggest thing I would tell my younger self is you are enough, just the way you are. There's nothing that you have to do to change yourself. I feel that, for me, if I would have identified that earlier on, who knows where I would be. I have a lot more to do...as long as there's breath in my body, and I have legs to be able to move I'm gonna keep going. But my biggest piece of advice for my younger self would be that you are enough, and you are equipped with everything that you need to be all that you desire. There's not one thing that you can't do.
Dr. Michael Israel: Could you talk a little bit more about your transition from working in pediatric dentistry to owning your own practice?
Dr. Jessica Brereton Peterkin: When I graduated, I started off in corporate dentistry. I worked there for a year and after my maternity leave, I decided to switch gears and go into private practice. I was there for a year, and then I got fired from my job. I had a lot of racial tensions with some of the patients that were elderly, and I am left-handed, and everything was fixed right-handed in the office; so, it was hard for me to maneuver without having chords strung across patients and things like that. I thought it was the end of the world because I had never been fired from a job before, let alone I had no portfolio to warrant being fired. I took that experience and used that to help me to decide that I will not allow anyone else to control my career so that year in 2018, I started Breton Family Dental on paper. I didn't have the finances to back myself for starting a private practice, and I ended up going into public health and did pediatric dentistry for two years. I enjoyed it but I missed treating adults and I still wanted to have my own practice. And so, at that point, opportunity met preparation.
In April 2019, I got the keys to the building and I had 6 weeks to renovate and open my doors. Now it will be two since years I had my soft opening and started seeing patients from the general public. I'm just grateful. I think that everything, like I said before, that I go though in life helps to build where I'm going and where I'm heading and every experience, despite how traumatic it may have been to have to deal with a hostile work environment in my first job, to having to get fired for something I feel like wasn't something I could control as a person, to not getting paid for my work, to working in a fast paced environment that was just overwhelming, but still being able to use each and every one of those experiences to create the ideal career and opportunity for myself.
Dr. Michael Israel: We got a comment here that your practice seems so accepting and family oriented. Inclusivity seems really important to you.
Dr. Jessica Brereton Peterkin: My mom, she always taught us about having an open mind and being accepting of other people. And so, I've always been accepting of other people. That picture that you see on my website is not just some random people those are actually friends of mine. We're all connected; we're all connected by being human—we all feel, we all hurt, we all have tears, we all are all happy and we have moments when we are sad. When I treat patients in the environment I have here, my practice is to just accept people as a part of the family. We want people to feel at home and always welcomed so from the time they walk in the front door until the time they leave, they genuinely feel that this is a home.]
Dr. Michael Israel: Being the only black student in your dental school class, what suggestions would you have to try and increase the underrepresented students and faculty members in dental education?
Dr. Jessica Brereton Peterkin: I think that the first thing to do is recognize that there is a need, because black dentists represent less than 5% of all dentists. I think it's also important to recognize that there is a community out there of people who don't necessarily trust people that don't look like them. There are years of history of African American people being mistreated in medicine, and so there's a huge disconnect and lack of trust in the black community when it comes to health care providers. When you start thinking about that, it's going to be important for your student body and for your faculty to reflect the community that they serve, because studies have shown that when there's a doctor that looks like another African American person, more likely an African American person will trust them.
The second step is to look for those applicants. Before you start recruiting students, you have to have doctors that are a part of your team that look like them for them to feel comfortable to go there. You are talking about taking on half a million dollars in debt and you have to be able to graduate. And it looks bleak sometimes even when you have all the right cards in place. So, imagine being by yourself, not having the support system, not having someone who walked in your shoes and who can encourage and tell you that you're enough. Create a community and have a good representation of people from all different ethnicities and different races and it will help make it easier for people to feel more comfortable.
In terms of recruitment, create a pipeline. Connecting with SMDEP and some of those programs and have those students come to your campus and experience what it's like to be a dental student for six weeks during the summertime. Now they're exposed to your campus and they have an interest, and you are capturing them early in their sophomore year of undergrad and they can change their academic trajectory if they are not already on the right path.
Also, all students need a mentor, someone who can hear their personal problems. I think if all schools did that, it will help too and can be used to attract a diverse student population. If you have the support that you need to get you through and, on top of that, that person looks like you, you are students will be guaranteed success there because you will have someone who is rooting for you and telling you the tricks of the trade.
I think that starting with those small steps and capturing the audience at an earlier stage in their journey will definitely make a huge impact and also having representation in the administration so that they feel that there's people that they can create a community with.
This interview is adapted from Touro College of Dental Medicine's Instagram Live on Wednesday, February 17, 2021. To watch the full interview online, visit TCDM's Instagram: @tourodental