TCDM Launches Hands-On Continuing Education Program
Dental Professionals from Across the Region Will Have Access to Hands on Training in the Latest Scientific and Technological Advances Using TCDM's State-of-the-Art Facility
July 01, 2019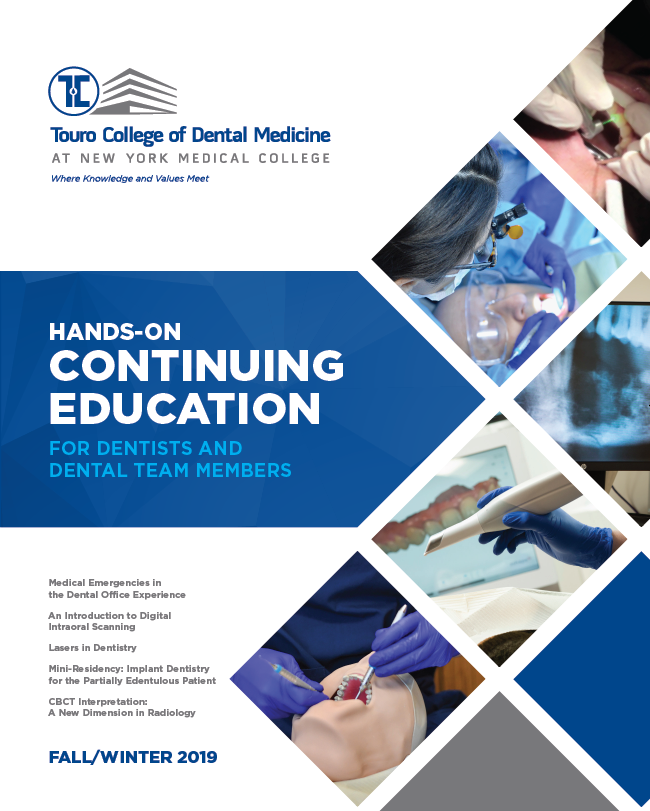 Touro College of Dental Medicine at New York Medical College announced its first line-up of Continuing Education (CE) courses for dentists and dental professionals, starting in September 2019.
The Fall/Winter 2019 schedule includes several intensive hands-on courses that leverage the expertise of the TCDM faculty and other respected experts, the College's brand new simulation and clinical training facilities, and its significant investments in the latest digital dental technologies.
Continuing education and professional development are professional obligations for dentists, due to advances in science and research and the need to incorporate new knowledge and techniques to best manage oral health in the 21st Century. As a pioneer in the integration of digital dental technologies, TCDM is uniquely poised to provide training in this field including courses in the use of dental lasers, digital intraoral scanning and CBCT interpretation using these digital tools with experts on hand. Additional courses include training in how to respond to medical emergencies using real-time simulation at the New York Medical College Clinical Skills and Simulation Center, and a 10-week, 70-hour immersive mini-residency in implant dentistry.
"As the primary Oral Health Educational Center between NYC and Albany, along with our impressive technology, the Touro College of Dental Medicine sees real-time, hands-on education as an obligation to the practicing dental community in the lower Hudson Valley," said Ronnie Myers, D.D.S., Dean of Touro College of Dental Medicine. "We will continue to develop these much needed types of programs to supplement the many lecture programs that currently exist."
TCDM plans to expand its Continuing Education program to include other unique hands-on courses on a wide variety of topics for faculty, community practitioners and its future alumni. Guest instructors interested in collaborating with College Administration to develop programs of interest are encouraged to reach out.
For more information or to register for a Fall/Winter 2019 CE course online, visit TCDM's Continuing Education Program website.