TCDM Launches Virtual Education Series On Special Care Dentistry
Continuing Education Program Discusses Alternatives to Sedation & General Anesthesia for People with Disabilities
February 15, 2022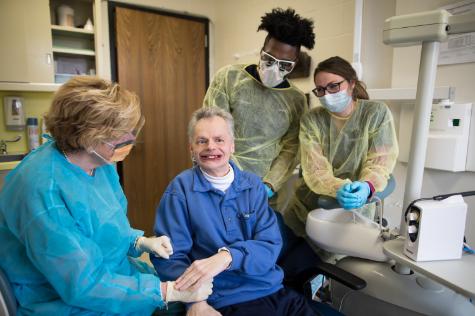 A patient with special needs is treated by a dentist and two TCDM dental students. Touro College of Dental Medicine will be offering continuing education classes on providing dentistry to individuals with disabilities.
In dentistry, there exists a significant gap in accessible care for people with intellectual and developmental disabilities (IDD). Many general dentists are not trained to properly handle situations that may arise when treating the population, while caregivers for those with IDD are in a constant search for providers equipped to address the disparities.
In an effort to shed more light on this issue and to contribute to closing this gap, Touro College of Dental Medicine (TCDM) has launched CE Series: Special Care Dentistry, as part of our continuing education program. The series, a multi-part program presented free of charge, in partnership with the NYS OPWDD Taskforce on Special Needs Dentistry, is aimed on highlighting and offering solutions for common challenges in caring for the IDD community.
In the first installment, "'Shortening-the-Line' for Sedation and General Anesthesia for People with Disabilities," which was held on January 25, Paul Glassman, DDS, MD, MBA, Professor and Associate Dean for Research and Community Engagement at California Northstate University College of Dental Medicine, discussed the factors and consequences of people waiting for oral health care in conjunction with sedation or general anesthesia, a frequent issue for people with intellectual and developmental disabilities, and proposed probable solutions for "shortening the line" and expanding access to sedation and general anesthesia for dental procedures.
The next course in CE Series: Special Care Dentistry will be held March 16 and will feature Steven Perlman, DDS, MSCD, DHL (HON), Global Clinical Director and Founder, Special Olympics Special Smiles and Clinical Professor of Pediatric Dentistry, Boston University School of Dental Medicine Diplomate, American Board of Special Care Dentistry, discussing safe and effective alternatives to sedation and general anesthesia when those options may be unavailable.
The series is just one part of TCDM's efforts to raise awareness for and eliminate these disparities. Raquel Rozdolski, DMD, Director of Anesthesia and Pain Control, and Susan DiSenso-Browne, DDS, Director of Special Needs recently spearheaded a newly created NYSADC Fellowship to Address Oral Health Disparities of which they are Co-Directors.
TCDM also established the Special Needs Dentistry Fund, which is designed to allocate money towards educational programs for general dentists, expansion of educational activities for predoctoral students and postdoctoral fellows as well as developing clinical programs to provide services to this marginalized population, like that of the NYSADC Fellowship and Continuing Education series.
Those interested in the upcoming CE lecture, or find details on topics, dates and presenters for the remaining installments in the series – can visit our continuing education page.