TCDM Partners with Local Schools to Host 3rd Annual Give Kids a Smile! Day
Free Dental Services Provided to More than 50 Local Children
February 24, 2020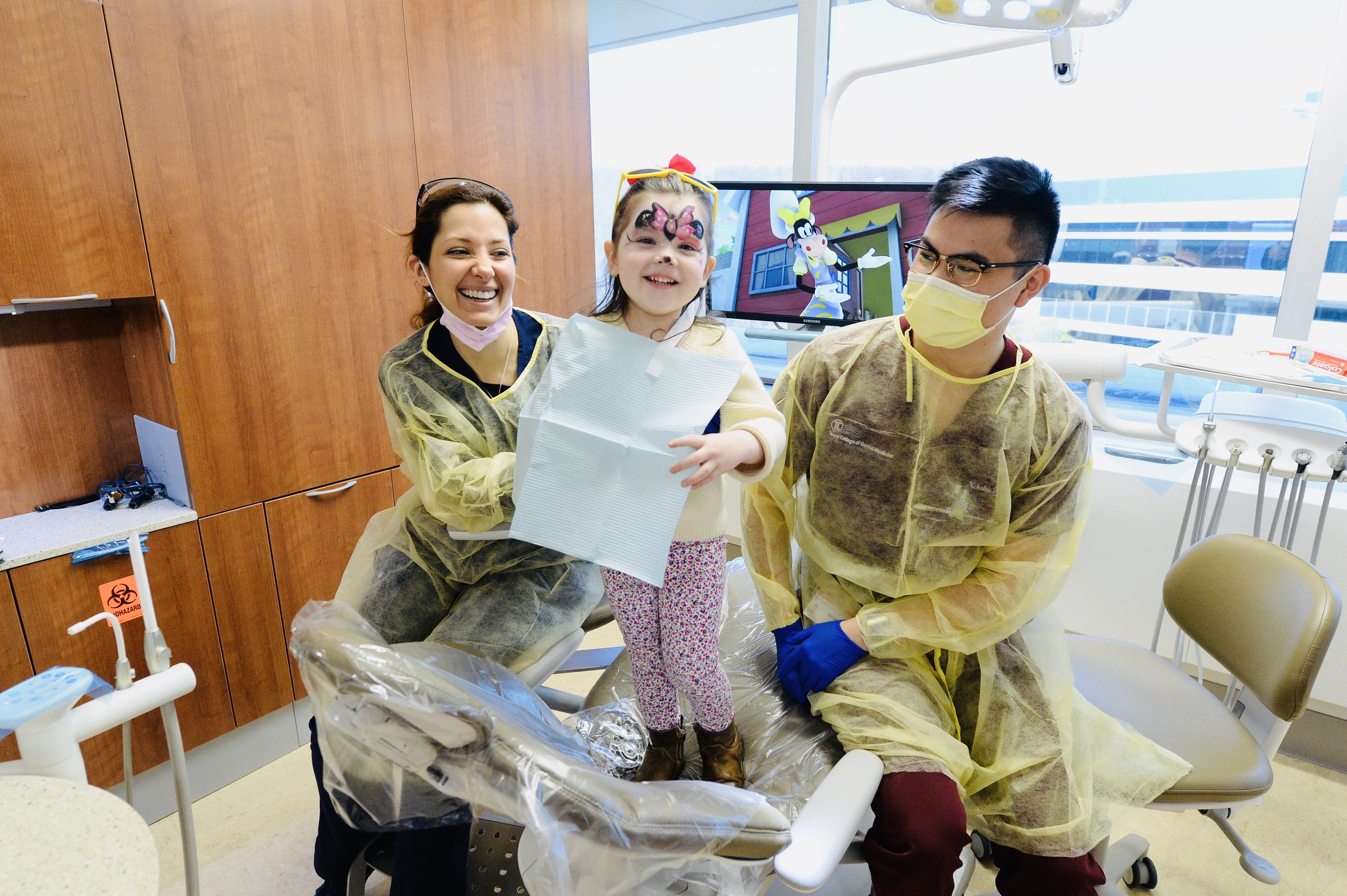 VALHALLA, NY – February 24, 2020 – The tooth fairy, puppets, face-painting, balloons and games brought smiles to more than 50 local school-aged children and their families at Touro Dental Health's third annual Give Kids A Smile! Day. The event, organized each year by students from Touro College of Dental Medicine (TCDM), aims to improve oral health and access to care for the local community's most vulnerable patients. Third and fourth-year dental students teamed up with TCDM facultyand Ninth District volunteer community dentists, to provide free dental screenings, cleanings, fluoride, orthodontic consultations, and oral health education activities designed to foster good oral hygiene practices at home.
A program of the American Dental Association, Give Kids A Smile! was established at TCDM in 2018 in conjunction with the Ninth District Dental Association and support from The New York State Dental Foundation. The program is a chance for TCDM to give back to its community while having fun, which this year included a puppet show, the debut of the college's new mascot, a lively performance by the school's acapella group, the Chromatic Scalers, and a new partnership with the Ossining and Elmsford Union Free School Districts. Both districts share TCDM's commitment to educate students and families about the importance of dental and overall health, and were eager to provide support in outreach to families in need.
"This day is a great opportunity for getting children and families on track for dental care," said Dr. Marc Baiocco, superintendent of the Elmsford Union Free School District. Dr. Ray Sanchez, superintendent of the Ossining Union Free School District, agreed. "Doing well in school goes beyond academics. This partnership ensures that some of our neediest families receive services that we hope will make their children's smiles brighter.".
Children ages 1 through 14 years of age attended the event to receive free dental care. For Emma, a 3-year-old patient, Give Kids A Smile! was her very first visit to the dentist. Others who were anxious about dental care were pleasantly surprised by the outcome, including 10-year-old Ro'mel, who was working hard to overcome his nervousness about his impending dental check-up. "If I don't go to the dentist my teeth will be messed up," Ro'mel said. Another child, 13-year-old Sean, hadn't seen a dentist for a few years because he lacks dental insurance. His mother said, "This event is really important because he can get a free-check up to see if he needs further care."
Students on the GKAS committee, who were instrumental in organizing the event, said it was a great opportunity not only for children and families but also for students who are studying to become pediatric dentists. "Today adds a fun factor to teaching children and parents about oral hygiene," said Mimi Tran, a third-year dental student and co-chair of the event. Ghazaleh Peiravani, also a third year and co-chair, added, "It's a great learning experience for students because it allows us to get to know the kids, to give back to the community, and open the door for kids to become patients here." Of the 54 children and families who turned out for GKAS, at least 21 scheduled follow-up appointments and Touro Dental Health will extend additional complimentary dental services to these children to further encourage their ongoing dental health.
In addition to highlighting Touro Dental Health's commitment to providing access to dental services, especially for underserved populations with special needs, Give Kids A Smile! underscores the college's commitment to community service, said Dean Ronnie Myers, D.D.S. "It is critically important for us to instill a desire in our students to serve the community and to provide high quality care to each patient we see," he said.
Vice Dean Edward F. Farkas, D.D.S., M.A., added, "Our graduates will soon make their way out into the world, prepared to make a difference in the lives of the sick, to make a difference in the lives of their communities, and to generally make the world a better place."
Summing up the day, David Carlucci, New York State Senator for the 38th District, said, "I am blown away by TCDM's commitment to the health of our community."