Examining Dental Education
Touro College of Dental Medicine Pre-Dental Day, 2017
May 03, 2017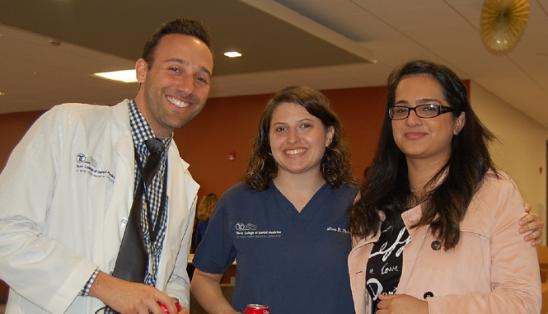 More than four dozen undergraduate students from universities throughout the northeast got a taste of life at Touro College of Dental Medicine (TCDM) during its first Pre-Dental Day program on April 23.
Administrators, faculty, and student ambassadors presented DDS enthusiasts with an afternoon of information, tips and hands-on experiential learning.
In the expansive 117-seat testing center Dr. Jay Goldsmith, Founding Dean, spoke about TouroCDM' s mission, the forthcoming 135 seat dental clinic, unique and joint programs with NYMC as well as the remarkable popularity of the dental profession. In a recent survey by U.S. News and World Report dentistry was rated #1 on its 100 Best Jobs survey. Dentistry got high marks for salary, employment rate, and satisfying work-life balance.
"I am gratified by the incredible interest there is in our profession," said Dean Goldsmith. TouroCDM received more than 2800 applications for 110 openings this year.
Student representatives Farihah Khan and Tracy Liang presented an overview of the application process, insider tips and a video to help students ace an admissions interview. Included in those tips was 9 Things to Bring on an Interview (a mirror, a snack, Band-Aids!) courtesy of the American Student Dental Association.
"Dental school admissions officers look for candidates with excellent communication skills, because dental medicine involves teamwork," said Khan.
Proof of manual dexterity is also critical, they said. "Whether it's artwork, jewelry-making, sewing or piano playing. You need to show the interviewer you can work with your hands."
Some of the students participated in practice interviews, which they said were helpful. "It was Bushra Azhar -with Dr. Ben Schwartz and student Lisa Perlow- was among dozens of DDS hopefuls learning all about TouroCDM at Pre-Dental Day.important because the interview is one of the most crucial ways to allow faculty and administrators to get to know you and how you conduct yourself," said Helen Canals, a sophomore from the University of Massachusetts at Lowell.
Dr. Ronnie Myers, Senior Associate Dean of Academic and Administrative Affairs, discussed the strict criteria that TouroCDM must meet to maintain academic accreditation and addressed what happens when dental students reach the finish line.
"General dentistry students learn all aspects of oral health care when they graduate so that they are capable of independent practice," said Dr. Myers, noting that each faculty member brings an area of expertise.
"We have the awesome responsibility of assuring that you are competent in these areas when you leave," said Dr. Myers.
The afternoon concluded with guests participating in a "wax up," a hands-on exercise using dental models to fabricate teeth out of wax in TouroCDM's state-of-the-art simulation lab.
Dr. Myers also discussed the financing of dental education and the costs involved. He made it clear that it is most important to understand the financial aid system and what's available before students get accepted because it is a complex process. Keidelyn Abreu, a biology major from the University of Massachusetts at Lowell, was impressed that TouroCDM "brought the financial aspect to the presentation," she said, adding "That's not something that's usually talked about, and it's really helpful."
In a Q & A session, a student asked Dr. Myers why, in his personal experience, he thought dentistry ranked #1 in the U.S. News survey:
"It is an honorable respected profession in which you feel gratified providing important services to your patients and society. The professional relationships that I have developed over the course of a lifetime of practice are things that have made for an unbelievable career. It is an incredible life experience."