TCDM Students and Faculty Come Together for First-Ever Emergency Dental Mission
Dental student Lea Chernoff highlights the importance of helping patients receive critical care in underserved areas
May 13, 2019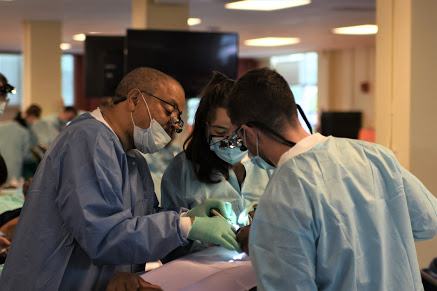 Many people do not enjoy visiting the dentist, but what options are there for those who need their teeth examined and cannot afford it? This is an unfortunate reality for many, especially those who live in underserved communities, and that's why a team of faculty and students from Touro College of Dental Medicine (TCDM) recently headed to the Maxine Smith STEAM Academy in Memphis, Tennessee, to treat more than 150 patients in need.
The trip was organized by Remote Area Medical, a major nonprofit provider of free mobile clinics who recruits licensed dental, vision, medical and veterinary professionals who treat individuals living in remote areas across the globe, and TCDM third-year student Lea Chernoff, who led the charge in bringing together a team of student and faculty volunteers for the school's initial and highly critical dental mission.
"I was first exposed to the need for dental care in underserved populations while on a rotation in a mobile dental van. The van provided services to children whose families couldn't afford both medical and dental care. As a result, I began to research organizations that held mission trips and was fortunate enough to meet a dental student from another school that recommended Remote Area Medical. I wanted to be able to make a difference on a larger scale and I believe that was accomplished on the mission trip in Memphis," said Lea Chernoff.
Chernoff, who actively participates in community outreach activities including oral hygiene instruction for students at a local elementary school and also volunteers at the dental clinic at Westchester Medical Center, thinks it's important for medical professionals to give back to the community because there are many people in the U.S. not covered by insurance who are in desperate need of care. Additionally, by providing patients access to dental care, future medical problems can be avoided.
After meeting many patients, there was one unforgettable interaction that made a lifelong impact on the dental student. "There was a young woman who was suffering from excruciating pain in her mouth that was due to a deep carious lesion. Luckily, I was able to extract the tooth and alleviate her pain. After the procedure, she gave me a huge hug and expressed extreme gratitude for helping her," said Chernoff.
Fellow third-year student Shreya Jha, who was also involved in planning the mission, said, "It's important to provide free quality healthcare to showcase the importance of taking care of yourself. By providing relief to these patients during the mission, we are able to explain the need to brush your teeth twice a day, floss regularly to maintain your gum health, and clean your tongue to remove bacteria. With one simple encounter in providing free quality healthcare, we created an impact in someone's life that will last a lifetime."
"Some patients waited in line overnight to receive free dental care," says Alexander Hall, D.M.D., a Clinical Practice Leader, Assistant Director of Removable Prosthodontics and Associate Professor of Dental Medicine at TCDM. Dr. Hall, along with fellow faculty members Isabel Garcia, D.D.S, and Bert Goldfinger, D.D.S., brought 19 dental students in total to the mission and overall 587 patients were treated.
While this mission was a great first step for TCDM, what's next for Chernoff?
"Right now, I'm planning to start a mission trip committee at TCDM so that students can participate in future vital trips like this one. This experience has opened my eyes to the true need for care amongst underprivileged and underserved areas. I hope to continue to be able to support causes like this through the skills and knowledge I have obtained in dental school," she said.