TCDM Students Transition to Clinical Care Facility
Touro Dental Health Officially Welcomes its First Group of Student-Dentists Practicing Hands-on Dental Care
July 03, 2018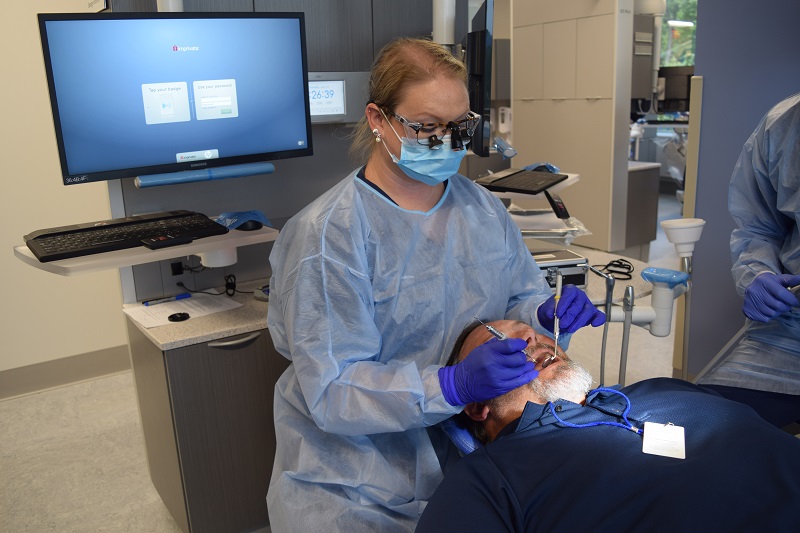 A captivating sense of excitement was in the air when Touro College of Dental Medicine's very first class of students took up residence at Touro Dental Health, the college's stunning, 81-chair clinical training facility, on June 18th, following an intense week-long orientation. The inaugural class of 103 students began their careers in hands-on patient care by inviting in their own friends and family to receive dental care. Many traveled from across the country to have the opportunity to be the very first patient of their student-dentist and to see the state-of-the-art facility that will be their 'classroom' for the next two years.
Student-dentist Amanda Vedros had the pleasure of treating her father, Brad Vedros, who drove 8.5 hours from Virginia to be his daughter's first patient. "It's an honor. I'm always going to be her first patient - how could I not come?" said Vedros, who admitted he hasn't put much thought into dental care since he retired from the Navy in 2014, which was his last visit. It's clear that Amanda's passion for dentistry is inspiring those around her. "She was worth the wait and the drive," he added.
Paul Yates, another first-time student-dentist, says his first patient was a no-brainer. "Of course I asked my wife," he said. Paul and his wife Victoria moved to New York from South Carolina in 2014 so that he could pursue dental school, leaving friends and family behind. "I'm just so proud of him," she said. The couple hopes to eventually return to their home state where the ratio of dentists is significantly lower than the national average, but they say New York is growing on them.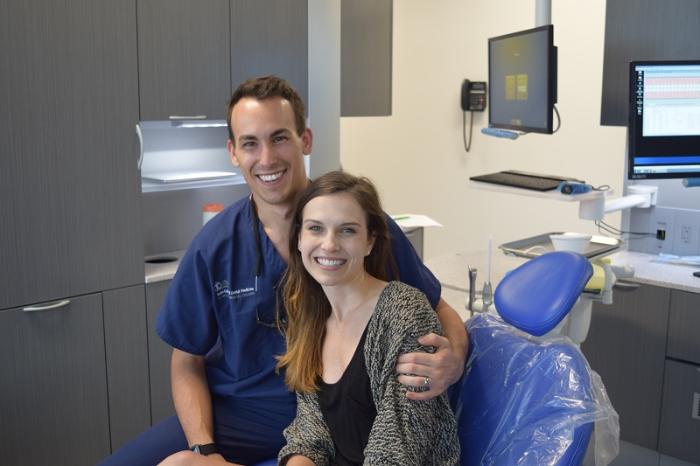 TCDM student, Paul Yates, and his wife Victoria.
"This has been a moment we've all be waiting for," said Dean Ronnie Myers, D.D.S. "We've spent the last 6 months setting up a robust faculty and staff, an incredibly sophisticated facility, and a clinical curriculum that will prepare our students for a successful dental career when they leave."
"It's a rewarding experience for all of us to see the students so eager, and to see every chair in use. The energy is really infectious." said Edward F. Farkas, D.D.S., Vice Dean. "For the students, having friends and family as their first patients is a great memory that will also help prepare them for the busy schedule ahead.