TCDM's 4th Annual Gala Honors Leading Technology Innovators
3Shape Is Among Those Honored at Touro College of Dental Medicine's Largest Fundraiser to Date
November 20, 2019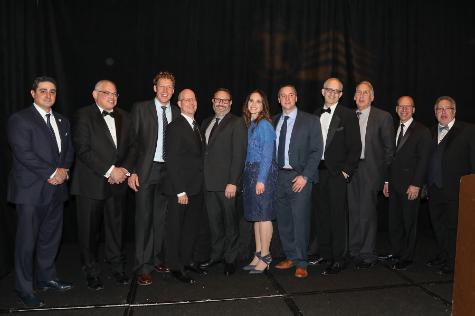 VALHALLA, NY – November 20, 2019 – On Sunday, November 17, Touro College of Dental Medicine (TCDM) hosted its fourth annual Gala at The Westchester Hilton in Rye Brook, NY. This year's event was TCDM's largest Gala to date, bringing together more than 300 supporters and leaders from through the region's dental community to raise funds that will support student scholarships and help provide vital dental services to underprivileged patients. Students from TCDM's inaugural Class of 2020 also attended the event, which paid special tribute to these trailblazers who are now preparing for the careers and residencies ahead as the first TCDM graduates.
The Gala celebrated TCDM's partners in technology, honoring four distinguished companies with awards for their contributions toward advancing the field of dentistry and their commitment to dental education. TCDM also acknowledged an outstanding member of its faculty with the Faculty of the Year Award, a student-nominated award which is given for excellence in teaching and in recognition of one's dedication to advancing dental education.
"Over the past year, TCDM has worked tirelessly, alongside its students, faculty, staff, partners, and the Hudson Valley community, to differentiate ourselves as a community-oriented, technology-first dental school," said Ronnie Myers, D.D.S., Dean of Touro College of Dental Medicine. "We are extremely grateful for the partnerships we have formed and will continue to seek collaboration with those committed to innovation and leadership for the future of dental medicine."
Among those honored was Tais Clausen, Co-founder and Chief Executive Officer of 3Shape, a global leader in digital dentistry, including 3D scanners and CAD/CAM software solutions that are helping to change how dentistry is delivered.
"We are fortunate to partner with 3Shape to produce native digital dentists who, from their earliest days in dental school, are learning digital dental concepts and principals relevant to the practice environment of 2030," said Edward F. Farkas, D.D.S., M.A., Vice Dean of TCDM, who presented the award to 3Shape. "The future of dentistry is bright, but it is bright because it is being driven by the relentless innovation of people like Tais and companies like 3Shape and our other honorees."
Prior to the event, Mr. Clausen visited the school to meet with students and faculty to discuss collaborations and open a dialog about technology enhancements. "3Shape and Touro share a common passion and vision to transform dentistry from an analog world into a new, exciting digital world where we are providing improved patient care and better treatment outcomes," he said.
The Gala was a success thanks in part to the efforts of a dedicated Gala Committee chaired by Drs. Evan and Jill Chafitz of Scarsdale Oral Surgery and many generous sponsors.
Honorees from TCDM's Fourth Annual Gala included:
Distinguished Visionary Leadership Award: Tais Clausen, Co-Founder and CEO of 3Shape.
Innovation in Dentistry Award: Andrew Oransky, President and CEO of Roland DGA; Ian O'Neill, Eastern Regional Sales Manager of Roland DGA.
Transformative Technology Award: Jerry Kent, Chairman and CEO of Tierpoint; and Tony Rossabi, Executive Vice President and Chief Revenue Officer of Tierpoint.
Corporate Partnership Award: Behan Venter and Michael Schreibman, Co-Founders and Managing Directors of Hudson River CIO Advisors.
Faculty of the Year Award: Golda Erdfarb, D.D.S., Associate Professor of Dental Medicine.
View Gala sponsors and event journal: https://movingjournals.com/journals/touro2019/