Touro Dental Health Launches Virtual Dental Visits for Its Patients
Online Emergency Consults with Dental Experts Support Patients in Need During COVID-19 Pandemic
April 06, 2020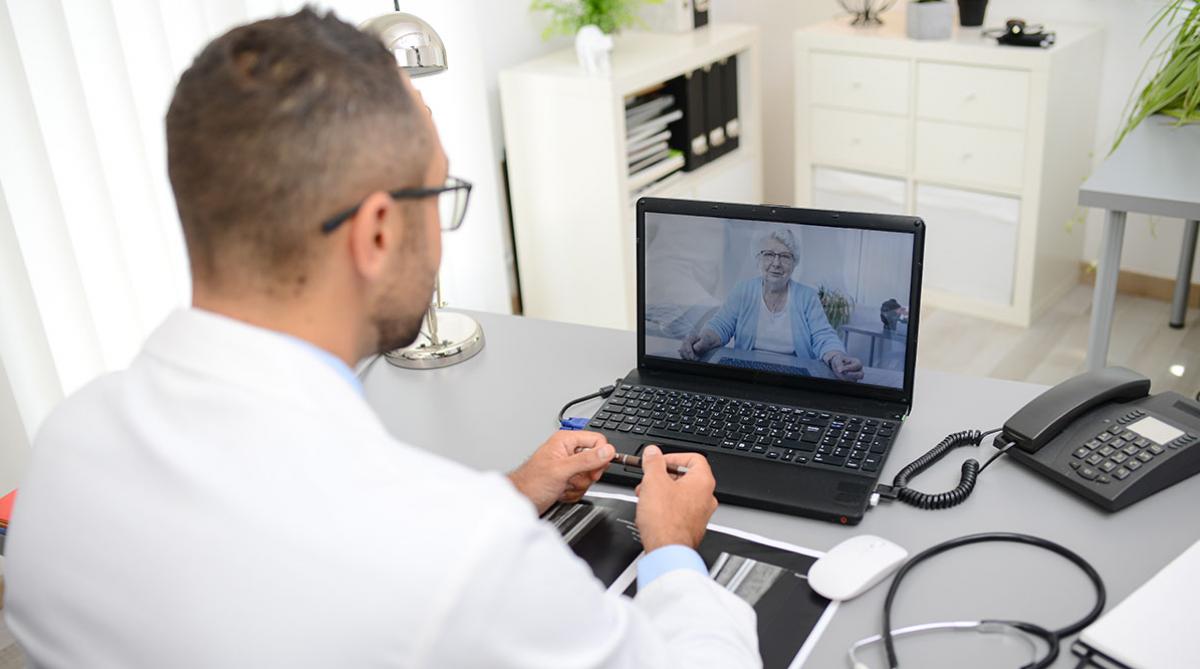 WESTCHESTER, NY – April 6, 2020 – Touro Dental Health, the 109-chair dental teaching practice located at the Touro College of Dental Medicine (TCDM), is now offering free virtual dental visits for its patients of record. Following Governor Cuomo's guidelines, the teaching practice suspended all elective or non-emergency dental care since the COVID-19 outbreak, but has remained open on a limited basis as a community resource for its patients with dental emergencies.
"Virtual dental visits with a member of the Touro College of Dental Medicine faculty, are an additional option for our patients to seek advice from a dental expert in real-time, from the safety of their own home," said Edward Farkas, D.D.S, M.A, Vice Dean. "While not every patient will benefit from an online consult, in many cases we may be able to provide recommendations that can help reduce pain and symptoms at home, and we can determine if an office visit is truly necessary. Our goal is to reduce the risk of COVID-19 exposure for everyone involved, while still ensuring our patients receive the care they need."
Conducted via secure Zoom video conferencing, Touro Dental Health's virtual dental visits allows a dentist to assess the symptoms that a patient is experiencing and, using the camera, to get a visual sense of any swelling or infection. This information, combined with a thorough review of the patient's medical history and previous x-rays, can help determine the best next steps for the patient, whether a prescription is needed or an in-person intervention with a dentist. If an office visit is determined to be necessary, patients are screened for COVID-19 symptoms and risk factors prior to their visit and in-person, including fever. Touro Dental Health has equipped its faculty and staff with CDC recommended personal protective equipment including n95 masks, face shields, googles and other PPE for their safety and the safety of others.
"Our colleagues in the health care industry are working overtime to contain and treat the coronavirus. We applaud their efforts and sacrifices," said Ronnie Myers, D.D.S., Dean of TCDM. "With the dedication of a team of essential general dental practitioners, oral surgeons and support staff, we have remained committed to providing emergency dental services both online and in-person in an effort to reduce the burden on local hospital emergency rooms."
Teledentistry is a relatively new concept in the industry and one that Touro College of Medicine has been exploring over the past year. An October 2019 survey by DentaVox showed that patients are optimistic about the use of virtual dental care through telehealth services, with 78 percent of patients believing they are likely to use it within the next five years.
"We launched our teledentistry program as a response to meet the demand for emergency care that continues to grow as the COVID-19 pandemic is prolonged," added Dr. Myers. "But, as the nation's newest dental school built on the latest technological advancements in the field, we see this new way of providing emergency dental intervention as a potential opportunity for our students to gain insight and hope to continue the service in the future."
Current patients of Touro Dental Health interested in learning more about scheduling a Virtual Dental Visits, should visit dentalhealth.touro.edu or call 914-594-2700.