Ten Years and Two Continents, a Long Journey to Her Dream Job
Flor Vivar, Touro College of Dental Medicine '20
May 19, 2020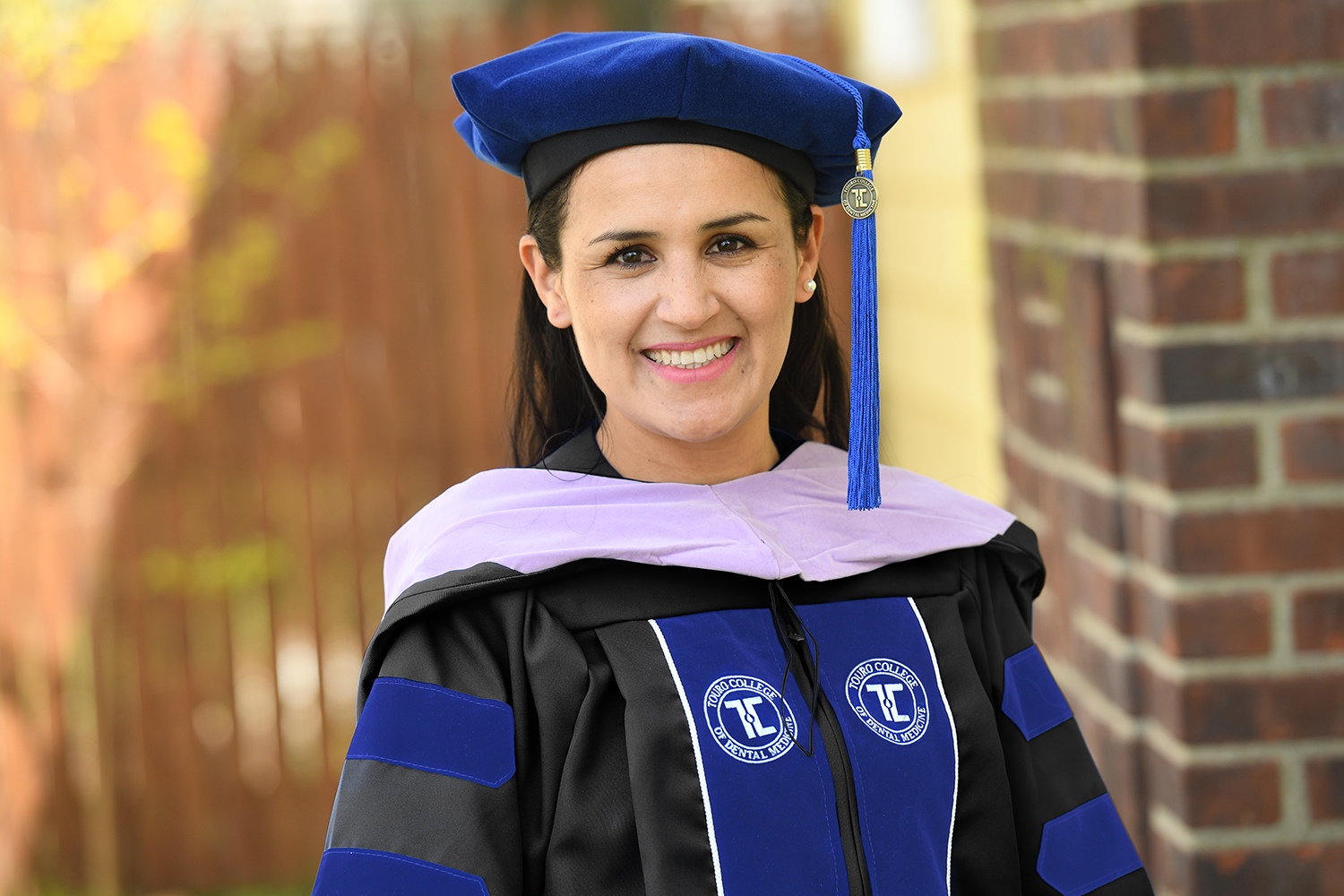 Flor is part of the first class to graduate from Touro College of Dental Medicine (TCDM), the newest dental school in the country founded to harness advancements in digital dentistry for the good of the community. With school's campus and clinic closed due to coronavirus, the 103 graduates of the TCDM's Inaugural Class of 2020 will celebrate their historic commencement virtually May 19 before beginning residencies or joining private practices across the country.
Next Step:
Residency, Jamaica Hospital, Queens, NY
It's been more than a decade since Flor Vivar started dental school in her native Ecuador, right out of high school. But during her first year as a dental student, she joined her mother in New York—and began the long journey towards her dream job, culminating with her May graduation from Touro College of Dental Medicine.
Because U.S. dental schools require college preparation, Flor took ESL (English as a Second Language) courses, enrolled in LaGuardia Community College, then transferred to Hunter College, where she majored in biological sciences. When it came time, once again, to head to dental school, she was delighted to apply to a brand new school at Touro College of Dental Medicine—yet another adventurous move en route to becoming a dentist. "I definitely took the long way," she says.
In addition to the skills she learned at TCDM and fascinating courses on professional ethics, which she particularly enjoyed, Flor values how much she was able to help patients at Touro Dental Health, especially Spanish-speakers. "I still remember this one lady from Mexico who I met when recruiting patients," Flor recalls. "She came to me, and she said she felt so comfortable that she could speak with her provider in her language. That made things much more clear for her. She brought me many, many patients, and all of them said how grateful they were for all we were doing for them."
Flor has always wanted to be a dentist, since watching a dentist at work during her teenage years in Ecuador. After her long journey across ten years and two continents, she is about to finally embarking on her career, beginning with a residency at Jamaica Hospital in Queens, where she expects to continue helping patients in the large Spanish-speaking community. She plans to enter general dentistry and join a private practice in New York.
During quarantine, she keeps more than busy with study and looking after her 2- and 5-year-old. Flor talked her daughter's teacher into holding the daily one-hour online kindergarten class at noon—when Flor had a brief break in her own full schedule of online classes—so Flor could attend with her daughter. The family moved from Queens to Bellmore, on Long Island, shortly after TCDM closed its campus and clinic, and the kids, Flor says, are delighted to be at the new house.
Looking forward to graduation, Flor is able to look on the bright side of the celebration going virtual. "We were going to get only four passes," Flor says of the original commencement plan. "But now, my whole family can watch." That includes not only her mother, husband and children, who will gather in her home for live online broadcast, but her father in Ecuador, her in-laws, and other extended family members.
The one family member for whom the celebration will be especially powerful is her mother, who was with her every step of the way. "She was there when I was so stressed about how much there was to learn. She was there when I had to study for hours and hours. She told me, 'I always believed in you when you told me you wanted to be a dentist. And now I can't believe you are already there.'"