'The Best Way to Find Yourself is to Lose Yourself in the Service of Others'
Simona Girgis, Touro College of Dental Medicine '21, on her journey to dentistry and on choosing to live a life in service to others
May 07, 2021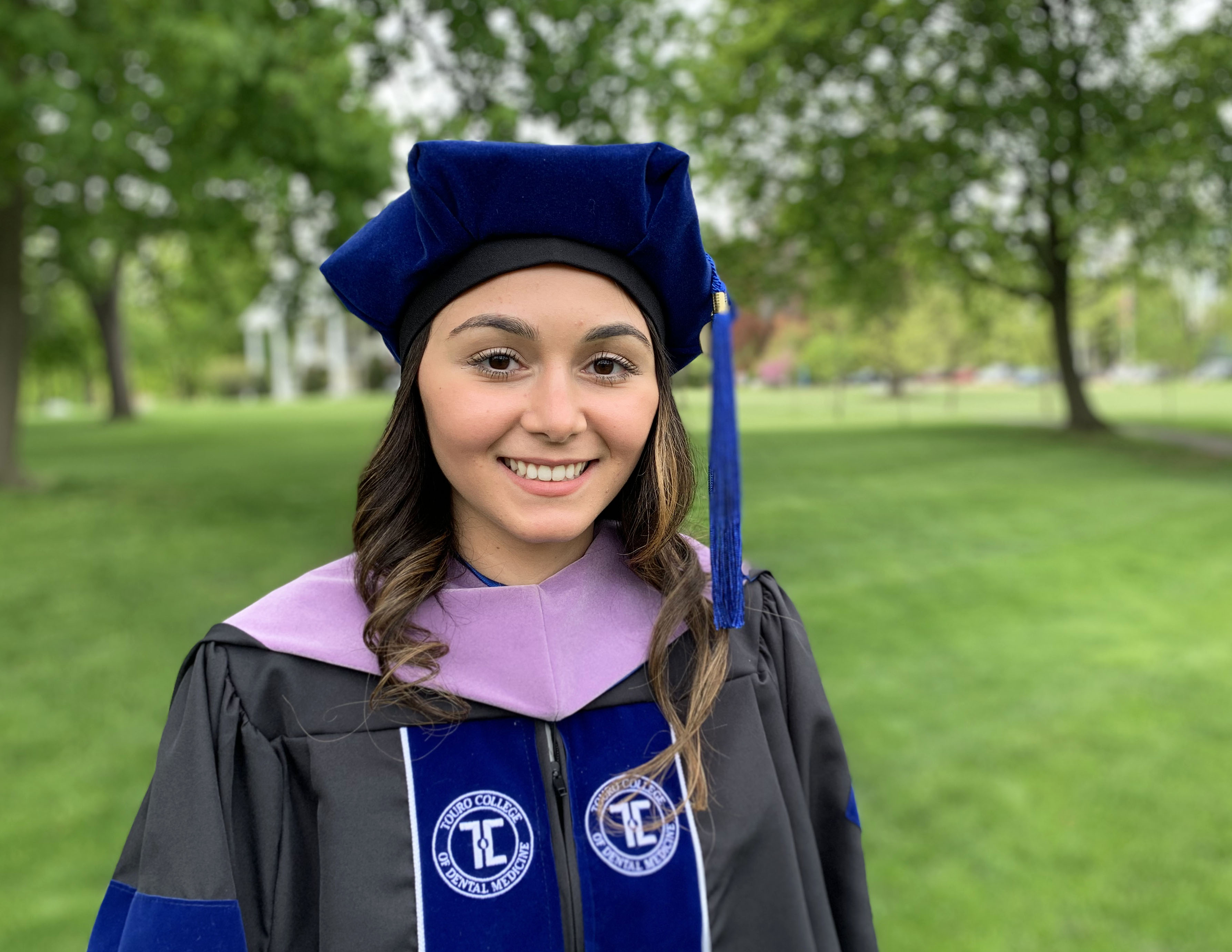 Simona Girgis, '21
Next Step:
Advanced Education in General Dentistry, NYU Langone – Winslow, Arizona – Winslow Indian Health Care Center
When Simona Girgis began her undergraduate studies at the New York School of Career and Applied Studies (NYSCAS), a division of Touro College, she seemed sure that physical therapy was her calling. As a child, she regularly accompanied her grandparents to their physical therapy appointments, translating for them from English to Arabic, and was in awe of how the PTs used their skills to compassionately help her loved ones relieve their pain. But right before making the jump from high school to college, Simona took a part time job working in a dentist's office and, wrongly assuming the position would be an administrative one, found herself doing hands-on dental assisting work. As she fell in love with dentistry, knowing it would also fulfill her desire to help others, Simona felt torn as to which career path she should take. In an instant of perfectly timed coincidence, everything changed when she stepped into the classroom of Dr. Marvin Weitz, a professor at NYSCAS. Upon learning of Simona's hope to possibly attend dental school, he encouraged her to apply to TCDM, which was just about to open its doors and welcome its inaugural class.
"It was so crazy because right before I took Dr. Weitz's class, I said to my family, 'what if Touro opened up a dental school? How crazy would that be? I love my experience here, and I can only imagine what dental school would be like if they had one,'" said Simona.
With support and encouragement from Dr. Weitz and her older sister Sara – who, also passionate about dentistry, went on to obtain her D.D.S. from Stony Brook School of Dental Medicine – Simona applied and was accepted to TCDM, where she realized almost immediately that she had made the right decision.
"I remember walking into TCDM's simulation lab for the first time, and I remember thinking, 'this is it; this is where I am meant to be,'" added Simona.
Growing up in a tight-knit, service-oriented community within her church, Simona's passion for helping others allowed her to fit right in at TCDM and has taken her to communities in a number of locations across the globe—from remote villages in Peru to some of Africa's largest slums and orphanages. In her time as a student dentist, Simona participated in a number of dental service mission trips, including to Ethiopia and Namibia, a country in Southern Africa, where she helped the residents there perform over 300 extractions. Travelling there after her third year of dental school, she shared that the situations she encountered and patients she met had an overwhelmingly profound impact on her.
"In Ethiopia, we provided toothbrushes to patients and for many it was their first toothbrush. There was no continuity of care and even I saw a child whose teeth were worn down to his roots. It was very hard, but just knowing that I was able to help in some small way meant a lot to me," said Simona.
Upon graduating from TCDM this May, Simona will be heading to Winslow, Arizona, to provide comprehensive dental care to members of the Navajo community residing there through NYU Langone. Excited and humbled by the opportunity to be able to provide ideal treatment free of charge to the patients there, she added that, no matter where she may find herself on her D.D.S. journey, service work will always be an integral part of her life.
"I don't think twice about it. I take any chance I get when provided the opportunity to serve others. It opens up so many opportunities; you see how other people live, and you become less ignorant," said Simona. "One quote that I live by and even included in my TCDM yearbook because it is something my sister and I both hold true to our hearts is, 'the best way to find yourself is to lose yourself in the service of others.'"