Touro College of Dental Medicine at New York Medical College Welcomes Class of 2021!
Incoming class among top 10 percent of dental school applicants nationwide
July 21, 2017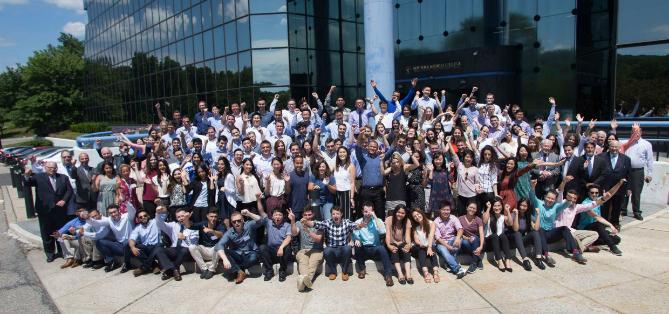 In an event-packed week in July, 111 dental students −from Mississippi to New Jersey− began a new and exciting chapter in their lives as incoming members of the second class at Touro College of Dental Medicine at New York Medical College.
Activities began with a class breakfast under warm, sunny skies outside the Medical Education Center at NYMC, and concluded in Rockefeller Preserve, where the rain had stopped just in time for a team-building hike. In between, students got down to the business of reviewing curriculum and technologies, meeting their faculty, picking up their scrubs, visiting the SIM lab, and learning about the School's mission to prepare students to be skilled and dedicated oral healthcare practitioners.
"You may have said why dentistry? Why Touro?" asked Dr. Ronnie Myers, Dean of TCDM. "Whether you will pursue a private pediatric practice or travel to Africa on a service trip, oral health is an integral part of general health."
High scorers
Dr. Myers and Dr. Ed Farkas, Senior Associate Dean for Clinical Affairs pointed out that the incoming class averaged 21 on the dental aptitude test (DAT) and were therefore among the top 10 percent of dental school applicants in the nation. "Many of you had choices, and you chose us," said Dr. Farkas, who later described the School's state-of-the-art digital dentistry workflow and pointed out that the School's future dental clinic, scheduled to open this winter, has already received calls from patients wanting to receive treatment.
In the School's expansive testing center, faculty members discussed classes in microbiology, immunology, radiology and prosthodontics. "The beauty of dentistry," said Dr. Bert Goldfinger "is it allows you to pursue any combination of specialties."
Dr. Edward Halperin, Chancellor of New York Medical College, described the kinship between Touro College and New York Medical College in their mission to help the underserved.
"It was very much in the DNA of NYMC to care about the poor, the black community, and those marginalized in society, and it's very much the same about Touro, fulfilling the Jewish mission to serve society and to be inclusive. That's who we are, that's what we do here," he said.
Alyson Brennan, president of the local chapter of the American Student Dental Association, encouraged the new D1's to get involved in extra-curricular activities. "You're going to have to relax," she said adding that the academic and clinical requirements of dental school are intense. "You will cry maybe twice!"
Morgan Atanasio, President of TCDM's Student Government Association spoke about the various clubs and organizations that students could join, and encouraged everyone to "figure out your learning style and how to organize yourself." She said it's important to get involved in leadership "because as practicing dentists, you will be leaders in your own communities."
In his introduction, Dr. Jay Goldsmith, founding dean and Dean Emeritus of the School, summed up TCDM's commitment to providing an outstanding dental education. "It's not just what we require. It's what the profession requires. It's exciting, it's interesting, and today, it's a whole new field."