Touro College of Dental Medicine Celebrates First White Coat Ceremony
The Inaugural Class of 2020 Received Their White Coats and Recited Dental Student Oath
June 03, 2018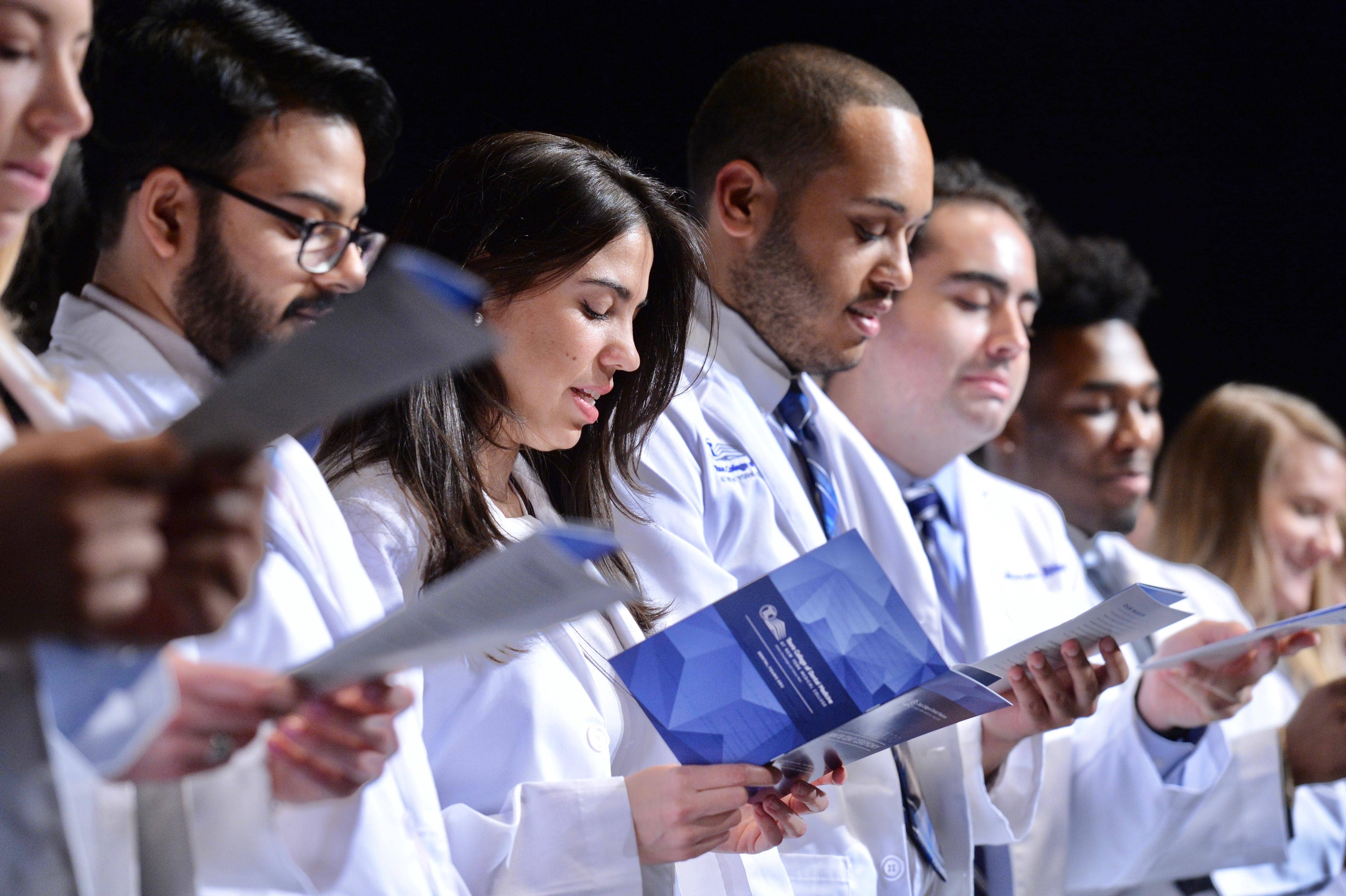 PURCHASE, NY – Today, the 105 students of the inaugural class of Touro College of Dental Medicine (TCDM) at New York Medical College received their white coats and pledged to focus on service to the community and diverse patient populations in keeping with the mission of the school. This summer, these students will begin caring for the patients at Touro Dental Health, a state-of-the-art, 32,000-square-foot dental health facility. Under the supervision of expert faculty, TCDM students will provide reduced-cost dental care to members of the Westchester community and surrounding counties. The practice is designed to handle hundreds of patients daily, providing advanced oral health care in every dental discipline.
The white coat ceremony took place at the Performing Arts Center at Purchase College where family members and friends joined faculty and staff in celebrating this milestone.
Ronnie Myers, D.D.S., Dean of TCDM, Edward Farkas, D.D.S, Vice Dean, and Jay Goldsmith, D.M.D., Founding Dean, along with other leadership of the Touro College and University System, gave brief remarks. Jennifer Mehrens, President of the Class of 2020, spoke on behalf of the students and Allyson Brennan presented the Faculty of the Year Award to Dr. Marc Rosenblum, in recognition of his long-standing commitment to dental education. Edward C. Halperin, M.D., M.A., Chancellor and Chief Executive Officer, New York Medical College, and Provost for Biomedical Affairs, Touro College and University System, gave a compelling address to the students on their ethical responsibilities as dental professionals. The event also included the induction of 11 new members of the faculty to TCDM's new chapter of the Omicron Kappa Upsilon National Dental Honor Society.
"Touro College of Dental Medicine takes great pride in welcoming the inaugural class as they pursue the clinical chapter in their dental education," said Dean Myers, "The College strives to produce outstanding dental professionals who will provide excellent healthcare to diverse communities. Through our comprehensive DDS program and the Touro Dental Health teaching practice, the future of this class, who will be practicing for the next 40 years, is extraordinarily bright."
"As New York State's first dental school in nearly fifty years—and the only one in Hudson Valley—this inaugural class is vital to helping address the existing shortage of dental care in underserved and urban community throughout the state," said Dr. Farkas. "It's exciting to see this new generation of dental professionals take the next step in their educational journey and begin putting what they've learned into practice."
The White Coat Ceremony is a symbolic event, marking their official entrance into the dental profession. The first White Coat Ceremony was established by Arnold P. Gold, M.D., who sought to bring a humanistic focus to medicine. Currently, the ceremony takes place at nearly all medical and dental schools in the United States, as well as 19 other countries.
Opened in 2016, TCDM will improve the oral health care delivery network in New York State, where the population has grown by 4.5 million people since 1968 when the last school of dentistry opened, and seeks to address New York State's projected shortage of dentists, as well as expand the network of dentists practicing in underserved areas.
The Touro College and University System
Touro is a system of non-profit institutions of higher and professional education. Touro College was chartered in 1970 primarily to enrich the Jewish heritage, and to serve the larger American and global community. Approximately 19,200 students are currently enrolled in its various schools and divisions. Touro College has 30 campuses and locations in New York, California, Nevada, Berlin, Jerusalem and Moscow. New York Medical College; Touro University California and Touro University Nevada; Touro University Worldwide and its Touro College Los Angeles division; as well as Hebrew Theological College in Skokie, Ill. are separately accredited institutions within the Touro College and University System. For further information on Touro College, please go to: www.touro.edu/news
Touro College of Dental Medicine
Touro College of Dental Medicine (TCDM) is located in Westchester county on the campus of New York Medical College, which serves as the principal academic public health resource for the New York Hudson Valley and southwestern Connecticut. TCDM is dedicated to graduating outstanding dental professionals and conducting important clinical research, while providing vital dental health services to the public through its 81-chair dental education training facility. TCDM is the first new school of dentistry in New York State in almost 50 years and the first in the United States under Jewish auspices.