Touro College of Dental Medicine Celebrates Inaugural Commencement Virtually
Faculty, students, families, and friends celebrated accomplishments of graduates with remote ceremony; President of the American Dental Association and other special guests join
May 22, 2020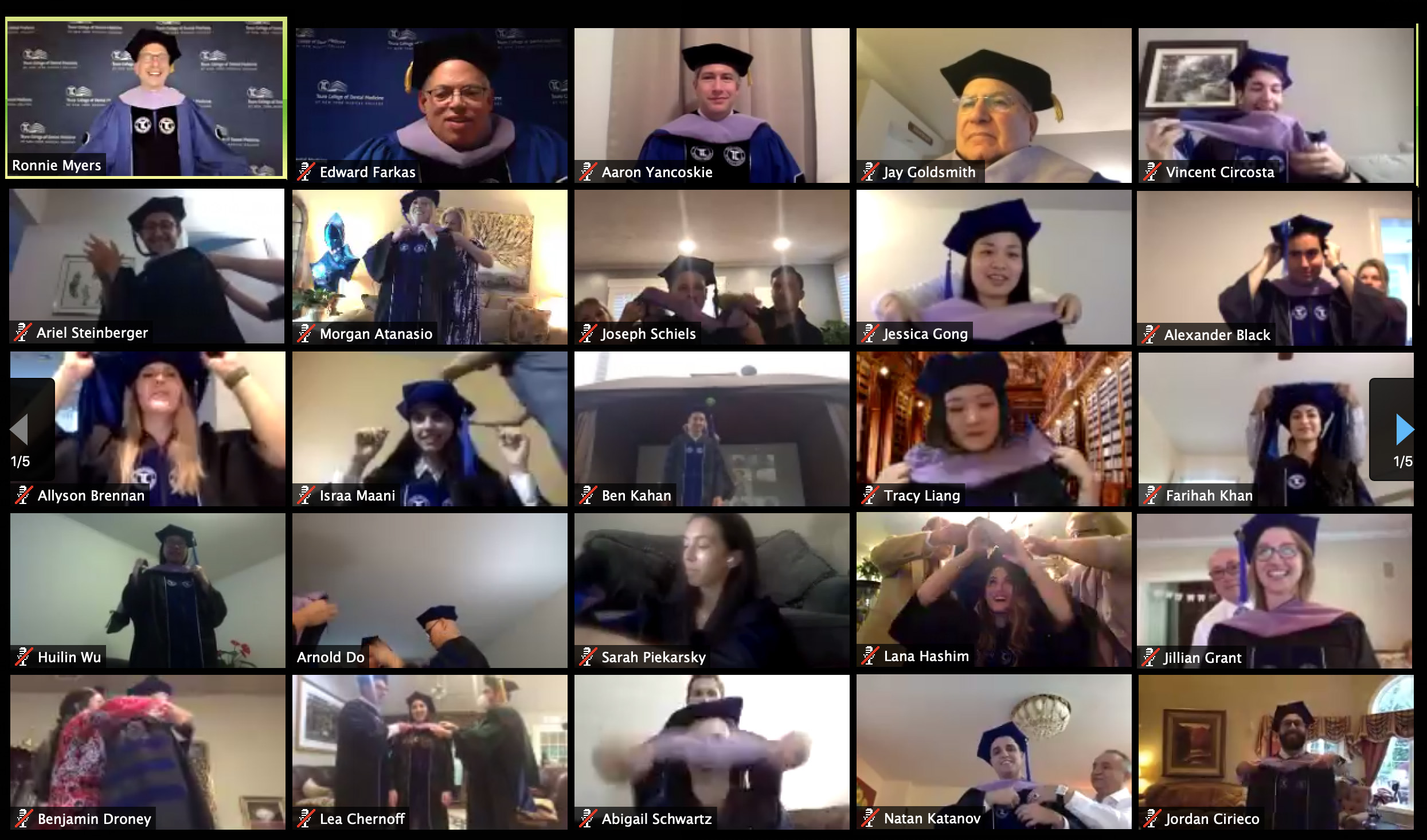 WESTCHESTER, NY – May 22, 2020 – The first class of graduates from Touro College of Dental Medicine (TCDM), the newest dental school in the nation and the first to open in New York State in 50 years, celebrated their commencement on Tuesday, May 19 along with graduates from New York Medical College. With the school's campus and clinic closed due to coronavirus, the 103 graduates of the TCDM's Inaugural Class of 2020 participated in this historic commencement virtually. These distinguished graduates completed a rigorous four-year dental education rooted in harnessing advancements in digital dental technology to better serve communities. Following graduation, students will begin their residencies or join private practices across the country.
"The Class of 2020 helped our school's faculty and leadership shape the roadmap for future generations to come," said Ronnie Myers, D.D.S, Dean of TCDM. "As the first class of students at a new school, they have shown their abilities to be adaptable and work hard even as roadblocks arise. The students graduating today will go on to accomplish great things in their respective communities, but they will forever be remembered as a part of the foundation of TCDM."
"In thinking about these graduates, I'm amazed at their achievements," said Edward F. Farkas, D.D.S., M.A., Vice Dean of TCDM, who helped spearhead the establishment of the school in 2016. "They all took a risk attending a brand new school and worked together to shape it in their image. They were the canvas upon which we painted our dental academic ideas and now they all are masterpieces. I fully expect them to become the trailblazers in the dental profession and we will proudly relish in their accomplishments."
The virtual inaugural commencement for TCDM was viewed by friends, family and supporters from across the country and included special guests such as Chad Gehani, D.M.D., President of the American Dental Association and keynote speaker R. Bruce Donoff, D.M.D., M.D., Walter C. Guralnick Distinguished Professor of Oral and Maxillofacial Surgery and Harvard University Distinguished Service Professor. During his address, Dr. Donoff challenged both dental and medical students to think about the intersections of care delivery. "Oral health has a real bearing on general health," he said. "You as dentists must be healthcare providers, not just dentists. Transformation of a profession is difficult, but the status quo is not inevitable. Will the current crisis result in the return of the same way of practicing and learning, or might we reimagine some aspects of oral health care, even considering integrate oral health primary care practices?"
"The nature of being a health professional in training forces us to feel turbulence at some point in our education," said Morgan Antanasio '20, President of the TCDM Student Government Association, who gave the student address, encouraging her fellow graduates to thrive during a time of immense challenge. "We are not measured by how turbulence hits us, but rather how we choose to respond and exert our equal and opposite force on the chaos."
TCDM is also holding a virtual Tribute to the Class of 2020 on Wednesday, May 27 at 7:00 p.m. as the grand finale to a week-long celebration of student achievements which will include a virtual hooding ceremony, awards presentations and highlights of fond memories and milestones. The college invites its patients and members of the community to celebrate its graduates by sending messages or joining the virtual ceremony.
While a date is still unknown, TCDM is committed to holding an in-person event for the Inaugural class at a later date where they can honor the graduate's accomplishments in a more meaningful way.
"For me, this is not the end, this is just the beginning of their journey and our professional relationship together," added Dr. Myers. "Over the course of these four years, these exceptional students have become part of the fabric of our school and many deep connections have been made as we built it together. We all look forward to the day we can embrace them and congratulate them as colleagues."
View TCDM's virtual commencement ceremony