Touro College of Dental Medicine Expands State-of-the-Art Dental Health Facility
Expansion of Clinical Space and Faculty Experts Allows Touro Dental Health to Reach Full Patient Care Capacity
July 26, 2019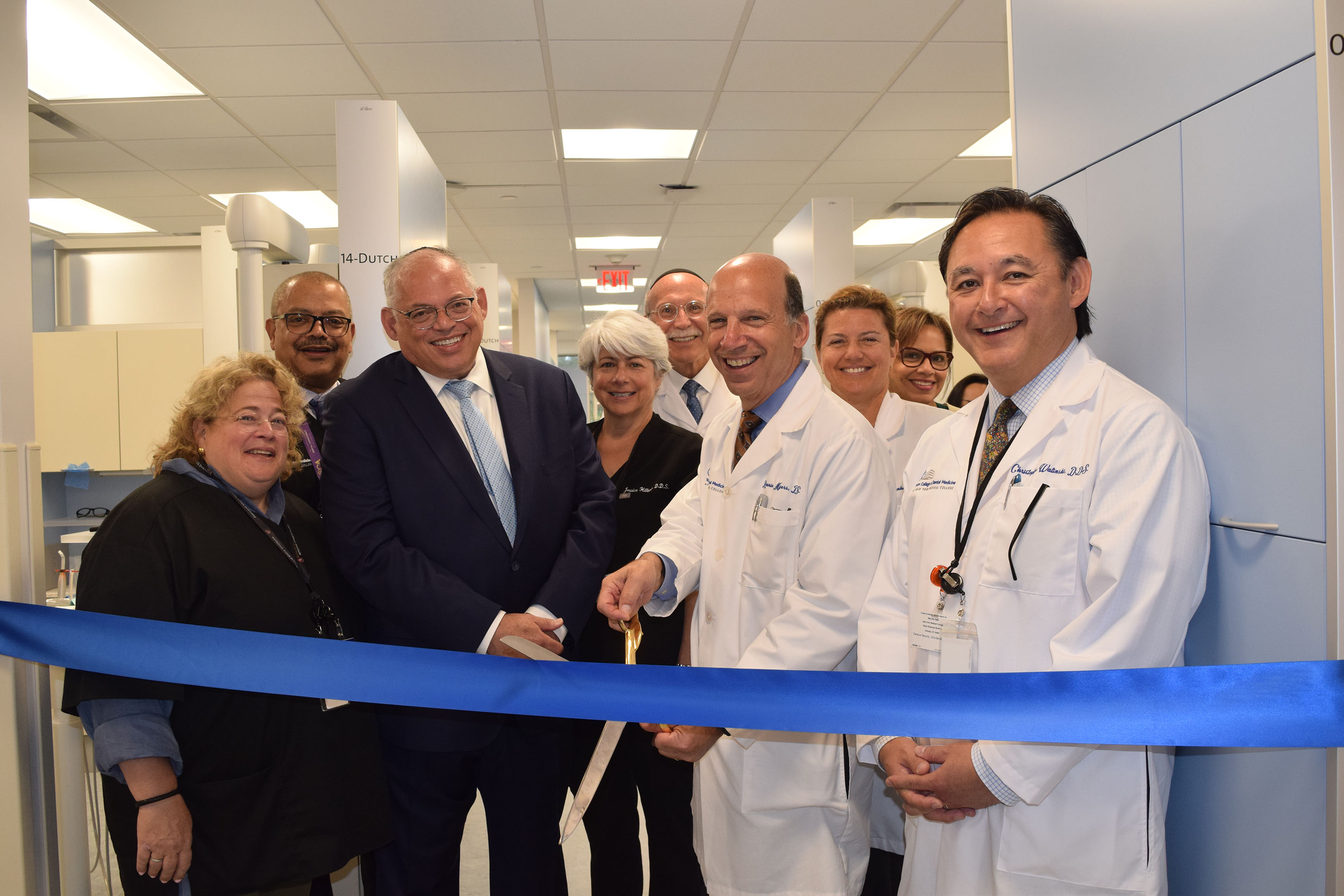 WESTCHESTER COUNTY, NEW YORK – July 25, 2019 – Touro Dental Health, the 109-chair dental teaching practice of Touro College of Dental Medicine (TCDM) located on the New York Medical College campus, recently completed a 6,800 square foot expansion adding 28 new dental chairs. Touro Dental Health's facility now encompasses 38,000 square feet and includes 109 dental chairs.
The new space houses two new general dental practices with 14 chairs each, overseen by 3-4 experienced faculty dentists. These new practices were built to accommodate the addition of third-year dental students from the class of 2021 who, in June, transitioned to providing clinical care.
"Our expanded training facility now allows us to pair third year students with their more experienced fourth year partners to ensure better continuity of care for patients," said Vice Dean Edward F. Farkas, D.D.S., M.S., who spearheaded the project and was instrumental in the inception of the school. "With this unique pairing model, patients will always be familiar with at least one member of their dental team, even as students move on. Not only will this make the experience more comfortable for patients, but creating this dental 'home' will allow us to better manage their ongoing dental treatment and oral health."
This expansion of clinical space and the addition of TCDM's fourth class of students in July, has led TCDM to increase its clinical and preclinical faculty by 30 percent, hiring more than 30 experienced dental professionals within the last 3 months. TCDM's faculty of nearly 100 general dentists and dental specialists including periodontists, prosthodontists, endodontists, orthodontists, oral surgeons, dental anesthesiologists and radiologists, enables the school to provide a full-range of dental care under one roof while providing students with hands-onexposure in all dental disciplines.
"We've put great effort into recruiting a diverse and skilled faculty from across the region who are committed to investing their time and knowledge in training the next generation of oral health care providers," said TCDM Dean Ronnie Myers, D.D.S. "With this growth, we're now equipped to reach our full patient care capacity of 400+ patients per day and meet the demand of underserved populations and others in the community who seek quality, low-cost dental care."
With these two new practices, Touro Dental Health now has eight comprehensive general dental practices, aptly named after the counties in the Hudson Valley which it serves, as well as specialty practices in pediatrics, endodontics, orthodontics and oral surgery.Over the next few months, TCDM is planning to unveil additional patient care facilities within its remaining vacant space including a new family-friendly pediatric dental practice and a family medicine practice staffed by New York Medical College faculty physicians.
"We are committed to continuing our legacy of building the dental school of the future through advancements in technology and innovations in patient care delivery," said Dr. Myers. "We're training our students to evaluate and identify the connections between oral health and overall health so that we can better care for the whole patient. Providing inter-professional easy access to additional health resources will be a significant benefit to our patients."
The opening of Touro Dental Health in 2017 was a part of the College's mission to improve the oral health care delivery network in New York State, where the population has grown by 4.5 million people since the last dental school opened nearly 50 years ago. According to a 2015 survey published by the American Dental Association Health Policy Institute and Families USA, 26 percent of New Yorkers are not getting the oral health services they need because of "trouble finding a dentist" – a rate significantly above the national average of 15 percent. A number of factors including Medicaid and insurance coverage limitations, a shortage of providers in many communities, and challenges with mobility and transportation pose formidable barriers, especially among seniors who typically have more dental needs.