Touro College of Dental Medicine Honors Two at Inaugural Dinner
June 20, 2016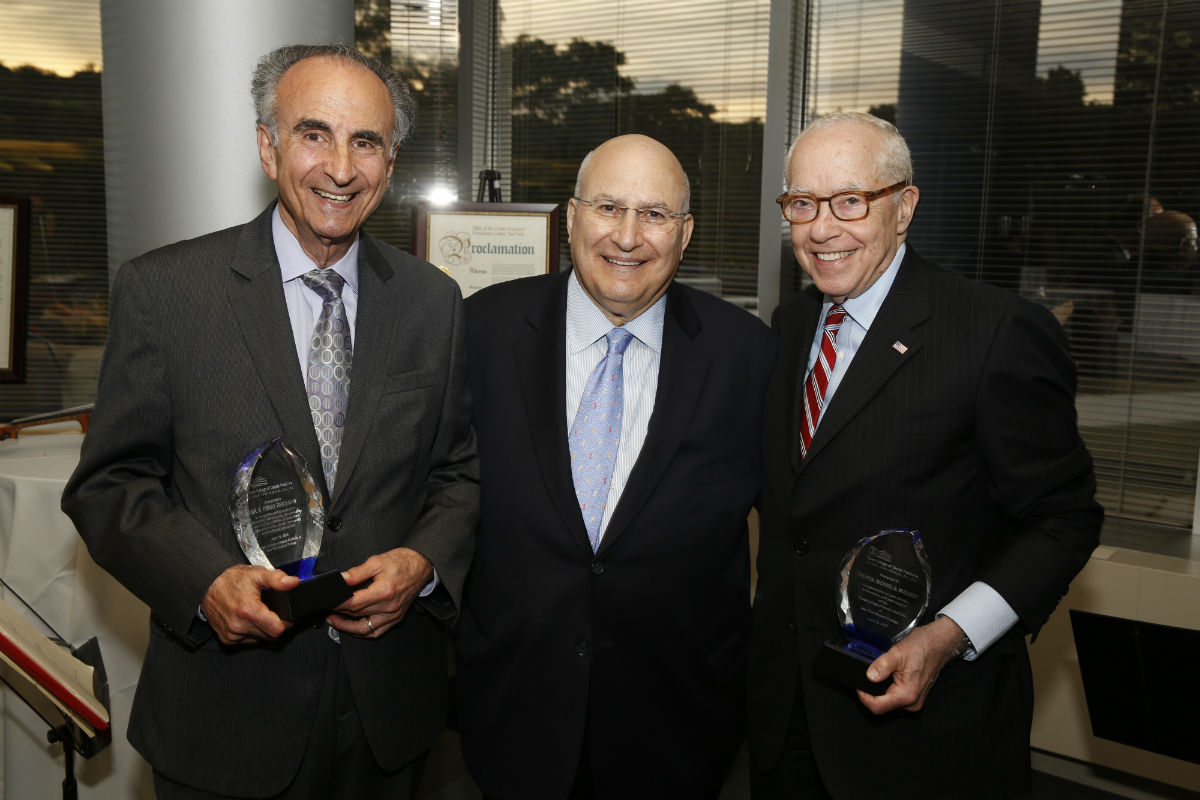 New York, N.Y. –The Touro College of Dental Medicine (TouroCDM) at New York Medical College, New York state's first new dental school in nearly 50 years, celebrated its inaugural year with a dinner honoring Dr. Perry Brickman and the Honorable Michael Mukasey, two figures who have been instrumental in advancing the cause of accessible dental education for all. The dinner was held at Touro's New York Medical College (NYMC) campus in Valhalla, New York, where TCDM will be located.
"Welcome to a school that knows who it is, who it's for and where it's going," said Edward C. Halperin, M.D., M.A., NYMC chancellor and CEO, and Touro College and University System provost for Biomedical Affairs, who served as the master of ceremonies. "This is the first dental school under Jewish auspices outside of Israel in world history."
Alan Kadish, M.D., president of the Touro College and University System, noted that the new school will "pave the way for the next generation of dental practitioners," before introducing. Jay P. Goldsmith, D.M.D., the founding dean of TCDM, to present awards to the honorees. Dr. Goldsmith told the capacity crowd that, following his first year of dental school at Emory University in Atlanta in 1952, Dr. Brickman and several other classmates who were Jewish received letters from the dean informing them that they had not met the requisite requirements to continue their education at the school. In that Dr. Brickman had been a good student with a solid average, he suspected that the real reason for his dismissal was his Jewish heritage, a suspicion that was confirmed—and apologized for—60 years later by the school.
Though he eventually graduated fourth in his class at the University of Tennessee's dental school, the incident spurred him to research similar incidents at Emory and his hard work played a major role in exposing anti-Semitic episodes in Emory and several other schools around the country.
"In accepting this honor, I do so for the 40 young men who had to go through this, and double that number who never even got the opportunity," said Dr. Brickman. In wishing the school much success, he quoted Rashi, a foremost scholar on Biblical and Talmudic texts: "May the Divine presence rest on the work of your hands."
After Dr. Brickman's remarks Dr. Goldsmith returned to the podium and presented a plaque to Judge Mukasey. In accepting the award, he said that it was hard to believe that it took 50 years for a new dental school to open in New York state, noting that it was "10 years longer than the Jews wandered in the desert." He also said that the establishment of a dental school under Jewish auspices was particularly important in that, while anti-Semitism is not at the level that it was when Dr. Brickman was forced to leave Emory, it has not been eradicated.
"Although I don't want to cast a pall on this evening, let's face it, we are not living in the best of times," he said. "There's been a rise in something that those of us in this room old enough to remember the end of World War II thought we would never see again. It used to be that anti-Semitism would be taken, if not a sign of immorality, at least of bad taste. No more."
The evening's final speaker, Edward F. Farkas, D.D.S., TCDM's senior associate dean for clinical affairs and chairman of dentistry, acknowledged the many individuals who made the vision of the school into a reality.
"On this journey to establish the Touro College of Dental Medicine, I've been helped by people whose default setting is to go that extra mile," he said. "People who've given their all, and people who sincerely believe in the Touro ideal."
The Touro College of Dental Medicine at New York Medical College joins the Touro School of Health Sciences, Touro College of Osteopathic Medicine (with campuses in Harlem and Middletown, NY), Touro College of Pharmacy, and New York Medical College in New York State. These institutions collectively graduate more than 2,000 health care professionals every year.
The school is intended to improve the oral health care delivery network in New York state, where the population has grown by 4.5 million people since 1968 when the last school of dentistry opened.
With the goal of bolstering dental education and improving access to oral health care throughout New York's Hudson Valley region and beyond, the Touro College of Dental Medicine at NYMC will include a four-year pre-doctoral program for students, a continuing education program for practicing dentists, and a 132-chair community dental clinic focused on providing patients in underserved communities in the Hudson Valley and the Bronx with affordable and quality treatment.
In the school's inaugural year, set to begin in the summer of 2016, anticipated enrollment is 110 students. When at full capacity, the school will include approximately 440 students and offer basic science coursework taught by the medical school faculty as well as state-of- the-art digital dental clinical capabilities.
The Touro College of Dental Medicine at NYMC will also conduct a range of research efforts including: research focused on reducing the cost of effective care; population outcomes-based research concentrated on interventions; and translational research that harnesses scientific discoveries to produce new devices and treatment options for patients.
About the Touro College and University System
Touro is a system of non-profit institutions of higher and professional education. Touro College was chartered in 1970 primarily to enrich the Jewish heritage, and to serve the larger American and global community. Approximately 18,000 students are currently enrolled in its various schools and divisions. Touro College has 29 branch campuses, locations and instructional sites in the New York area, as well as branch campuses and programs in Berlin, Jerusalem and Moscow. New York Medical College; Touro University California and its Nevada branch campus; Touro University Worldwide and its Touro College Los Angeles division; as well as Hebrew Theological College in Skokie, Ill. are separately accredited institutions within the Touro College and University System. For further information on Touro College, please go to: https://www.touro.edu/news--events/