Touro College of Dental Medicine Opens Complex Care Clinic
Patients to receive a streamlined, multi-disciplinary, and high-tech approach to treatment with efficient care times and reduced costs
October 26, 2020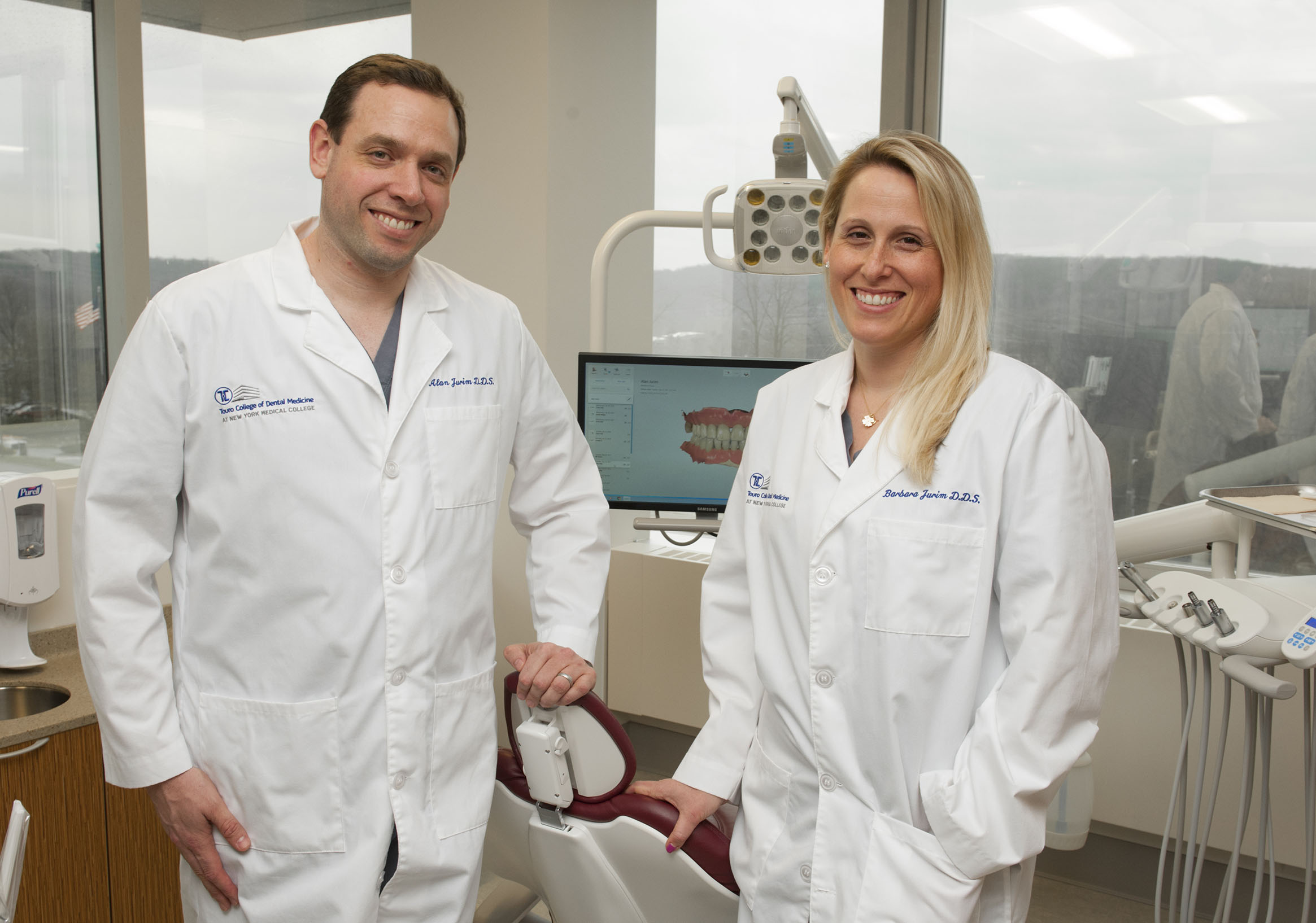 TCDM faculty Dr. Alan and Dr. Barbara Jurim
WESTCHESTER, NY – October 26, 2020 – Touro Dental Health, the 115-chair clinical training facility of the Touro College of Dental Medicine (TCDM), has opened a new Complex Care Clinic to meet the needs of patients requiring more advanced dental treatment than can typically be provided by dental students. The clinic brings together TCDM faculty from multiple dental specialties, along with dental students, who use the latest tools and techniques in digital dentistry to efficiently educate and manage patients requiring complex implants, and restore their oral health.
Traditionally, complex dental care delivered in a private practice environment, requires dozens of steps and multiple appointments over the course of several months to years, with outside referrals and visits to a variety of specialists. Touro Dental Health's Complex Care Clinic provides these services under one roof, with a team of experienced oral health professionals working together using digital advancements in the field to save patients significant time and cost. Often, rather than charging a separate treatment fee for each specialist involved in the process, Touro Dental Health can offer affordable rates that only an educational institution can provide.
"Some dental cases are beyond the ability of the undergraduate dental student. The Complex Care Clinic allows us to provide the highest level of service to Touro Dental Health patients, while providing a significant observational opportunity for students to learn." said Edward F. Farkas, D.D.S., M.A., Vice Dean at TCDM. "Our new Complex Care Clinic centralizes a mix of specialists and provides them with more resources to work collectively. Our students will receive more robust training and be introduced to complicated cases while also learning how to work more strategically with other medical and dental professionals."
Barbara Jurim, D.D.S., Director of the Complex Care Clinic and Assistant Director of Digital Dentistry, leads the new clinic along with Alan Jurim, D.D.S., Director of Digital Dentistry and a team of expert faculty including oral surgeons, prosthodontics, periodontists, lab technicians and others involved in the treatment of complex cases.
Over the past four years in their private practice, the Jurims, a brother-sister dental team, have conducted research and development on a revolutionary digital approach that eliminates several steps in the treatment process – steps that they say are susceptible to error.
"We use two different types of scanners to digitize the patient and, by capturing all this digital information, we're able to immediately produce a prototype bridge design," said Dr. Alan Jurim. "This speeds up the process, but at the same time, allows us to achieve a level of precision that is not possible with traditional techniques. The end result is a simplified process, more predictable results and better outcomes for patients."
"Few dental practices are equipped to provide this technology and care in one location and it's extremely rare for dental schools," added Dr. Barbara Jurim. "The Complex Care Clinic will provide an unparalleled educational opportunity for our students while also providing a much-needed service to our community."
TCDM is currently in the final stages of adding a digital laboratory to its 37,000 square-foot dental teaching practice which will consolidate the school's digital technologies into one place including 3D printers, intraoral scanners, CAD/CAM technology, and milling machines designed to cut crowns, bridges and more at high speeds.
"Same day dentistry is not traditionally a concept embraced at dental schools, but as a new school with a vision for embracing the latest technologies, we're now positioned to integrate same day dentistry techniques, prosthesis design, and the manufacturing of restorations on site," said Dr. Farkas. "The results will be very beneficial for both our students and our patients."