Touro Dental Alum Heads to Harvard to Pursue Prosthodontics
Touro College of Dental Medicine (TCDM) Alum Oliver Viera on his Career Choice and How Touro Prepared Him for the Next Step
June 20, 2023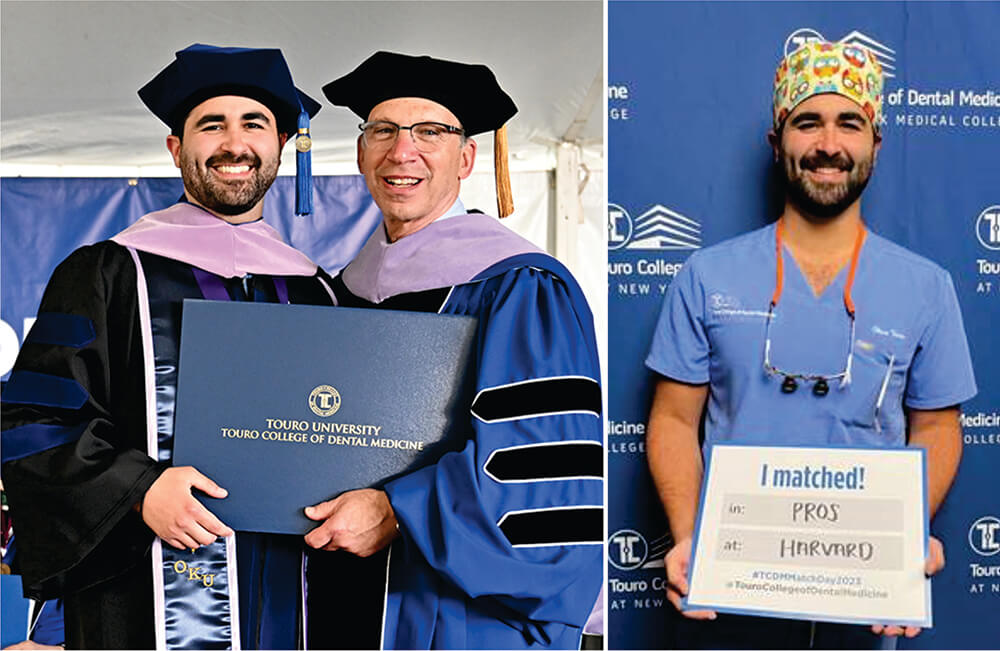 Oliver Viera with Dean Ronnie Myers at graduation and on Match Day.
Oliver Viera (Touro College of Dental Medicine, 2023), shares why he pursued the profession of his mother and grandfather, the career highs he hopes to experience as a prosthodontist and why it's critical to seize every possible opportunity in dental school. Oliver offers invaluable advice for other students aiming to match into Ivy League residencies.
What made you choose dentistry as your career path?
Ask any dentist, you'll likely hear that it's a true Renaissance profession. It was my abuelo, my grandpa, who first introduced me to that concept when he described exactly what, in Spanish, a "dentista" is: a doctor, engineer, nutritionist, teacher, investigator, scientist, therapist and artist. I'm a third-generation dentist—my grandfather was a general dentist in Cuba, my mother is a pediatric dentist in Connecticut and now I'm going into prosthodontics in Boston. I've grown up all around it, and it's a humbling experience to be able to sit in the same position and treat people like my family has for generations. For me, it's nostalgic, it reminds me of home.
Why did you choose Touro College of Dental Medicine?
Ultimately, there was no choice to make, because it was a no-brainer. Touro treated me like a human being during the application process. They reached out to me, gave me feedback to help with my candidacy, and made me feel like an individual rather than an application number. They were attentive to my needs even before I actually became a student, and I was so incredibly happy and grateful, that my experience with TCDM as a candidate continued as a dental student there. I made friends for life at TCDM, mentors that have supported and shaped me as a dentist and colleagues that I am excited to see flourish in the years to come.
You're headed now to Harvard School of Dental Medicine to specialize in prosthodontics. What led you to choose this specialty?
As a student in the clinic, nothing was more frustrating than having to refer a patient out because I didn't have the ability at the time to help them in the way they needed. A prosthodontist is a restorative specialist, so they are often called upon to perform treatment or provide guidance on more complicated or seemingly hopeless cases. The transformative nature of prosthodontics—taking what some might consider hopeless—and being able to rehabilitate a patient to attain a beautiful and functional smile drew me to the specialty. I hate the phrase "it can't be done." I want to become the doctor that can fix what people thought was impossible. The opportunity to learn how to do that at a world-class institution like Harvard is a privilege.
How did Touro prepare you for the next step of your academic and professional training?
Touro College of Dental Medicine changed the trajectory of my life. There's a long list of people who played a significant role in preparing me for the next steps, and for them, I am grateful. Perhaps the singular thing that made the biggest difference was that Touro was able to generously provide opportunities. Opportunities to meet and learn from people that made the difference. Opportunities to practice as often as I needed to with cutting-edge technology. Opportunities to work after hours in the simulation or wet labs. Opportunities to attend conferences and programs outside of the school, paid for by Touro. Opportunities to conduct research in whatever you're interested in. Opportunities to work on a diverse group of patients. Looking back on my four years, Touro was never short of chances to practice, learn and prepare for my future career. I don't like missing out, so I took every opportunity I could get my hands on.
What do you find rewarding about dentistry? What are the challenges?
Dentistry has such a bad reputation. You know it's bad when it's a joke in a Pixar movie. People readily seek out and comply with their physicians, yet are critical and wary of their dentists for any number of reasons. The biggest hurdle is getting over the trope that the dentist is the scary, painful, bad guy. The biggest reward is overcoming those prejudices with patients. There is nothing more rewarding than witnessing the tears a patient sheds when they look in the mirror and see their new smile, when they laugh for the first time without covering their mouth in years, when they tell you they are willing to be photographed again, when they're no longer experiencing the pain that kept them up for days on end or when they can eat regular food like a normal person. I'm really looking forward to many more of those unforgettable moments in my professional life.
What advice do you have for other Touro Dental students seeking to gain admission to an Ivy League specialty program?
It goes without saying that a strong CV (curriculum vitae) is a must to get your foot in the door. Programs like to see that a student has a solid GPA, has experiences in and outside of dental school that are unique, and have spanned longer than two years to show you're dedicated to what you do. It's also important to show leadership, an interesting skill or hobby and, I cannot emphasize this one enough—research. You don't have to invent the wheel or solve world hunger, but research came up a lot during my interview season and that held true for a lot of my classmates who got into their top choices. Document your work with photos and build a portfolio you can share that captures both the perfectly executed end results as well as the cases that were hard won. Work on the feathers in your cap early so that by your fourth year you have confidence in yourself and evidence to back you up to show that you're worth your weight.
Now, how do you go about doing that? People notice if you're humble, kind, and you work hard. They'll help you succeed. When you're applying to any program at all, you want to know there is no shortage of people willing to support you, because programs do call and ask around. When you think it's "good enough," it isn't. Work your tail off: really learn your dental anatomy, ask questions, take criticism, say yes to more patients even when it won't benefit you, take the extra emergency or come in during block week, help your classmate, stay late or come early to practice more. Take the opportunities. Everything adds up to experience that pays dividends later.