Touro Dental Health Expands to Include New Cutting-Edge Pediatric Dental Practice
This modern, child-friendly environment will fill a gap in the treatment of underserved and special needs pediatric dental patients in Westchester and the Hudson Valley.
October 05, 2020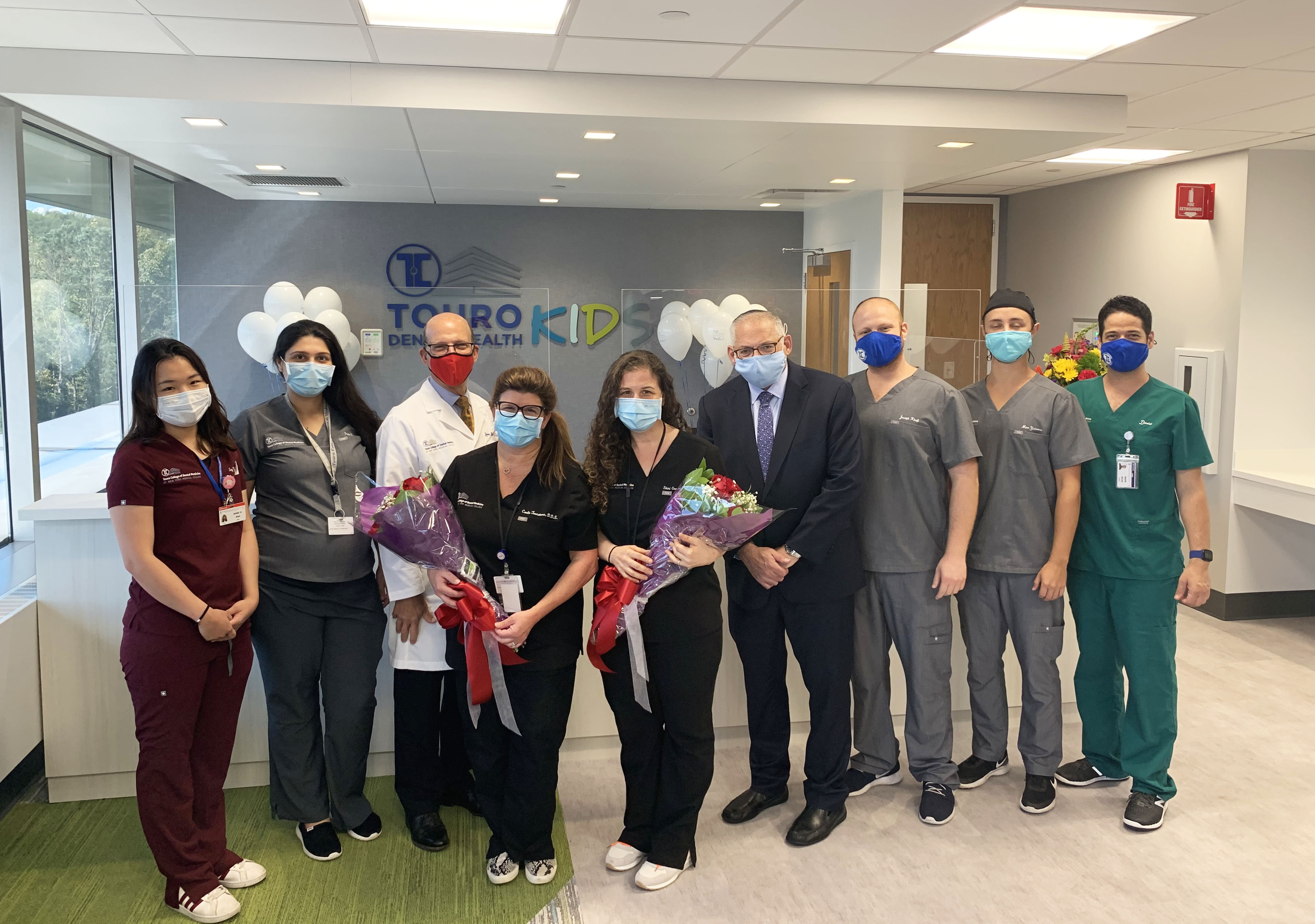 WESTCHESTER, NY – October 5, 2020 – After several months of anticipation, Touro Dental Health, the 115-chair dental teaching practice of Touro College of Dental Medicine (TCDM), officially opened its new state-of-the-art pediatric dental practice to the public on September 29th.
Designed with the needs of TCDM's youngest patients and their families in mind, the new six-chair pediatric practice—Touro Dental Health Kids— boasts 2,600 square feet of modern, light-filled space, with four operatories and two spacious, fully private rooms especially designed to treat children in a quiet distraction free environment. Children ages 16 and under will benefit from a full-range of pediatric dental treatment provided by both specialty trained pediatric dental faculty and students in the new space. The pediatric practice is equipped with the same advanced digital dentistry technologies available throughout the entire clinical training facility, as well as nitrous oxide in each operatory for minimal sedation when needed to aid in comfort and alleviate dental anxiety.
"Having a state-of-the-art facility like this in Westchester and the lower Hudson Valley is going to be a true dental home for families and children to come to receive skillful, compassionate and affordable dental care," said TCDM's Carla Tornatore, D.D.S., Director of Pediatric Dentistry. "From toddlers to teens, we are committed to creating and caring for smiles that will last a lifetime."
In addition to a separate child-friendly reception area, Touro Dental Health Kids also houses an Oral Health Education Station where students and faculty will work one-on-one with families, teaching both children and their parents about important oral health topics including nutrition, proper brushing and flossing, and injury prevention.
With its strong community ties and dedication to service, TCDM has always been committed to providing underserved populations with oral health care, and this new pediatric practice will fill a gap in the access to care of deserving pediatric dental patients in Westchester and the Hudson Valley.
"This expansion is the first step to enhancing our oral health care services for pediatric patients of the lower Hudson valley as well as for the special needs population who is so often marginalized," said Dean Ronnie Myers, D.D.S. "We have envisioned having a dedicated treatment center such as this from the very beginning, which will provide us with the capacity and technology necessary to deliver quality family-centered pediatric dental care."
Spearheaded by Edward Farkas, D.D.S., M.A., TCDM Vice Dean, the new space was made possible by the generous contributions of several donors and long-time supporters of the school who supported the vision for expansion.
"Donors are the foundation of our institution, and we would be unable to succeed in building revolutionary spaces such as this without their support," said Dr. Farkas. "Wanting to give to the children of the Hudson Valley, they have generously opened up their hearts and minds to help make this venture possible."
"We are so happy to be in this space. Not only is it beautiful, well equipped and totally appropriate for treating children of all ages, but no expense has been spared, allowing us to provide everything that our patients could ever need when it comes to their oral care," added Shiri Greenberg, D.M.D., Clinical Director of Pediatric Dentistry at TCDM. "Our goal is to provide children with excellent dental care in a fun and exciting way, and thanks to so many people who have supported this project since the beginning, we will be able to achieve that here."