Touro Dental Students Give Long Island Kids A Smile
A Fun and Educational Day of Free Oral Health for 150 Kindergartners Helped Foster Good Oral Hygiene Practices
October 25, 2023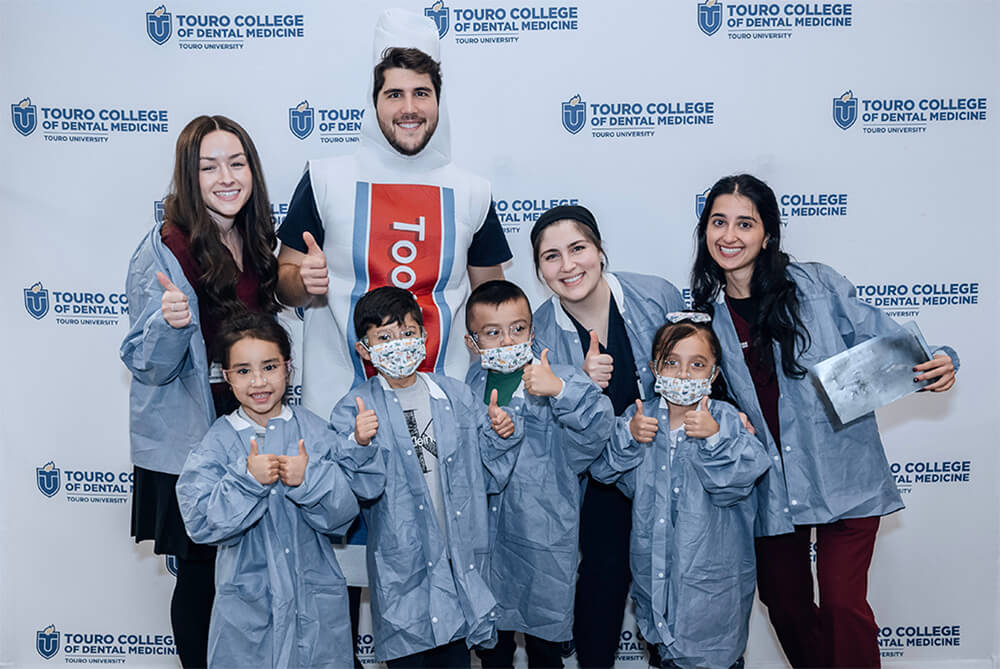 Touro dental students share oral hygiene tips with Long Island kindergartners.
Dental anxiety affects millions of Americans, and students at Touro College of Dental Medicine (TCDM) did their part to mitigate it last week at the school's Give Kids A Smile (GKAS) event held at the Lawrence Kindergarten. Seventeen dental students screened, educated and entertained 150 four- and five-year-olds during the three-hour program.
Dental students split into groups and set up stations where the kindergartners were first screened with a quick exam, then taught how to brush and floss and offered educational games to play. Music was playing, goody bags were distributed and children had a chance to try on pint-size lab coats.
"It's important to give kids a positive experience with the dentist from the earliest age," said Dovi Grosser, a Cedarhurst native and fourth-year dental student who organized the event. "We wanted them to see that keeping your teeth healthy can also be fun. I had a patient in the clinic who is 85 years old and had extreme anxiety because of a negative childhood experience at the dentist. She still hadn't gotten over it years later. We want to start these kids off with the feeling that dentists are friendly and maintaining oral health is a good thing."
In addition to the students, Give Kids A Smile was attended by Lawrence School Board members Heshy Blachorsky, Abel Feldhamer and Dr. Asher Mansdorf, a local dentist who is an assistant professor at Touro College of Dental Medicine. Lawrence Kindergarten principal Kathleen Graham and Superintendent of the Lawrence School District, Dr. Ann Peterson, also collaborated with TCDM in organizing this event and participated onsite.
"This program goes to the idea of educating the whole child. We teach academics but it's also important to teach important life skills and this event helps us do that in a fun way," said Graham.
Dr. Edward Farkas of Lawrence, vice dean of Touro College of Dental Medicine, said this was the first time Give Kids A Smile was brought to a local community school. "We have done these events at our dental school but we now see how well it works to bring the program to the community, and have plans to do this at other schools in different locations over the next year. Many children don't have access to dental care and this program is a first step."
Carina Lakharam, age 5, shared that "my mom brushes my teeth for me but now that I learned how to brush and floss, I'm going to try to do it myself at home."
Lakharam and her peers discussed their snack preferences with the dental students and learned about what's healthy and good for their oral health and what's not.
"Lots of parents don't take their kids to the dentist until they're older," said third-year dental student Shaina Lavi of Great Neck. "Exposure to the concept of good dental care at a young age is a way to encourage them to adopt good habits."
Dr. Carla Tornatore, director of pediatric dentistry at Touro College of Dental Medicine said, "Your smile is the most valuable thing you'll ever own, so we all must pay attention to how we treat and care for our teeth. Good oral health is also connected to overall health and poor dental care can lead to heart disease and other serious health issues."
About Touro College of Dental Medicine
Touro College of Dental Medicine offers a comprehensive and innovative DDS program to educate the next generation of dentists, and is committed to providing affordable and advanced patient care to the public in its Touro Dental Health teaching practice.
The Give Kids A Smile program presented by TCDM is an opportunity for children and families to learn about oral healthcare. For TCDM students studying to become dentists, this is a way to teach children and parents about oral hygiene and to give back to the community.